The first Beatles single ever played on the radio could sell for more than $25,000 when it goes up for auction in the U.K this month.
The 'demonstration' copy of the band's debut single Love Me Do was played first on Radio Luxembourg on October 5, 1962, the same day it was released.
Now, 58 years after it first hit the airwaves, the 7″ record will now be offered for sale at Omega Auctions with an estimated value of £15,000 – £20,000 ($19,700 – $26,250).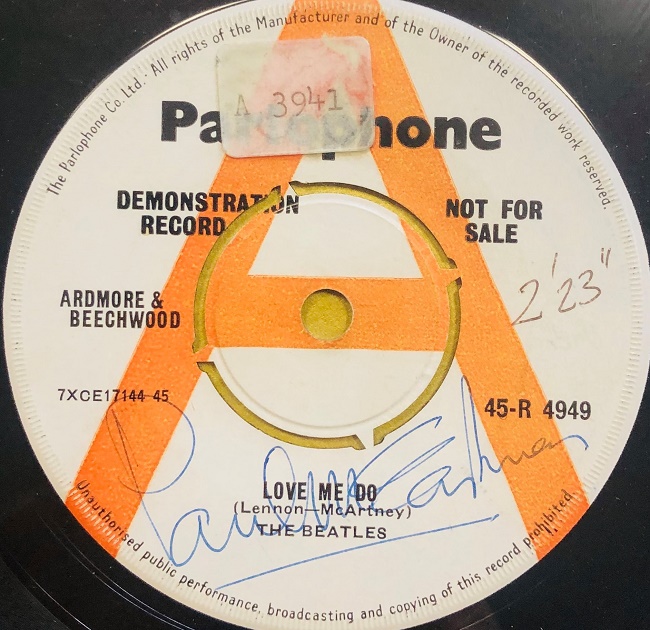 Just 250 demonstration copies of the single were pressed up and sent out to promoters, the music press, DJs and radio stations by manager Brian Epstein.
This copy remained part of the Radio Luxembourg record archive for three decades, before being inherited by DJ Tony Prince when the station closed down in 1992.
The 7″ record is also signed by Paul McCartney on the A-side, and comes with a message from him to Prince confirming its authenticity as a significant piece of Beatles history.
The fax dating from 1994 reads "Dear Tony, I'm happy to confirm that I first heard 'Love Me Do' (our first release) on Radio Luxembourg. Did I ever thank you for playing it? If not, I do now. Cheers, All the very best".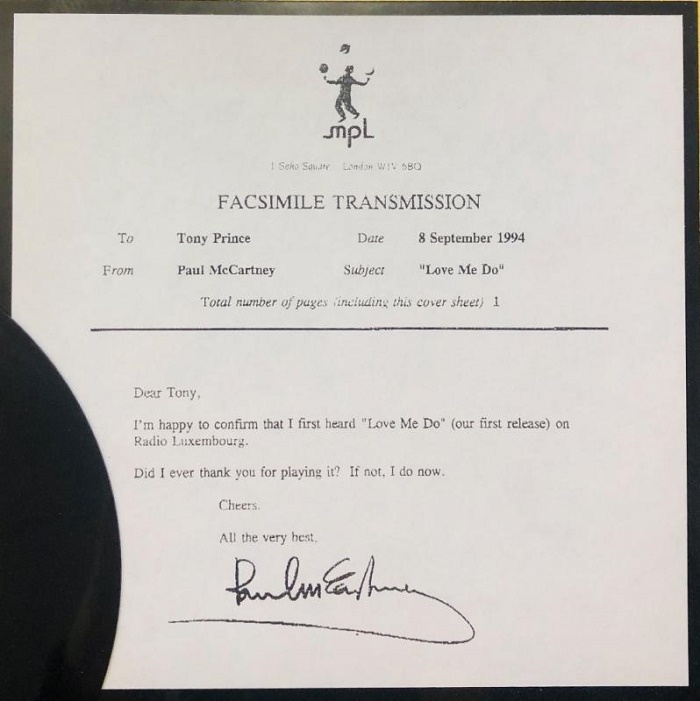 Three days after their debut record was played for the first time, The Beatles were interviewed on the station as part of The Friday Spectacular, a show recorded by EMI to promote their own artists.
Radio Luxembourg was one of the earliest commercial radio stations which broadcasted to the U.K, using (at the time) the world's most powerful privately-owned radio transmitter.
British laws prevented radio stations from advertising products until 1973, but Radio Luxembourg circumvented these restrictions by transmitting from mainland Europe.
Throughout the 1950s and 60s it offered many British teenagers the chance to hear rock and roll records on the radio for the first time.
Copies of the rare Love Me Do demonstration single are rare and highly collectible in their own right, and can be identified by the misspelling of "McArtney" in the song's credits.
This particular copy of the record last sold at Bonhams back in 2003 for £13,500 – and could now fetch a considerably higher sum, due to the significant role it played in the Beatles' story.