A personal and insightful letter written by Nelson Mandela whilst imprisoned on Robben Island will be offered for sale at Bonhams next month.
The rare letter is estimated to sell for £50,000 – £100,000 ($65,000 – $129,000) as part of the South African Sale, which takes place in London on September 14.
Mandela wrote the letter from his prison cell in October 1974, ten years into his life sentence for sabotage and activism against the South African Apartheid government. It would be a further 16 years before he was finally released.
The letter was written to Barbara Lamb, the daughter of Mandela's long-time friend and fellow anti-apartheid activist Michael Harmel, who passed away in June 1974.
Mandela only received news of his friend's death three months later, and wrote to Lamb: "I have been thinking of you & Ray ever since I heard of the death of your darling Pa. I have no details whatsoever as to when & how he died, having received only the bare report of the fact from one who assumed that we already knew about it. It is not easy to accept that we will never see Mike again."
The two men had initially met at a Communist Party meeting in the 1940s, and in the letter Mandela reflects on his first impressions of Harmel:
"When I first saw met him I was fresh from College where Academicians tended to be correct & formal in dress… He was dressed simply & without a tie… I assumed that he was an ordinary worker who was exceptionally gifted.
"It was quite some time later when I accidentally discovered that he was in fact quite a Scholar in his own right. A live wire loaded with current…It was some yrs later that I came to accept his simplicity as a virtue on which one could model his own life…"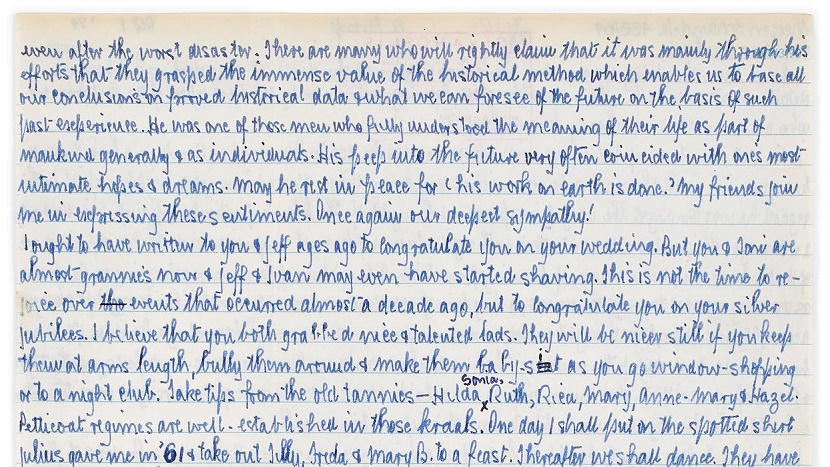 Harmel went to become a founder member of the Congress of Democrats, served as Editor of The African Communist journal, and was forced into exile in London where he in the British Anti-Apartheid Movement.
He was also named as a fellow co-conspirator at the Rivonia Trial in 1964, at which Mandela received his life sentence.
At the time Mandela wrote the letter in 1974 he was incarcerated in terrible conditions; forced to break stones in the prison yard every day, then confined to his cell 23 hours a day at weekends, whilst all the time sleeping on a stone floor and surviving on almost inedible food rations.
"When Nelson Mandela wrote this letter he had endured 10 years of appalling treatment with no prospect of release, yet he retained his humanity, his sense of humour and his faith in the future," said Giles Peppiatt, Bonhams Director of the South African Sale.
"He writes with almost conversational grace and ease. It is a wonderful letter."
Despite his life sentence, with little prospect of release, the letter shows that Mandela retained his sense of hope and humanity throughout the ordeal.
He ends of a reflective note, which combines his own philosophical nature with a touching tribute to his late friend:
"It has been said that faith is like an oak tree, it grows steadily but, once established, it endures for centuries. Ever ridden a horse in your life, or seen a horse race? Hope is the horse on which you ride & travel to your destination, to reach the winning post.
"My only fortune in life is to have friends who taught me these things, amongst whom was your beloved Pa. Fondest regards & sincere good wishes to all. Sincerely, Nelson."