A Nelson Mandela sketch of his prison cell door on Robben Island could sell for up to $90,000 when it goes up for auction at Bonhams next month.
The Bonhams Modern and Contemporary African Art sale in New York on May 2 will mark the first time an original artwork by Mandela has hit the auction block in the U.S.
Nelson Mandela was sentenced to life in prison in 1962 for attempting to overthrow the South African apartheid government, and served 27 years as a political prisoner before his release in 1990.
He then served as the first black President of South Africa from 1994 to 1999, and won more than 250 awards for his humanitarian work including the Nobel Peace Prize.
Following his retirement in 2002, he then began creating artworks under the tutelage of his teacher Varenka Paschke.
"When my father retired as the president, he didn't have much to do," said Mandela's daughter, Dr Pumla Makaziwe Mandela.
"I think for him, art was a good way of expressing himself or trying to come to terms with his history and his – I wouldn't want to say demons, but just coming to terms with his whole life."
Mandela produced a series of artworks based on his experiences on Robben Island, the brutal prison where he spent 18 years of his sentence.
At the time he stated: "Today when I look at Robben Island I see it as a celebration of the struggle and a symbol of the finest qualities of the human spirit, rather than as a monument to the brutal tyranny and oppression of apartheid."
Twenty of his artworks were reproduced as a series of lithographs, but Mandela's sketch of his prison cell door was never published, and remained in his own personal collection until his death in 2013.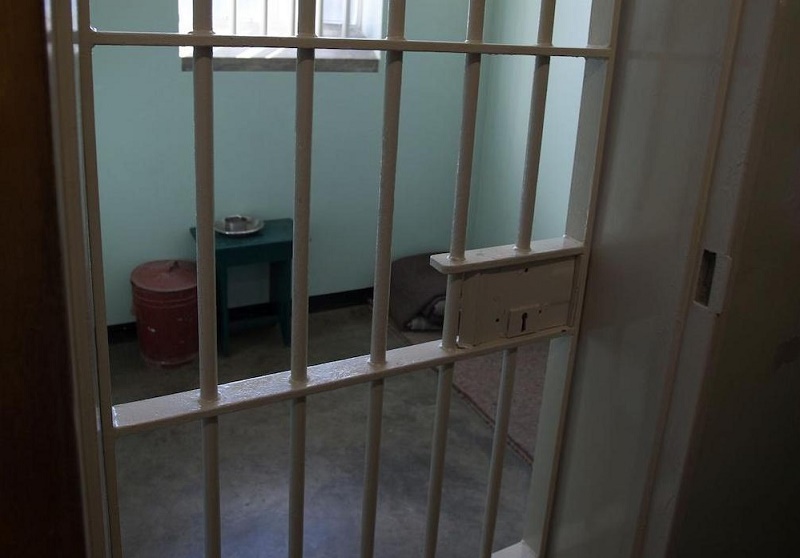 "The Cell Door, Robben Island was very special to my father," said Dr Mandela. "This work held a particular significance for him as it was a constant reminder that he could not forget what seemed unforgettable, and that he should not take freedom for granted."
The original sketch will now be offered for sale for the first time, with an estimated value of $60,000 – $90,000.
"The personal history and cultural gravitas that Mandela captured in this work is of great significance," said Bonhams Director of Modern and Contemporary African Art, Giles Peppiatt.
"Centred around the symbolic key in the lock, showing hope where previously there might have been none, the work demonstrates his indomitable spirit with characteristic honesty and clarity.
"This is the first time that a work by Nelson Mandela has come to market in the US, and we expect that it will resonate strongly."