A hat worn by Napoleon during his 1807 Pologne campaign has sold at Sotheby's in Paris for a stunning $1.4 million.
The historic hat crossed the block on Wednesday (September 22) with an estimate of €500,000 – €700,000, but soared to a final price of €1,222,500 ($1,433,540).
It's believed Napoleon wore the hat on July 7, 1807, as he met with Emperor Alexander I of Russia to sign the Treaty of Tislit after winning the Battle of Friedland.
Napoleon owned approximately 120 of his iconic bicorne hats during his reign, with each one made to to the same specifications by Poupart & Cie in Paris.
As Napoleon was allergic to leather he always had the inner sweatbands removed, and his dislike of new hats meant his valet was the first to wear them.
Today it's believed that 20 – 30 of the hats remain in existence, with most owned by museums and public collections.
The example sold at Sotheby's had passed down through a Scottish noble family for generations, after it was purchased in August 1814 by Sir Michael Shaw-Stewart, 6th Baronet.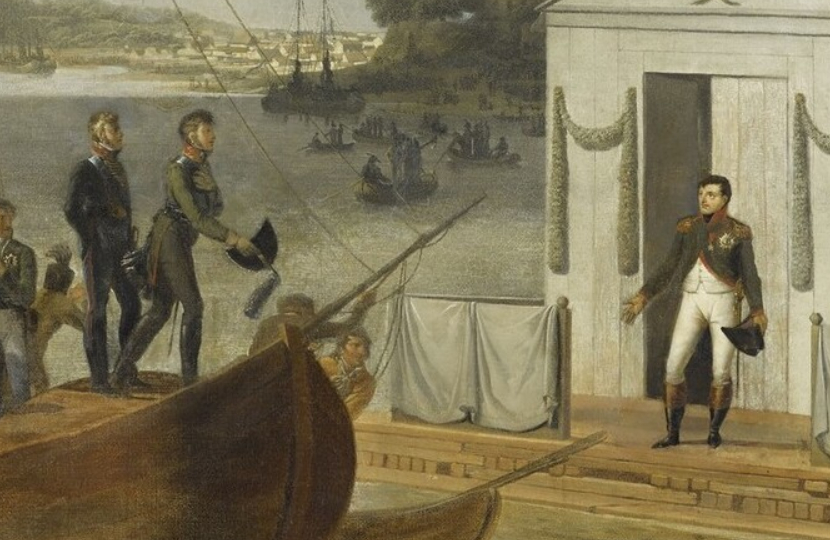 He recorded the acquisition in his diary at the time:
"…the hat of Buonaparte which he wore at the Battles of Iena, Friedland and Eylau and at the Treaty of Tilsit… He wore this hat for ten months. On leaving Dresden, Napoleon's valet de chambre gave it to Jean Baptiste Kühnel, concierge du Chateau, from whom I this day bought it at his own price, viz. 10 thalers or about two English guineas.
"I will not say how much I would have given for it but having got it I know that no price would tempt me to part with it. I consider it as a most curious and interesting thing to be possessed of and I shall spare no care or expense to get it back home."
Having owned the hat for 200 years, the Shaw-Stewart family then sold it at Christie's for £385,500 ($595,210).
Yesterday's result meant the value of the hat had grown by $838,330 – an increase of 75% in the space of just six years, highlighting the strength of Napoleon's popularity amongst collectors.