A controversial Muhammad Ali letter featuring his view on the notorious Ted Kennedy 'Chappaquiddick' scandal is heading for sale at Grey Flannel Auctions.
Ali wrote the letter to the family of Mary Jo Kopechne, who was killed in July 1969 in a mysterious car accident involving U.S Senator Ted Kennedy.
Relatives of Kopechne recently revealed the incendiary letter to the public, fifty years after it was written, and it's now expected to hit the auction block for the first time later this year.
"This letter is being consigned directly by the Kopechne family," said Michael Russek, Director at Grey Flannel Auctions.
"Ali's language shows a side of him that is seldom seen and tells a lot about his mindset at the time. A truly interesting piece of American history which we are excited to offer publicly for the first time."
The 'Chappaquiddick' incident remains one of the biggest political scandals of the 1960s.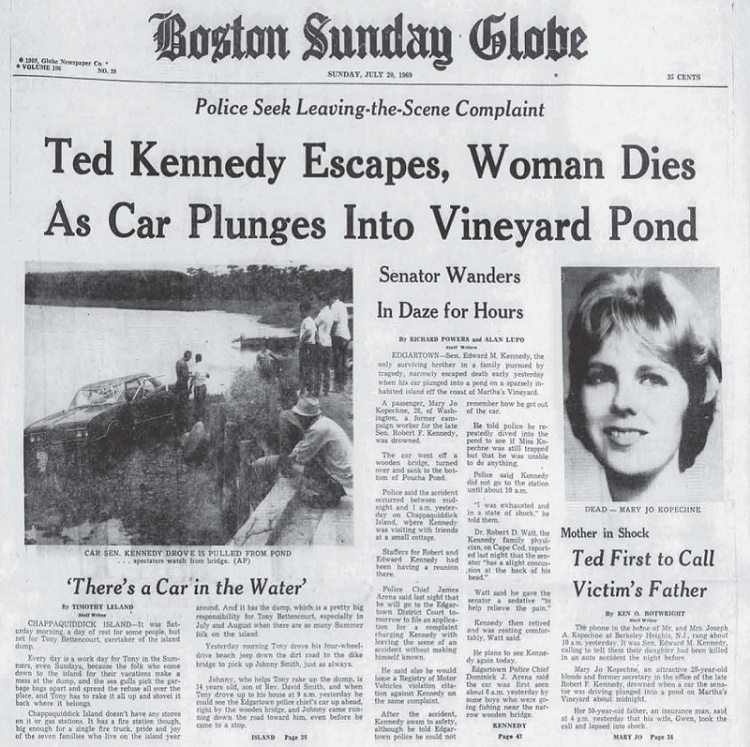 On the evening of July 18, 1969, Senator Ted Kennedy attended a party for supporters of his late brother Bobby's 1968 presidential campaign on Chappaquiddick Island, Massachusetts.
Having left the party with 28-year-old campaign specialist Mary Jo Kopechne, their car then crashed over a bridge into the Pocha Pond. Kennedy managed to escape the sinking vehicle then fled the scene, leaving Kopechne to tragically drown.
The U.S senator pleaded guilty to leaving the scene of an accident, and received a two-month suspended jail sentence. An enquiry later found that negligent driving had caused the accident, but no further charges relating to Kopechne's death were ever brought against Kennedy.
At the time of the incident Muhammad Ali was facing his own fight with injustice, having been convicted of dodging the Vietnam War draft and banned from professional boxing in all 50 states.
It's clear that Kennedy's television speech about the incident on July touched a raw nerve for Ali, and he felt compelled to reach out to another family facing an uphill battle against the wealthy establishment.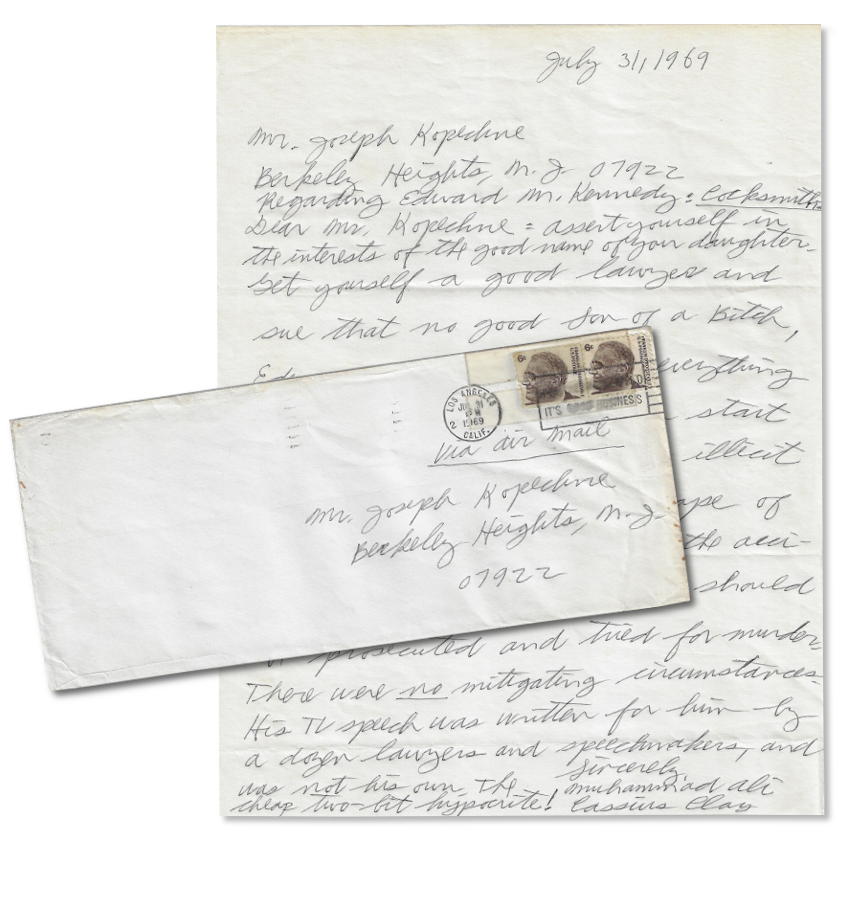 A few days later on July 31, he sent a handwritten letter to Kopechne's parents, which reads in part:
"…in the interests of the good name of your daughter, get yourself a good lawyer and sue that no good son of a bitch, Edward M. Kennedy, for everything he's got.
He also includes the unsubstantiated claim that Kennedy was involved in "an illicit sexual encounter" with Kopechne, and that "he should be prosecuted and tried for murder".
He finishes by signing the letter with both his birth name 'Cassius Clay' and his chosen name 'Muhammad Ali'.

Earlier this year, on the 50th anniversary of her death, relatives of Mary Jo Kopechne revealed the letter for the first time, along with a statement released to the Times Leader newspaper.
It read in part:
"This letter is an example of the fire and passion that propelled Muhammad Ali to the champion he became in the boxing world as well as the champion he became for the downtrodden in everyday life.
"This letter is written by a man swinging with all of his might for justice for a fellow victim and telling Mary Jo's parents 'You still have some power'.
"After her death, Mary Jo's parents received thousands of letters from all walks of life. Muhammad Ali was not the only one who wrote passionate, strongly-worded letters to Mary Jo's parents in support of her and in order to help ease a parent's anguish of losing their only child.
"We wanted to honor and thank Muhammad Ali by sharing this moment in history with the world and we should use this letter going forward as an example when faced with the choice to defend those who cannot defend themselves."
Muhammad Ali is considered one of the most significant cultural figures of the 20th century, not merely for his achievements as an athlete but also as an advocate for social change.
This letter was written at one of the lowest points of his life, as the 'establishment' stripped him of the ability to support his family at the peak of his career.
Yet Ali was still willing to offer his personal support to a grieving family, with whom he felt he shared a common cause.
For collectors of Muhammad Ali memorabilia, this unique letter provides a window into his passionate personality, and says as much about the man as any number of boxing belts ever could.