A highly rare and newly-discovered carving by the mysterious American folk artist Asa Ames is heading for auction in New Jersey next week.
The remarkable wooden carving of a young boy is expected to fetch up to $40,000 when it hits the block at Rago Auctions on December 1, as part of the company's Curiouser and Curiouser sale.
Although today Asa Ames is regarded as "an icon in the folk art field", very little is known about his life and brief career.
Born in Evans, New York in 1823, Ames is believed to have served as an apprentice during his youth, and his talents as a wood carver suggest he may have trained in the art of ship carvings or advertising figures.
A census record of 1850 lists his profession as "sculpturing", and all his known works date from around 1847 until his death in 1851 at the age of just 27.
Most of his subjects are thought to have been family members or friends, with the majority depicting young children such as his four nieces.
Each of the figures has a defined personality, brought to life by his distinct carving style which marks him out amongst his peers.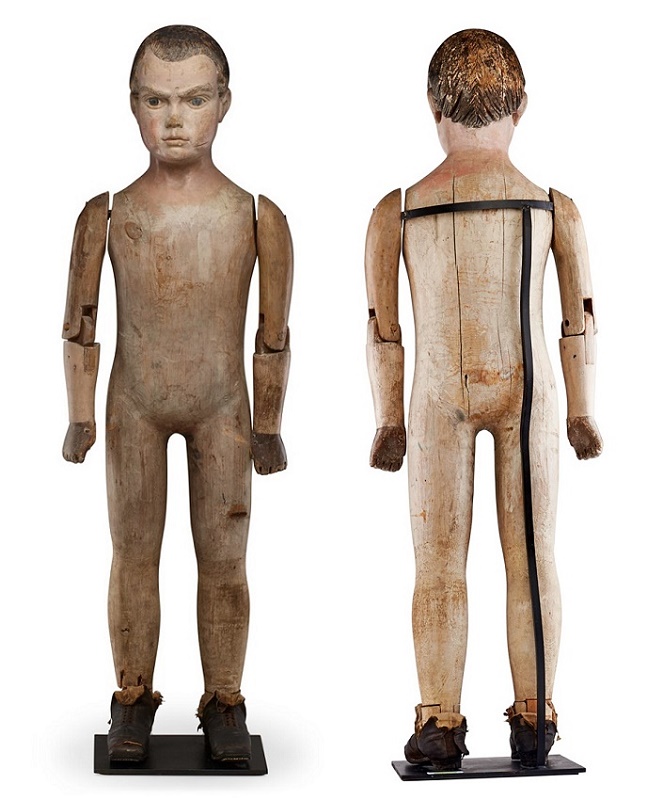 Until now just 14 sculptures had been attributed to Ames, with the majority owned by museums including the American Folk Art Museum and the New York State Historical Association.
Ames remained relatively unknown during his short lifetime, and it wasn't until 1931 that his sculptures were seen publically for the first time at the Newark Museum exhibition 'American Folk Sculptures: The Work of Eighteenth and Nineteenth Century Craftsmen.'
For decades his name has been mentioned in revered tones amongst specialist collectors of outsider and American folk art.
But it wasn't until 2008 that his works reached a wider audience, during the dedicated exhibition 'Asa Ames: Occupational Sculpturing' at the American Folk Art Museum.
However, despite the increased publicity, the sculpture offered at Rago is the first Ames work to surface in over a decade since that exhibition.
The wooden carving of a young boy stands 43″ tall, and features articulation of the shoulders and elbows along with its original polychrome paint.
It features Ames' distinctive carving style and captures the stern expression of the boy to perfection, with highly detailed facial features, full eyebrows, carved hair and a truly piercing stare.
It was purchased more than 20 years ago by the consignor in the region of Buffalo, New York, and had been much admired by other collectors during that time, but remained unattributed to Ames until just a few weeks ago.
Now examined and authenticated by the curator of the 2008 exhibition, the sculpture is set to cause waves amongst folk art collectors as the first Ames work to appear for public sale in years.