An incredibly rare original sculpture by the beloved children's author Dr Seuss is heading for auction at Profiles in History this week.
The strange sculpture depicts the fake taxidermy head of one of Seuss' surreal creations: the Mulberry Street Unicorn.
Sculpted and hand-painted by Seuss in 1939, the work is one of only five originals known to exist, and comes with a pre-sale estimate of $22,500 – $27,500.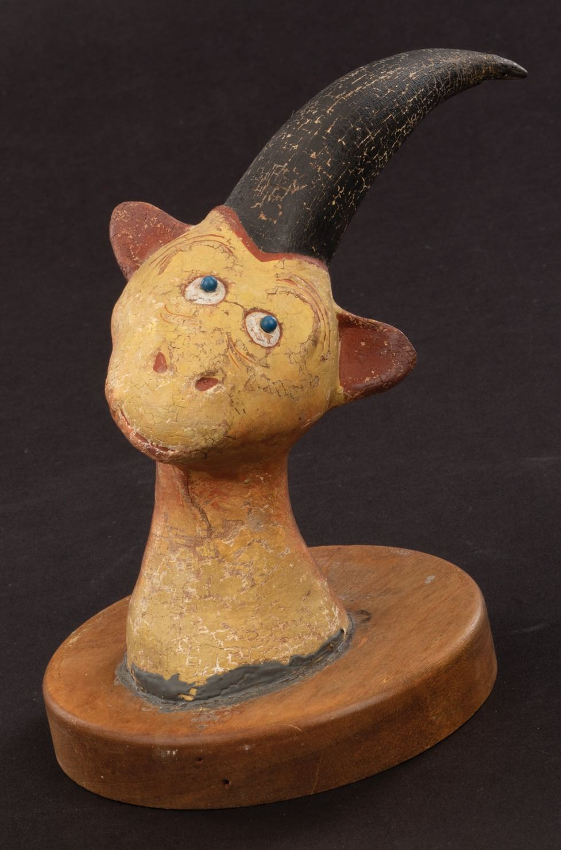 Today Dr Seuss – real name Theodore Geisel – is regarded as an icon of children's literature, having sold more than 600 million books around the world.
But before he became known as a children's author in the late 1930s, Geisel was a cartoonist and illustrator who found success with a long-running advertising campaign for the bug spray Flit.
Away from the high-flying world of advertising, however, he also had a secret hobby: fantastical taxidermy.
Geisel had grown up close to the local zoo in Springfield, Massachusetts, and was inspired to draw animals (both real and imaginary) from an early age.
Geisel's father worked as the public park supervisor with access to horns, skins and feathers from zoo animals that had died of natural causes, and he later sent them to his son in New York to use as reference for his illustrations.
But Geisel went one step further, and began to combine them with plaster, wood and oil paint to create sculptures of imagined animals which he called The Seuss System of Unorthodox Taxidermy.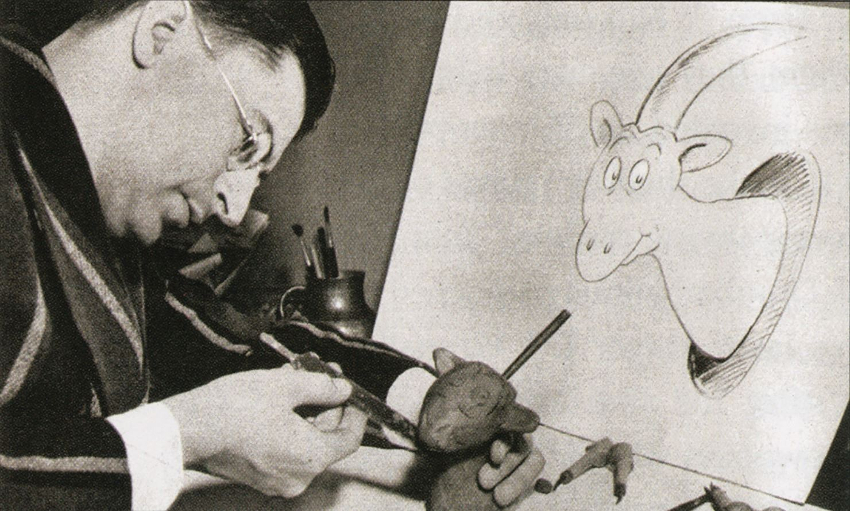 His creations included the Tufted Gustard, the Two Horned Drouberhannis, the Goo-Goo-Eyed Tasmanian Wolghast and the Mulberry Street Unicorn, and were displayed on the walls of his home.
In an article in his home town newspaper, Geisel's sister Marnie described the unusual collection:
"They have a charming apartment on Park Avenue, New York, but it is so filled with his animals that I am apt to have a nightmare whenever I visit them."
When his debut children's book 'And to Think I Saw It on Mulberry Street' was published in 1937, Geisel's sculptures were exhibited in a New York bookshop and attracted so much attention that he decided to sell them.
He began advertising them for sale via mail-roder in Judge Magazine, where he worked as a regular cartoonist, describing them as "rare and amazing trophies for the walls of your game-room, nursery or bar".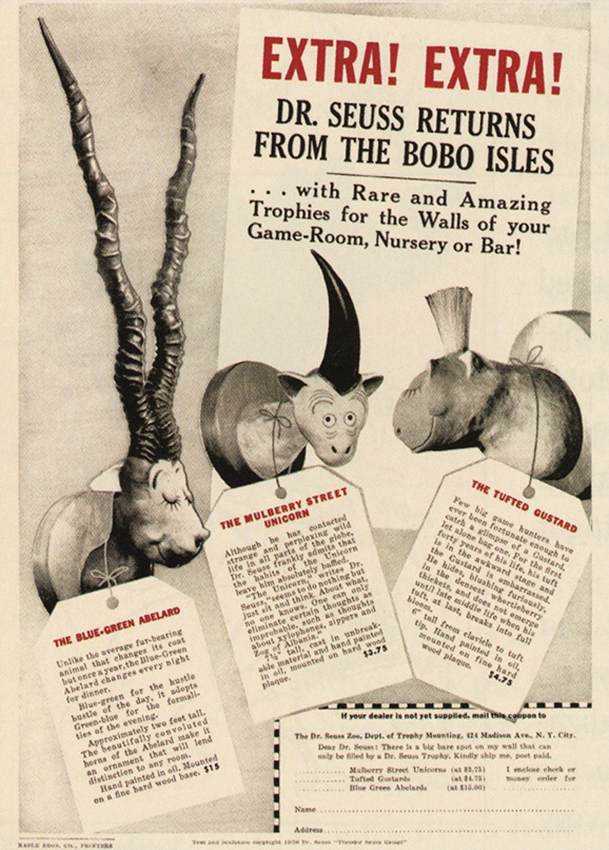 The Mulberry Street Unicorn was one of three sculptures available, alongside the Blue-Green Abelard and the Tufted Gustard, and it was described in typically whimsical fashion:
"Although he has contacted strange and perplexing wild life in all parts of the globe, Dr Seuss frankly admits that the habits of the unicorn leave him absolutely baffled.
"'The Unicorn', writes Dr Seuss, 'seems to do nothing but just sit and think. About what, nobody knows. One can only eliminate certain thoughts as improbable, such as thoughts about xylophones, zippers and Zog of Albania.'"
Today it's estimated that around 30 of the original sculptures have survived, five of which are of the Mulberry Street Unicorn.
The example on offer this week was a personal gift from Geisel to his friend and fellow artist Phil Dike, who worked as an art director at Walt Disney Studios on classics such as Snow White and Fantasia.
The creatures in the Seuss System of Unorthodox Taxidermy have since been recreated as modern, limited-edition sculptures which are highly sought-after and collectible in their own right.
But the rare opportunity to own one of the hand-painted 1930s originals could have Dr Seuss fans choking on their green eggs and ham.
The Profiles in History Animation and Disneyana auction takes place in Calabassas, California on October 18.