This is the jersey Mickey Mantle wore in the final two games of the 1964 World Series, when he achieved his record of 18 career home runs in the Fall Classic.
It's set to star in Heritage Auctions' August 18-19 Summer Platinum Nights Sports Collectibles sale in Dallas on August 18-19 with an estimate in excess of $750,000.
What makes this a particularly impressive feat, is that Mantle's record still stands today, almost 60 years on. Prior to that, the holder was Babe Ruth – who finished on 15 in 1934.
Achieving 18 home runs in 230 "at bats" gave Mantle a rate of 12.77.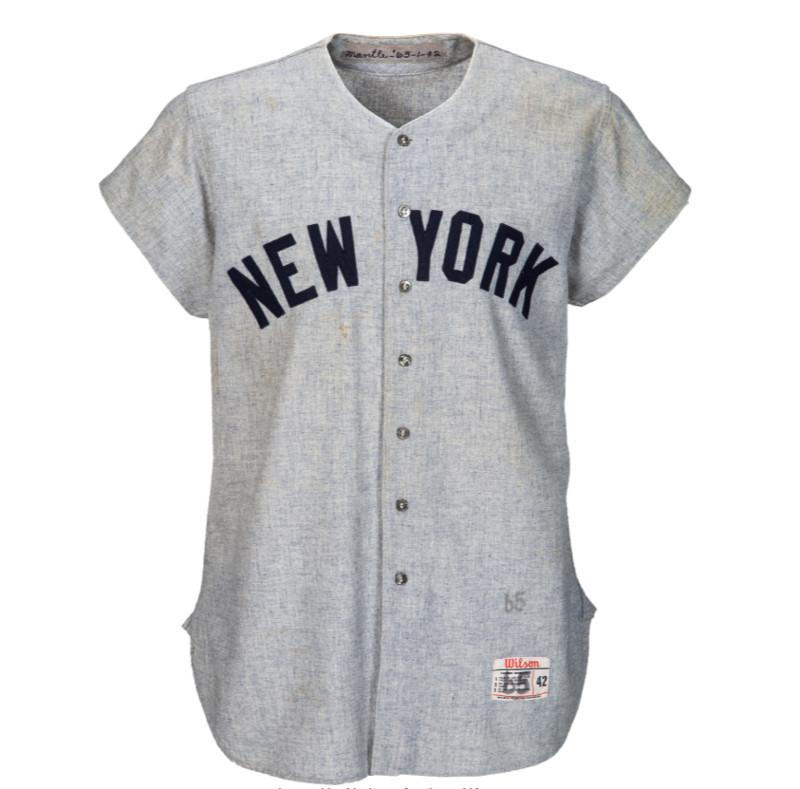 At the end of the Series, the jersey was passed down (along with a consignment of others) to the Binghamton Triplets – one of the Yankees' farm teams.
This is one of the main reasons why Major League jerseys from this era (and earlier) are so rare. They were worn to death by legions of younger players. Somehow, for whatever reason, this jersey survived fully intact.
Heritage comments: "It goes without saying that any Mickey Mantle game worn jersey is a treasure of American sports history, but this remarkable example distinguishes itself within that rare and coveted breed for its link to the only surviving record from the Mick's Hall of Fame resume, one that will endure as long as the bronze Cooperstown plaque that heralds the achievement."
While $750,000 is a large sum of money, it pales in comparison with the $4.4m record paid for Babe Ruth's 1920 rookie jersey in 2012. That said it could edge out the $1m paid for Ruth's 1932 Called Shot jersey – the second most valuable in the hobby.
Of course it wouldn't be a sports auction without some classic Babe Ruth memorabilia. The contract he signed with the Yankees in 1930-1931 will feature with an estimate of more than $400,000.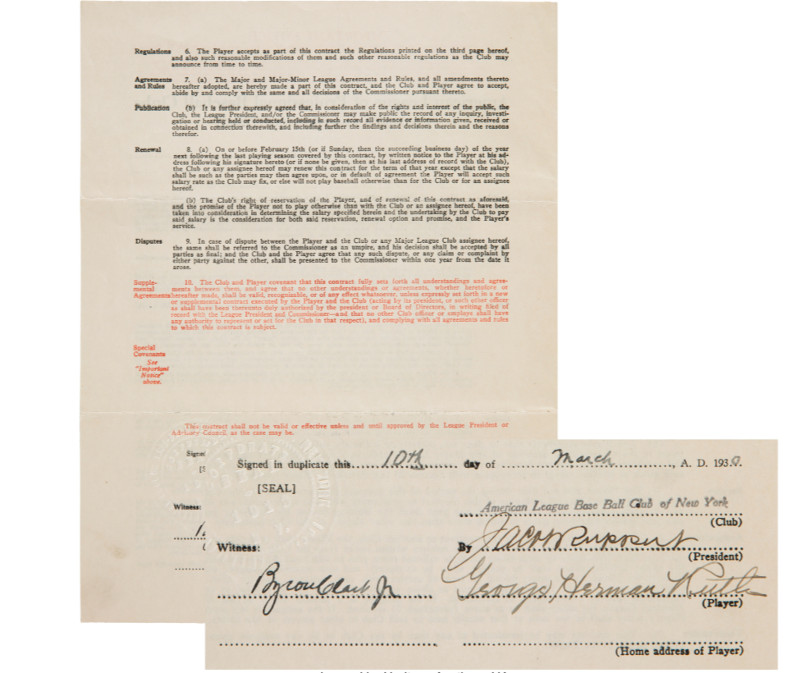 This contract was drawn up following Ruth's barnstorming performance in the 1929 season. He was at the peak of his talents, holding down an astonishing .697 batting average.
At a press conference following the signing, one incredulous reporter pointed out that the figure was higher than sitting US President Herbert Hoover's salary.
"Why not?" was Ruth's reply, "I had a better year than he did."
Heritage says: "Arguably only a single contract in Major League Baseball history-the 1947 agreement that carried Jackie Robinson across the sport's shameful color line-could be considered more famous or significant than the example proudly presented here…
"It is a treasure with few equals in the vast paper archives of American sport."
In 2005, the fateful contract that signed Ruth over from the Red Sox to the Yankees made $1m.