A silver-coated Air Jordan sneaker from the personal collection of Michael Jordan himself is heading for sale at Heritage Auctions.
The trophy sneaker – an original Air Jordan 1 – was one of ten created in 1995 by Jordan's wife Juanita to commemorate his 32nd birthday.
Described as "the ultimate sneakerhead Holy Grail", the silver shoe is expected to sell for more than $50,000 when it hits the auction block in Dallas on October 18-19.
The current record for a pair of Jordan's game-worn sneakers was set back in 2017, when the Converse sneakers he wore in the Gold Medal game at the 1984 Los Angeles Olympics sold at SCP Auctions for $190,372.
In February 1995 Jordan celebrated his 32nd birthday by hosting a charity gala night at his own restaurant in Chicago, during which his wife Juanita and jeweller Howard Kaplan presented him with the silver sneaker.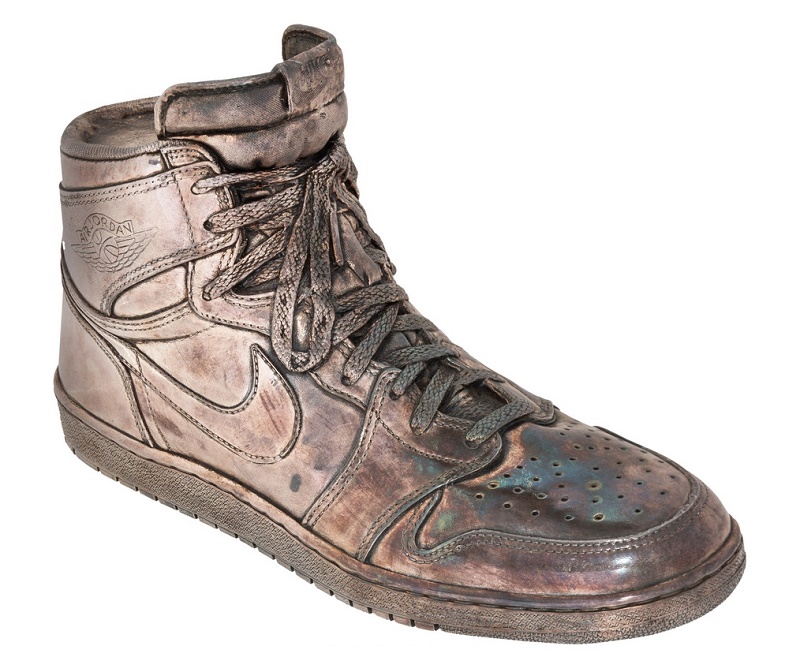 It's believed that Jordan kept one of the ten sneakers for himself and later presented the other nine as gifts to his close circle of friends.
Other examples have previously been displayed at Michael Jordan's Restaurant, the Chicago Science Museum, and in the clubhouse of his hometown golf course.
At the time of his birthday Jordan was in the midst of his brief professional baseball career, having sensationally retired from basketball back in October 1993 and signed a minor league contract with the Chicago White Sox.
This change of sport was evident at the party, as he was also presented with a baseball catcher's mitt similarly coated in silver, along with large cake in the shape of a baseball and bat.
The Heritage sale will feature that silver catcher's mitt, a fascinating relic from one of the biggest sporting crossovers in U.S history, with an estimate of $15,000 and up.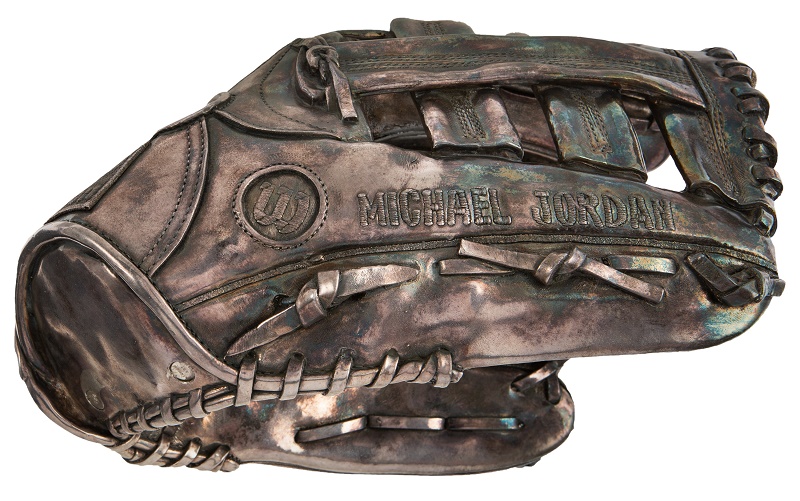 However in March, less than a month after the party, Jordan's flirtation with baseball came to a sudden end during the Major League Baseball strike.
The Chicago Bulls were struggling in mid-season, and Jordan came to their rescue with the simple two-word press release: "I'm back."
The following year he led the Bulls to another NBA championship, marking the start of an incredible second 'three-peat' before he retired for the second time in 1999.
In addition to the silver-coated sneaker and glove, the sale will also include two pair of Jordan's famous shoes.
The first pair, estimated at $8,000+, were worn by Jordan during his comeback season in 1995-96 and signed at his youth camp in 2004.
The second pair were worn by 'His Airness' during the 1996-97 season, as attested by a letter of provenance from the Chicago Bulls, and are estimated at more than $30,000.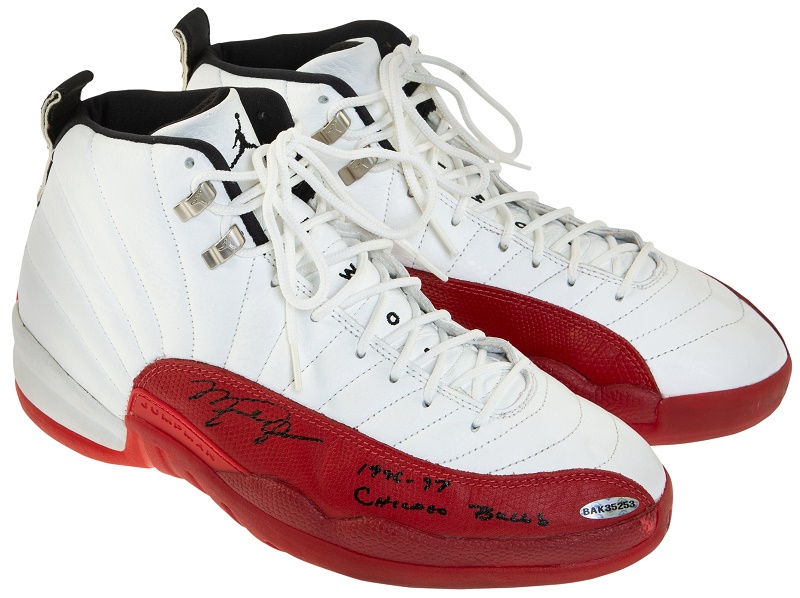 Whether it's his incredible record on the basketball court, or his logo on a pair of rare shoes, there's no denying that Michael Jordan is one of the most collectible American athletes of all-time.
We had a quick exclusive chat to Jonathan Scheier, Sports Expert at Heritage Auctions, about the upcoming sale, Jordan's legacy and the basketball memorabilia market.
Hi Jonathan! Is this silver shoe the ultimate rare Jordan sneaker? Or will game-worn shoes always be more valued by collectors?
"I suspect you'd find opinions on this split pretty close to center.  For 'sneakerheads,' who tend to fixate on the 'Nike' part more than the 'Jordan' part, the silver shoe would be the ultimate prize.
"But for basketball fans, they're typically going to prefer their shoes soaked in Mike's foot sweat."
Do you think Michael Jordan's legacy stand the test of time with collectors? Is he the 'Babe Ruth' of basketball?
"As transformative figures in their respective sports, there is no doubt that Ruth and Jordan reign supreme.  There's no single, undeniable king of football, but on the Mount Rushmore of American professional sports, three spots are certain: Babe Ruth, Michael Jordan and Wayne Gretzky."
Is the market for historic basketball memorabilia still undervalued, particularly when compared to baseball memorabilia?
"That's a fair statement.  Baseball has had a massive head start on the other sports in terms of collectibles, and it's still well out in front of the pack, but the other sports are gaining.
"Will they ever reach equal footing?  That remains to be seen.  But Jordan is definitely a bull market, no pun intended."
The Heritage Fall Sports Memorabilia Catalogue Auction takes place in Dallas on October 18-19.