A highly rare Michael Jordan card has sold for $1.44 million at Heritage Auctions, setting a new record for a card featuring the basketball legend.
The autographed 1997 Upper Deck Game Jersey Jordan card is one of just 23 examples in existence, and features a piece of the jersey Jordan wore in the 1992 NBA All-Star Game.
The card sold on February 5 as part of Heritage's first sale dedicated to modern sports cards, which achieved a total of $7.5 million.
"It would be understatement to say we're ecstatic with the results from our first Modern Sports Card Catalog event," said Chris Ivy, Heritage's Director of Sports Auctions.
"Heritage has long been the leading seller of vintage cards and memorabilia. But with these cards and these results, it would appear we just reset the modern collecting hobby as well."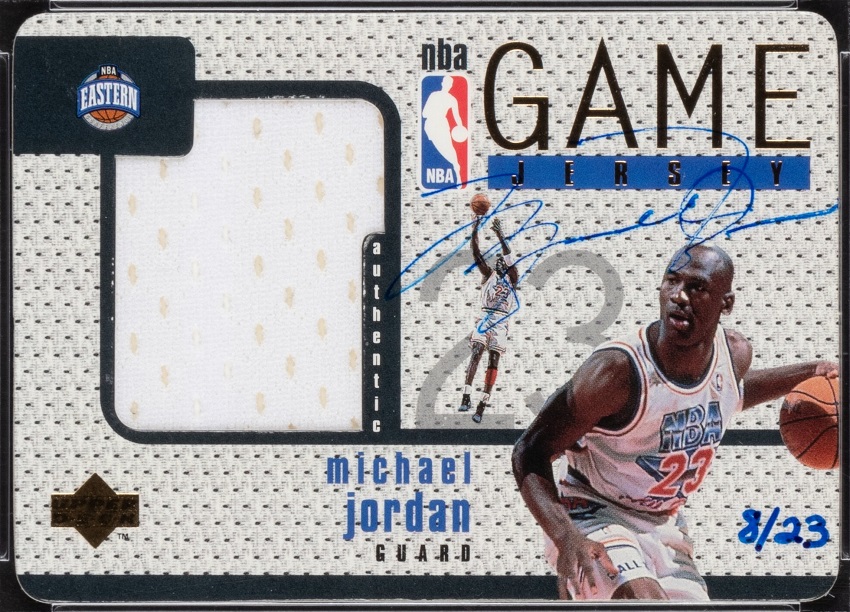 The previous record price for a Michael Jordan basketball card stood had been set in December 2020, when a green-shaded 1997 Michael Jordan Metal Universe Precious Metal Gems card sold at Heritage for $915,000.
The auction's second-highest lot was further clear evidence of this growth.
Another Jordan card – in this case his famous 1986 Fleer rookie card – sold in PSA Gem Mint 10 condition for $645,000.
Yet only last May, another example of this card in equally perfect condition sold at Heritage for just $96,000.
The sale on Friday marked a 578% increase in value in the space of just eight months.
That remarkable increase clearly illustrates how the market for modern sports cards has skyrocketed in the past 12 month.
According to Heritage, almost every card in their inaugural modern card sale exceeded its pre-sale estimate, with more than 1,000 bidders around the world competing for lots.
There were also strong results for a red-tinged 1997 Metal Universe Michael Jordan Precious Metal Gems card, and a LeBron James 2003 Topps Chrome Black Refractor card, each of which sold for $480,000.