Michael Jackson's first recording contract with the Jackson Five is heading for auction in New York next month.
The landmark document will be offered for sale by Guernsey's, as part of the upcoming African American Historic & Cultural Treasures sale on July 25 – 26.
The contract dates from November 1967, and features the signatures of Joe Jackson and William Adams (aka Gordon Keith), owner of Steeltown Records in the family's home town of Gary, Indiana.
The group was originally formed in 1964 as the Jackson Brothers, with Tito, Jermaine and Jackie joined by a five-year-old Michael playing congas and seven-year-old Marlon on tambourine.
After winning a series of talent shows in local high schools, during which Michael would sing Robert Parker's R&B hit 'Barefootin', Joe Jackson began booking his sons into more professional venues.
These included well-respected venues on the chitlin' circuit, along with high-profile talent competitions at the Regal Theatre in Chicago and the legendary Apollo Theatre in New York.
Their winning performance at the Apollo in August 1967 earned them the support of renowned soul singer Gladys Knight, who sent their demo tape off to her label Motown Records – but it was rejected and sent straight back.
Undeterred, the Jacksons returned home to Indiana and invited Gordon Keith to watch them perform. The brothers auditioned for Keith in their living room, and he was convinced to sign them up straight away.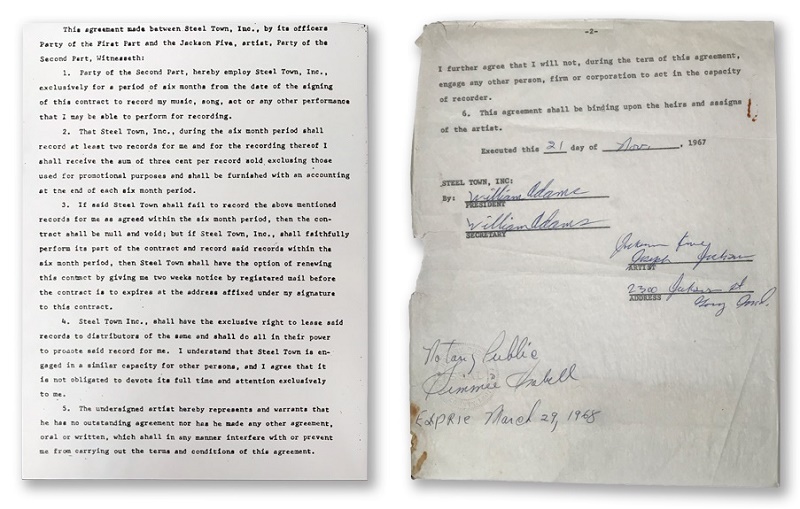 "When they sang, Michael sang like an angel," Keith later recalled. "Jermaine also had a great voice. Jackie could carry a tune. Marlon could really dance…
"But when Michael danced, all while singing, he blew away James Brown, Jackie Wilson, Fred Astaire, and anyone else you can name… Well, I was flabbergasted. Knocked out. Blown away. Speechless."
Joe Jackson signed this first professional contract on behalf of his sons on November 21, 1967, and they recorded two singles for the label: We Don't Have to Be Over 21, and Big Boy, which featured Michael Jackson on lead vocals for the first time.
The records became local radio hits, and Jackson's debut vocal performance on Big Boy earned the track a national distribution deal with Atlantic Records.
In the summer of 1968 they were finally invited to film a taped audition for Berry Gordy, founder of Motown Records, who eventually signed them in March 1969.
It was the start of a career that saw the group become one of the first African American acts to cross over into mainstream pop success, selling 75 million records around the world.
It also marked the beginning of Michael Jackson's professional music career, and a journey which led to him being crowned as 'The King of Pop', as one of the biggest cultural icons of the 20th century.
Following his death in 2009 at the age of just 50, the value of Michael Jackson memorabilia has skyrocketed amongst his fans.
His stage worn costumes and famous crystal gloves regularly fetch six-figure sums at auction, and even simple autographed items can spark incredible bidding wars.
In 2010, a basketball signed by Jackson and basketball star Michael Jordan hit the block at Julien's in Beverly Hills with an estimate of just $600-800 – and soared to a final price of $299,000.
However, the sale of Michael Jackson's first recording contract marks the first time such a significant piece of history from his early career has appeared at auction.