A postcard written aboard the Titanic four days before it made its fatal rendezvous with an iceberg will appear at Warwick & Warwick Auctioneers on July 18.
The writer was a maid named Sarah Daniels who was travelling with her employers, the Allisons of Montreal. It's addressed to her friend Nell Green of Birmingham, UK and reads: "I wish you were here, it is a lovely boat & it would do you good. Am just going on deck."
The reverse shows the Titanic under full steam. The date stamp reads April 11, 1912. It was posted from Queenstown (renamed Cobh in 1920), Ireland – the last stop before the ship sailed out across the Atlantic.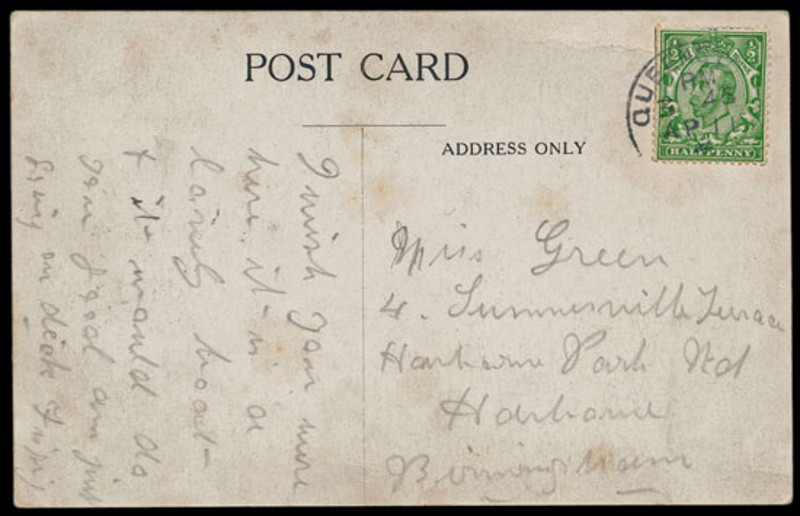 Daniels, who was staying in first class, realised something was up fairly early on. She attempted to wake her boss, Hudson Allison and nurse Alice Cleaver, both of whom angrily refused to listen to her and went back to sleep. Stepping out on to the deck she was directed to a lifeboat by the crew.
On her arrival back home in Canada, she told the Manitoba Free Press: "The boat I was in was not very crowded. There were only 4 men in the boat and they took the oars. There was no officer in the boat and a woman steered as we were rowing away in the darkness."
All of the Allisons (bar one) perished in the disaster with only Cleaver, cook Mildred Brown and 11 month old Trevor Allison escaping off the ship. The family were split up in the chaos and appear to have blown their escape window looking for one another rather than getting into lifeboats.
Reports state Cleaver did not allow Daniels to see Trevor when the two met again on rescue ship the Carpathia.
Notes and letters written aboard the Titanic are among the most sought after pieces of memorabilia relating to the ship on the market. A letter written by businessman Oscar Holverson on April 13, 1912 and recovered from his wallet in the days after the sinking sold for a record £126,000 ($166,174) in 2017.