Stopping by the Woods on a Snowy Evening is among American poet Robert Frost's most celebrated works. Last night in London, Bonhams sold an original draft manuscript of the text for £52,500 ($68,870).
While you may not recognise the title, you'll almost certainly know its haunting final refrain: "The woods are lovely dark and deep/ But I have promises to keep/ And miles to go before I sleep/ And miles to go before I sleep".
This copy has only recently been discovered. Dated January 28, 1923, it's the earliest known example of this poem in its final form. Frost would publish the text in The New Republic on March 7 that same year.
Frost wrote the first known draft of Stopping by the Woods in July 1922. The original (which differs slightly from the finished text) is housed in the collection of the Jones Library in Amherst, Massachusetts.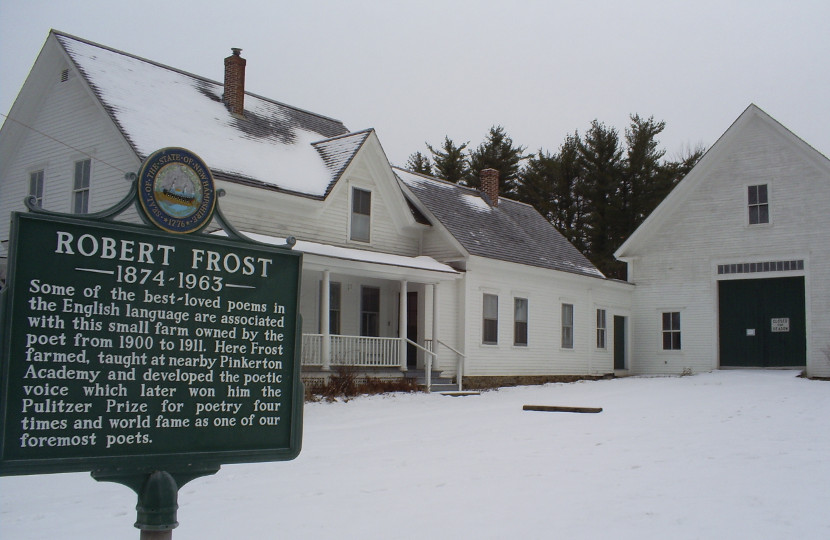 The autobiographical poem narrates a traveller stepping off his horse by a snowy lake, surrounded by deep woodland.
Frost lived with his young family on a farm in rural Derry, New Hampshire from 1900-1911. One Christmas, having run low on funds, he brought some of his produce to the local town but was unable to find anyone to buy it. Realising he would not be able to provide presents for his children, he stopped by a lake and cried.
Frost's daughter Lesley recounted some words he'd told her on the subject: "A man has as much right as a woman to a good cry now and again. The snow gave me shelter; the horse understood and gave me the time."
Frost made several copies of this hugely popular poem for friends in his later years. One sold for $30,000 at Bonhams in 2006.
This draft is accompanied by a letter Frost wrote to his friend and fellow poet Jack Haines.
A notebook by the English poet Edward Thomas (gifted to Haines by Thomas' wife in 1922) also sold for £52,500 ($68,870).
The book contains drafts for three of Thomas' best known works; The Mountain Chapel, The Birds' Nests and House & Man.