A drug enforcement badge owned by Elvis Presley is heading for sale next month, as part of huge auction of memorabilia at his former Graceland home.
The badge is expected to sell for more than $10,000 during the auction on August 13, during a week of special events in Memphis commemorating his passing.
Throughout his life Elvis had a fascination with law enforcement, and was known to spend hours talking with police officers whenever he met with them during his extensive U.S tours.
He was made an honorary member of dozens of forces across the country, and began to assemble a large collection of police badges, many of which remain on display at Graceland.
But Elvis' passion went a step further, and he acquired a police scanner, a radio and a flashing blue light for his car.
He was known to patrol the street of Memphis, occasionally pulling over speeding motorists and flashing them his police badge, before presenting them with an autograph and driving off – much to their bemusement.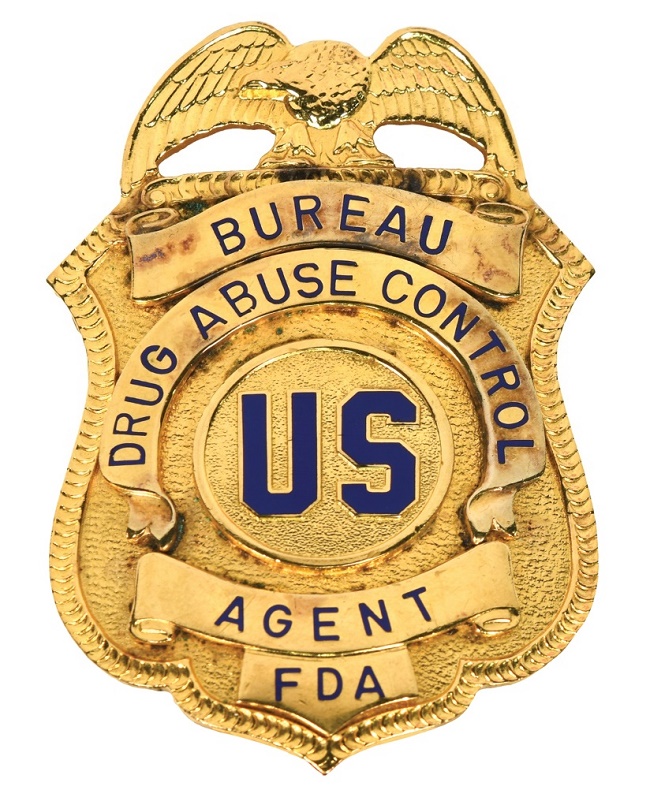 According to a letter of provenance from Memphis Mafia member Sonny West, the badge up for sale at Graceland Auctions was the first narcotics agency badge Elvis has ever received.
The FDA Bureau of Drug Abuse Control was established in 1966 and operated until 1968, when it merged with the Federal Bureau of Narcotics to form the Bureau of Narcotics and Dangerous Drugs.
Elvis was presented with the badge in 1970, likely by an agent who no longer needed it as the name of the bureau had changed.
However, Elvis desperately wanted a genuine, official Federal Bureau of Narcotics and Dangerous Drug Enforcement badge – and knew that to obtain one he'd have to go all the way to the top.
It was this mission that eventually led him to the White House, and a bizarre meeting with President Richard Nixon in which the two men posed for one of the most famous photographs of the 20th century.
Elvis wrote a letter to Nixon, and Nixon's advisors hastily set up a meeting on December 2, 1970, believing it would be good for the President's image amongst younger voters.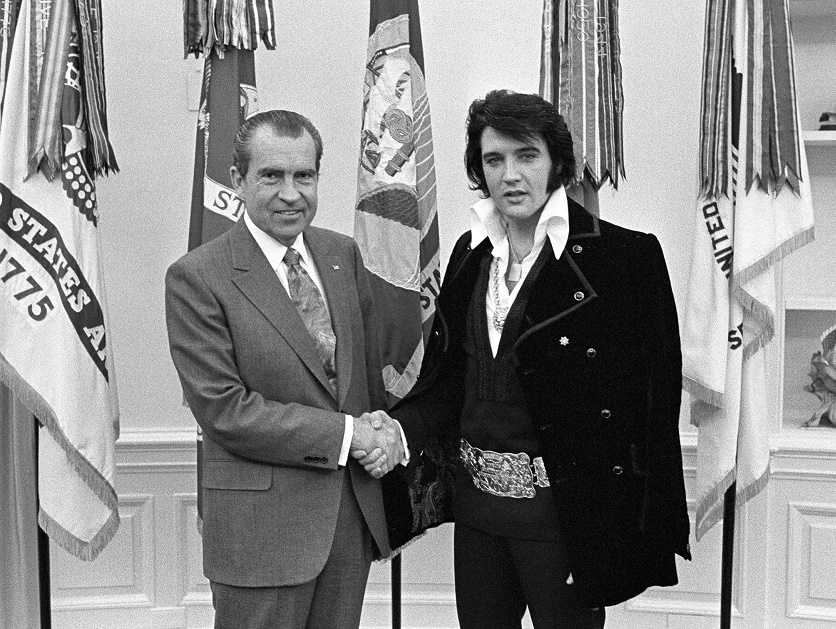 Having received the badge, Elvis told the President that he wanted to serve as an undercover agent in the fight against the dangerous hippie drug culture sweeping the nation.
Tragically, Elvis' obsession with the DEA, the 'war on drugs' and his desire to become an undercover agent masked his own battle with addiction.
Elvis first began using prescription drugs regularly in the late 1960s, aided by his personal doctor George Nichopoulos, who obtained Dilaudid, Percodan, Demerol, codeine and Quaaludes for him in huge quantities.
Nichopoulos later said that Elvis "felt that by getting drugs from a doctor, he wasn't the common everyday junkie getting something off the street".
Elvis' wife Priscilla was even more blunt about Elvis' desire to obtain official DEA badges, claiming it represented more than a mere attempt to over compensate for his own drug use.
"The narc badge represented some kind of ultimate power to him," she later wrote in her memoir, Elvis and Me. "With the federal narcotics badge, he [thought he] could legally enter any country both wearing guns and carrying any drugs he wished."
It was Elvis' addiction to prescription drugs, along with underlying medical factors, his terrible diet and his punishing schedule, that eventually led to his death in August 1977.
And the badge now up for auction perfectly captures Elvis Presley's complex nature, as a man who shone as a light of millions of fans, whilst battling his own demons behind closed doors.