Gotta Have Rock and Roll is selling a DAT cassette featuring an alternative version of Michael Jackson's fifth and final studio album Invincible (2001).
Valued at $225,000-250,000 it's set to be the star of the July 20 sale.
The tape includes a song titled Shout that was never released, alongside several other tracks that are either unfinished or vary slightly in terms of production. All are unmastered and offering an intriguing look into Jackson's process. The auction house comments: "'Heaven Can Wait' is a highlight as Michael can be heard straining his voice – those vocal takes were never released."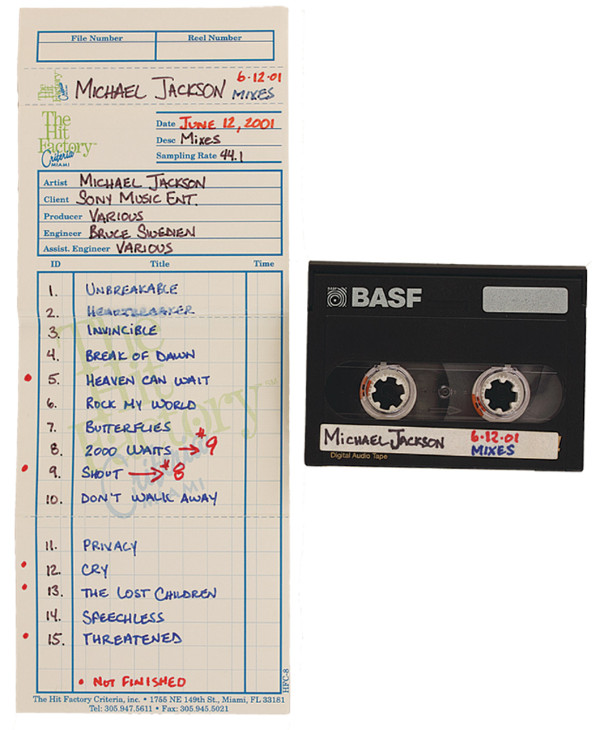 Jackson began recording Invincible in 1997. The record was intended to be a comeback following a good few years in the wilderness and met with reasonable success.
A collection of five more cassette tapes featuring various unreleased songs from Jackson, as well as the star's own personal tape player, are offered with an estimate of $200,000-300,000.
Jackson gifted these tapes to his chauffeur Gary Hearn. The voice on the tracks varies. Some feature Jackson himself while others have a session singer as a stand-in. Titles include Jungle City and The Way You Love Me. There's also a track called Blue Powder that Jackson apparently helped Hearn write and record.
Lastly there's a CD-ROM containing a fully mastered track titled Get Your Weight Off Me. This song was intended to be released on Invincible but was omitted from the finished album. All three of these lots are sold without copyright, which is likely to have an effect on the price paid.
This isn't the first time a selection of Jackson's studio tapes have come to auction. Last year the supposed master tapes for Jackson's unreleased album Casico appeared at Gotta Have Rock and Roll, but were taken down following a legal challenge. They were expected to sell for up to $1m.
Elsewhere the Gotta have Rock and Roll sale will offer a rare piece of musical history for fans of the Beach Boys.
Brian Wilson's original lyrics for the Beach Boys song Catch a Wave are expected to make around $125,000-150,000.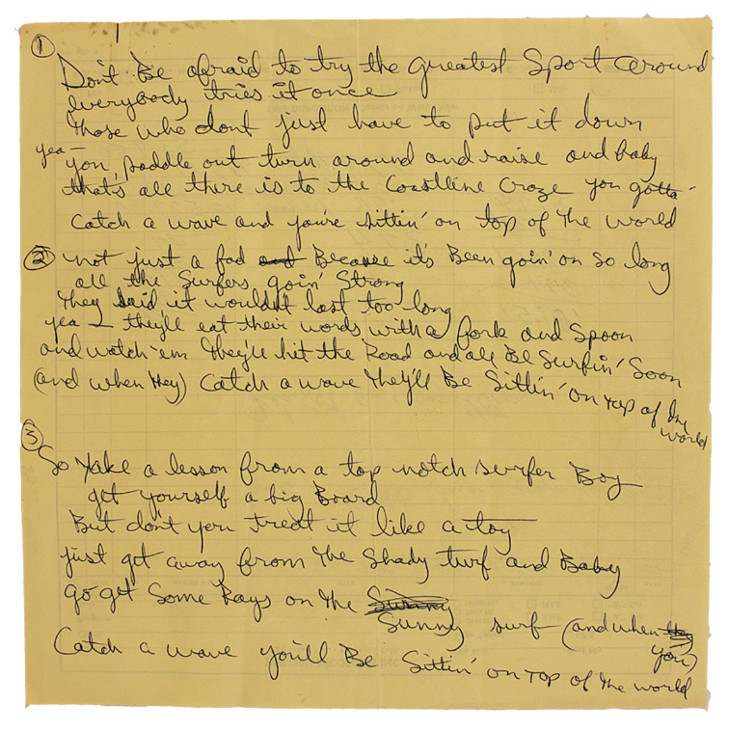 The text is written on the back of a Western Recorders Inc master sheet. On the other side is a short fragment from the opening of Little Deuce Coupe and some notes on expenses. Both these songs appear on classic 1963 album Surfer Girl.
The lyrics were originally offered at Sotheby's in 2016 with an estimate of up to $300,000 but failed to sell. While the Beach Boys are a hugely popular band, this slightly more conservative valuation may serve to boost interest among collectors.