A letter from rapper Tupac Shakur to Madonna regarding their secret love affair is finally up for auction, following a two-year legal battle.
The revealing three-page letter will be offered by Gotta Have Rock and Roll Auctions on July 26, with an estimated value of $200,000 – $300,000.
The celebrity couple secretly dated in 1994, having first met at the 1993 Soul Train Awards, although the relationship wasn't officially confirmed until Madonna spoke about it in 2015 during an interview with Howard Stern.
By the time Shakur wrote the letter on January 15, 1995 the pair had been separated for several months, and he was in jail in New York awaiting sentencing, having been convicted of sexual assault.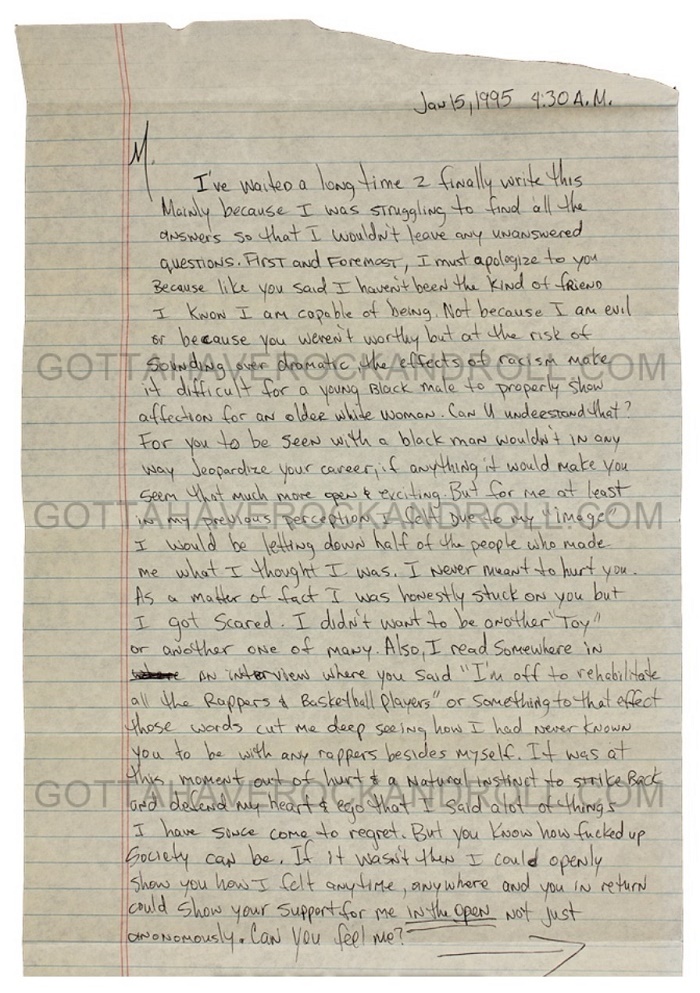 In the letter he claimed that he had split up with Madonna for being white, suggesting "the effects of racism make it difficult for a young black man to properly show affection for an older white woman."
"For you to be seen with a black man wouldn't in any way jeopardize your career – if anything it would make you seem that much more open and exciting," he wrote.
"But for me, at least in my previous perception, I felt due to my 'image,' I would be letting down half of the people who made me what I thought I was. I never meant to hurt you.
"As a matter of fact I was honestly stuck on you but I got scared. I didn't want to be another 'toy' or one of many."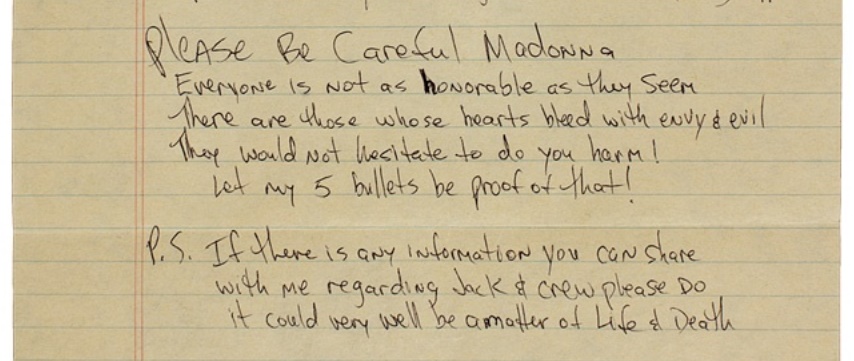 In an eerie prophecy of what was to come, he also wrote: "Please be careful Madonna. Everyone is not as honorable as they seem. There are those whose hearts bleed with envy & evil. They would not hesitate to do you harm! Let my 5 bullets be proof of that!"
Just 12 months later Shakur was gunned down by an unknown assailant during a drive-by shooting in Las Vegas, and died in hospital two days later.
The letter was one of several items consigned by her former friend and art consultant Darlene Lutz, along with other personal letters, photographs, a hairbrush and a pair of panties.
It initially hit the block at Gotta Have Rock and Roll Auctions in July 2017, but was withdrawn from the sale after Madonna filed an emergency court order.
In the legal filing she stated "The fact that I have attained celebrity status as a result of success in my career does not obviate my right to maintain my privacy," and claimed Lutz had "betrayed my trust in an outrageous effort to obtain my possessions without my knowledge or consent".
However, as Madonna had previously signed a settlement agreement with Lutz back in 2004 following another dispute, the judge ruled she was unable to sue her again to retrieve the items in question.
Now, after months of further legal wrangling, the letter is hitting the market, described by the auction house as "one of the most significant music artifacts to ever come to auction".
That seems a bold claim, but the six-figure sums achieved by handwritten Tupac Shakur letters and song lyrics in recent years suggest it could achieve its estimate.
And the publicity surrounding Madonna's desperate attempts to prevent the letter from being sold surely won't hurt either.