A watercolour painting by Adolf Hitler that shows the Heiligenkreuzerhof in Vienna will feature in Alexander Historical Auctions' July 31 sale.
Hitler preferred to paint directly from postcards rather than from real life. Rather unusually, this work is accompanied by the original postcard he used as his model. It's dated 1910 (two years after his second rejection from Vienna's Academy of Fine Arts) and carries an estimate of $30,000-40,000.
While he was a reasonably talented artist, Hitler was rejected from the Academy mostly on the grounds that he was better at painting buildings than the human form. He was advised by one member of the academy to apply for a place on the architecture course, but decided against it.
He lived for a time in Vienna, eking out a living from selling his paintings to tourists. He returned to Germany in 1913, shortly before the outbreak of the first world war.
The lot is accompanied by the original postcard, as well as 1938 letter from Prussian state Privy Councillor Werner Peiner to Erich Utrecht.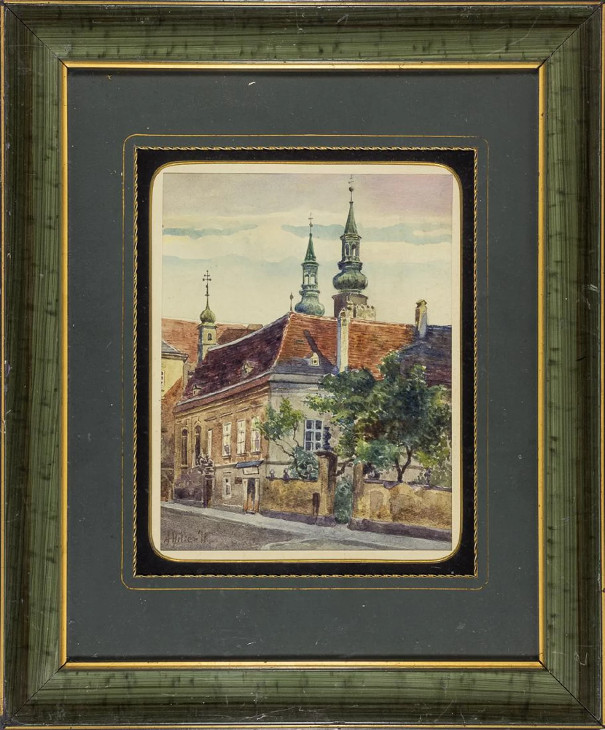 Utrecht was clerk to deputy fuhrer Rudolf Hess and also served as overseer of the Nazi party's archive.
Peiner writes: "As already discussed by telephone, I hereby send you the Fuhrer's work 'Heiligenkreuzerhof' for further evaluation and archiving. My colleague Dr. Weigant in Trier has given me this work for inspection.
"According to his statements this piece is family-owned, and was bought during a vacation in the Burgenland [the most south-eastern province of Austria]. Of special interest for your colleague [NSDAP archivist and expert on Hitler's art Dr. August] Priesack should be that fact that the original postcard which served as the template [for this painting] is also present.
"As is well known, the Fuhrer often used postcards as [models]. As I already mentioned, in my opinion the origin and originality are above all doubt, as well as the artistic execution…"
As the letter indicates, Hitler's paintings were carefully guarded by the Third Reich so that future generations would be able to enjoy them. Here, perhaps more than anywhere else, you get a sense of the depth of Hitler's delusion.
As with the rest of his work the present specimen is a bland composition that is average at best and solely of interest because of the man behind it. His works are traded regularly on the auction circuit, with a collection of 14 paintings realising a combined $450,000 at Weilder in Nuremburg in 2015.