An iconic 1961 Aston Martin 'MP209' DB4GT Zagato led Bonhams' Goodwood sale with a final bid of £10m ($13.2m), setting a new record for a British car sold in a European auction.
The car ('2 VEV') is one of only 19 specimens built in collaboration with Italian coachbuilder Zagato. Of these, only three MP209 versions were produced. They're often called the British Berlinettas, a reference to the super light two-door saloon cars Ferrari was putting out around the same time.
The car was acquired new by the Essex Racing Stable, a team that had the backing of Aston Martin (an arrangement referred to as quasi-works), and entered into the prestigious 24 Hours of Le Mans.
Formula One winning driver Jim Clark later competed with it in the Goodwood RAC Tourist Trophy in 1961 and the Paris 1,000 Kilometres at Montlhery in 1962.
While the car failed to place highly at any of these events, it provided the springboard for the development of the DP215 – one of the best British racing cars of all time.
2 VEV has been through the wars over the years. Two major crashes in the 1960s led to a redesign. The roof was flattened out and the tail widened. It's been driven sparingly in the intervening years, in part because it's so fragile. The aluminium skin can be damaged simply by leaning too hard on it.
Bonhams commented prior to the sale: "This is one of only three very special MP209 'Super Lightweight' examples manufactured during this golden era by Britain's most significant GT car manufacturer – and the only quasi-works MP209.
"We rarely use the investment word, but '2 VEV' has not only been an integral and much loved family member for the past 47 years, but a fine investment too."
The result demonstrates a healthy demand for top end Aston Martins in the market. This trend was bolstered by the $22.5m record set for an Aston Martin DB1 last year.
Among the other highlights was a 1932-1934 Alfa Romeo Tipo B Grand Prix Monoposto, which sold for £4.9m ($6.5m).
The car originally belonged to Richard Ormonde "Mad Jack" Shuttleworth, a racing enthusiast and early aviation pioneer, who took it to a decisive victory in the inaugural Donington Grand Prix in 1935.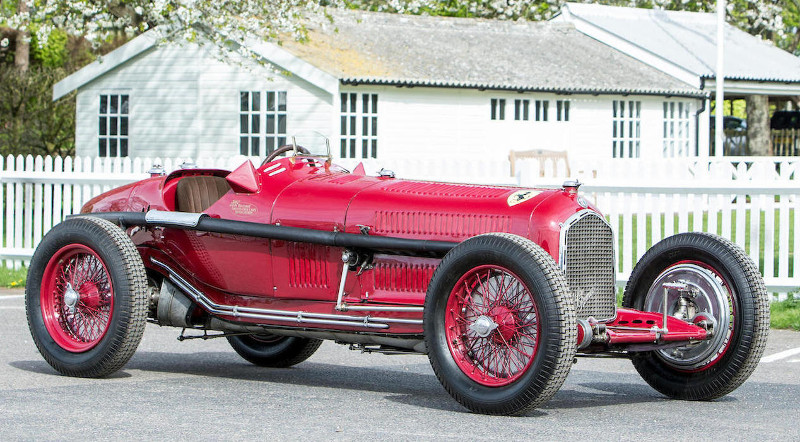 Sadly Shuttleworth's racing career came to an end later that year in South Africa, when he was involved in a nasty crash that kept him confined to a bed for several weeks. This Tipo B was near destroyed in the incident and had to be painstakingly rebuilt.
The Monopisto was the first single seater racing car to be entered into the Grand Prix. It dominated the competition on its introduction in 1932, proving so successful that the other European marques were forced to adopt this driving position just to keep up.
The lot is accompanied by a second two-seater body, built in the 1940s, that is legal for use on UK roads. The most recent owner has held it since the 1980s and it has been a regular attendee at key rallies and concours.
A BMW 507 once owned by ex-Formula 1 champion John Surtees made £3.8m ($5m), a record figure for a BMW at auction. Meanwhile a 1965 Aston Martin DB5 Sports Saloon that starred in 1995 James Bond movie Goldeneye achieved £1.9m ($2.5m).
In all the six cars featured in the sale brought in a remarkable £25m ($33.1m). James Knight, chairman of motoring at Bonhams, said: 'We are simply blown away by today's results. This is our 50th sale at Goodwood – which happens to coincide with the silver anniversary of The Festival of Speed – and it was the perfect celebration of classic and collectors' motor cars.
"The world records that we set today are indicative of the continued market desire for the historically significant motor cars with impeccable provenance such as '2 VEV' and the John Surtees BMW 507.'