A bottle of 1926 Macallan 60-year-old has sold for $1.86 million at Sotheby's, setting a new record as the world's most expensive whisky.
The rare bottle was the star lot of 'The Ultimate Whisky Collection', an incredible single-owner collection which sold this week in London for £7.63 million ($9.8 million).
Sotheby's had described the chance to taste the whisky as "a once in a lifetime experience", which would cost a staggering $90,000 per shot.
The whisky was originally produced in 1926 at the Macallan distillery in Scotland, and left to age for 60 years before being bottled in 1986.
Just 40 bottles were ever produced and today it's regarded as the world's most exclusive and sought-after whisky, a veritable 'holy grail' for wealthy collectors.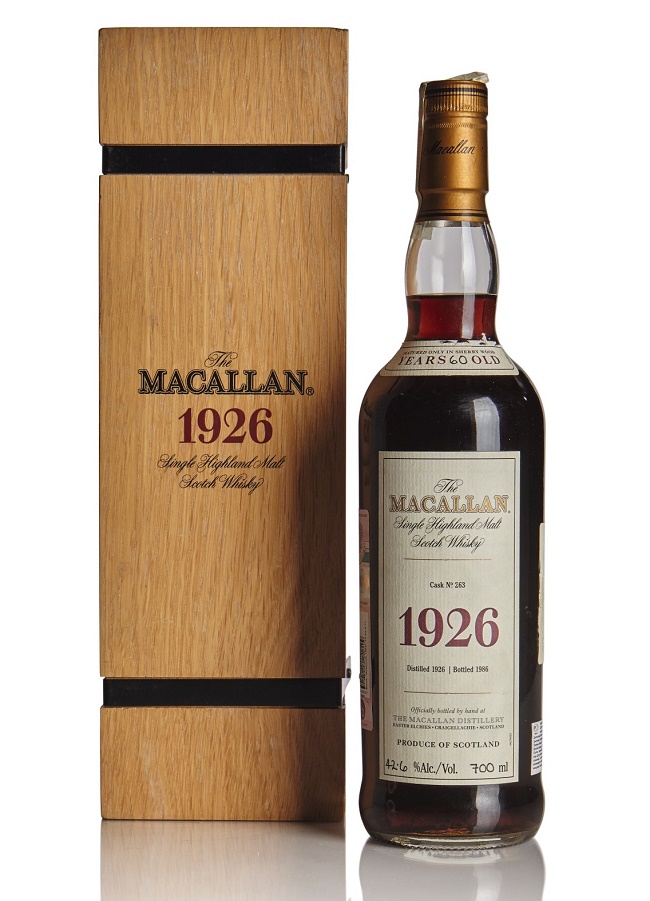 Of those 40 bottles drawn from Macallan's legendary cask '263', 12 were given special labels designed by British Pop artist Sir Peter Blake, and a further 12 by the Italian painter Valerio Adami.
In recent years these 'artist' bottles have regularly achieved record sums at auction, with three selling for more than $1 million each since May 2018.
Another bottle was hand-painted by Irish artist Michael Dillon to depict Easter Elchies House, the 318-year-old manor house on the Macallan distillery estate.
Originally commissioned by luxury London retailer Fortnum & Mason, the unique bottle sold at Christie's in November 2018 for £1,200,000 ($1,528,800), setting an auction record which stood until this week.
With another unlabeled bottle still unaccounted for, that leaves 14 bottles of the 1926 Macallan 60-year-old labelled as part of the 'Fine and Rare' series in existence.
The bottle sold at Christie's was the first 'Fine and Rare' example to appear on the open market for over a decade, and sparked a bidding war which pushed it far beyond its original high estimate of £450,000 ($577,000).
According to the auction house, a bottle of the 1926 Macallan 60-year-old sold back in 1987 – just a year after its release – for £5,000, which at the time was a world record price for a bottle of spirits.
Today the same whisky now sells for 290 times its original record price, illustrating the boom in high-end whisky collecting around the world over the past three decades.
The last time a bottle of 1926 Macallan 60-year-old 'Fine and Rare' sold at Christie's in 2007, it fetched $54,000.
The new record of $1.86 million marks an increase of 2,588% in the space of just 12 years.