A copy of Captain America #1 has sold at Heritage Auctions for $915,000 to become one of the world's most valuable comic books.
The rare issue, which marked the debut of the iconic Marvel superhero, fetched the record price when crossed the block in Dallas on Thursday (August 1).
Captain America #1 appeared on newsstands in 1941, a year before the United States entered WWII, with a cover which famously featured Cap punching Adolf Hitler.
Only four other comic book titles have ever achieved higher prices at auction, each of them featuring the first appearances of famous superheroes.
The world's most valuable comic book remains Action Comics #1, featuring the debut of Superman, a copy of which sold for $3.2 million in 2014.
In 2011 a copy of Amazing Fantasy #15, marking the debut of Spider-Man, sold for $1.1 million; and in 2010 a copy of Detective Comics #27, featuring the first appearance of Batman, sold for $1.07 million.
Most recently that trio was joined by Wonder Woman, as a copy of her 1941 debut in All Star Comics #8 sold on eBay in August 2017 for $936,223.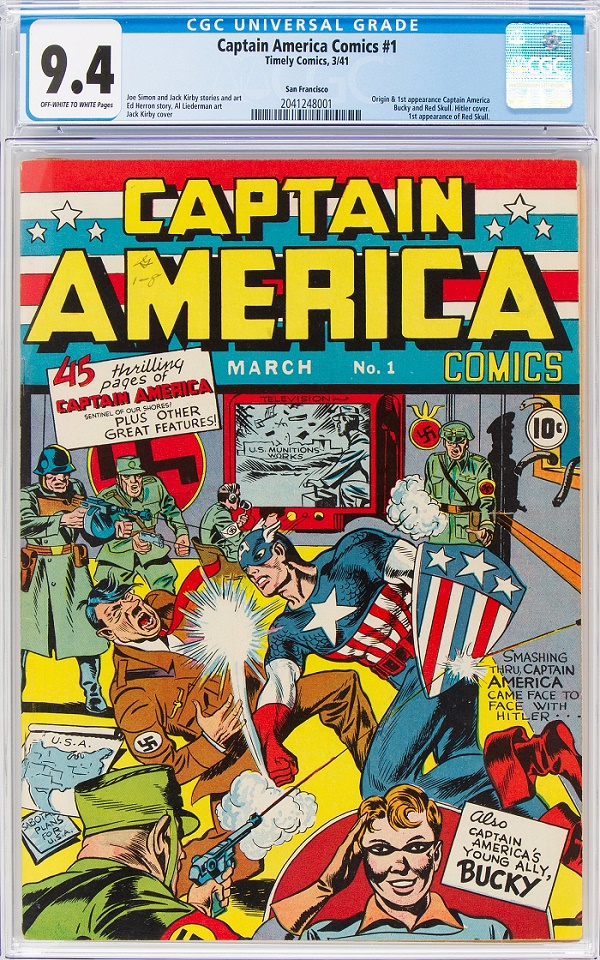 The previous top price for a copy of Captain America #1 was $343,000, a record that had stood since 2011.
But since then the character has starred in seven blockbuster Marvel movies, including Avengers: Endgame, recently crowned the highest-grossing film of all time with global box office takings of $2.7 billion.
According to Heritage, a high-grade, unrestored copy of Captain America #1 was amongst the most common requests on their top clients' 'want lists', but they rarely – if ever – changed hands.
So the appearance of this fresh-to-the-market book, in such remarkably preserved condition, was an event in itself.
The copy was originally part of a large collection of rare comic books known as the 'San Francisco Pedigree', which first appeared in 1973 when the owner brought them to a comic book show in Berkley, California.
Most of the collection was snapped up that day, but this exceptional copy of Captain America #1 then vanished from view and remained hidden from the hobby for the next 47 years.
It then re-emerged earlier this year, looking as good as ever, and was certified for the very first time, achieving a grade of CGC NM 9.4 with 'Off-white to white pages'.
With just one copy in the world graded higher, and one other with a matching grade, the book always looked likely to spark a bidding war – particularly as it was offered without reserve.
The most recent Overstreet Price Guide listed the value of a 9.2 copy at $460,000, so it seemed reasonable that a 9.4 copy would easily pass $500,000.
But the new record price of $915,000 has almost doubled the value of a 9.2 copy, and marks a significant leap in the market.
With only six known copies of Captain America #1 graded at CGC 9.0 or higher, the demand for high-grade unrestored copies will always outstrip the supply.
And now it seems wealthy collectors are prepared to dig very deep to own one, so it might not be too long before Cap became a member of the 'Million Dollar Club' after all.