A highly important first edition copy of Harry Potter and the Philosopher's Stone could be about to set a new world record price at Bonhams next month.
The rare signed and inscribed copy of J.K Rowling's debut novel will cross the auction block in London on March 11.
The book comes with an initial estimate of £70,000 – £90,000 ($83,000 – $110,000) – and a remarkable backstory.
Just 500 copies of the first Harry Potter book were originally published in 1997, and today it's regarded as one of the world's most sought after and valuable modern first edition books.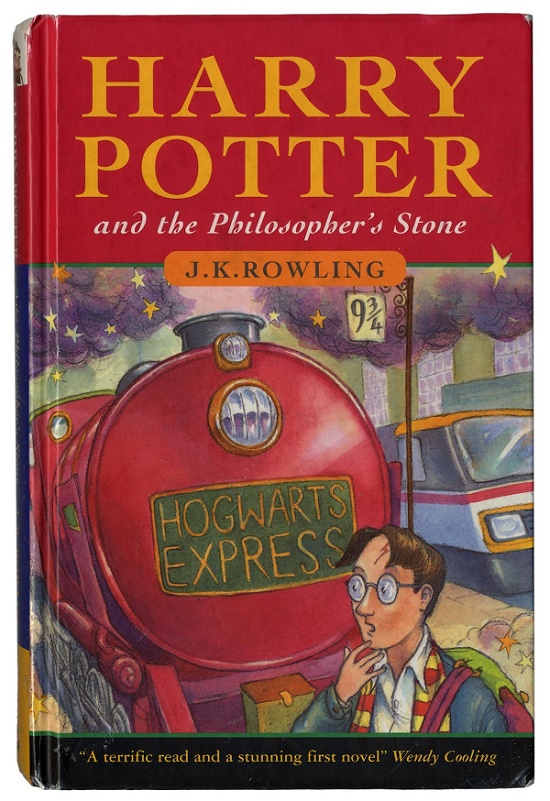 But the copy offered at Bonhams is considered even more valuable, as it was inscribed to the first person in the literary world to spot Rowling's talent.
In 1995, having spent six years writing her debut novel, J.K Rowling looked up a list of literary agents to approach in an Edinburgh library.
According to Rowling she chose Christopher Little as "he sounded like a character from a children's book", and sent him the first three chapters of her manuscript in a distinctive black folder.
Unfortunately Little's agency had never previously handled children's literature, and the manuscript was destined for the rejection pile – until it was saved by Little's office manager Bryony Evens.
Evens was intrigued, and took it upon herself to read the opening chapters. She was instantly struck by the wizarding world Rowling had created and, realizing they may have something special on their hands, told Little to request the rest of the manuscript.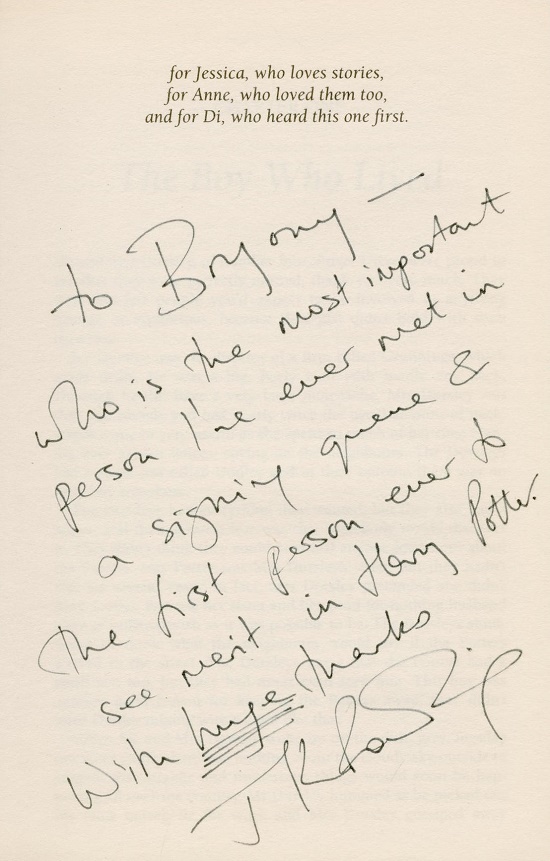 "I remember getting a letter back," Rowling said in a 1997 interview. "I assumed it was a rejection note, but inside was a letter saying 'Thank you. We would be pleased to receive the balance of your manuscript on an exclusive basis.' It was the best letter of my life."
Little agreed to represent Rowling, and following a series of rejections from 12 different publishers eventually sold the book to Bloomsbury, who printed 500 copies in 1997 and launched the most successful book franchise in publishing history.
Evens received one of those first edition copies, and in 1998 she took it to a book signing by Rowling at the Cheltenham Book Festival.
Although the pair had corresponded they have never met in person, and when Evens introduced herself to Rowling the author leapt up and gave her a hug of gratitude.
She then signed Evens' copy to "the most important person I've ever met in a signing queue, and the first person ever to see merit in Harry Potter".
The current record price for a first edition copy of the book was set in 2018, when a a copy signed by Rowling sold at Christie's for £127,500 ($162,500).
But given the important role she played in the Harry Potter story, experts believe that Evens' inscribed copy could possibly surpass that price and rewrite the record books once again.