A steamy love letter written by Madonna to a female supermodel could sell for up to $50,000 when it goes up for auction in the U.S next week.
The sale at music memorabilia specialists Gotta Have Rock and Roll will offer a treasure trove of Madonna memorabilia, including the handwritten note to French model Amanda Cazalet.
Cazalet featured in the music video to Madonna's 1990 single Justify My Love, which was banned from MTV for being too sexually explicit.
The pair shared a kiss in the video, and Madonna reportedly pursued her for months afterwards. Cazalet later recalled: "There was a lot of communication the following year and I know if I'd been open to taking what was on offer, something would've happened."
The note, handwritten on Madonna's personal stationary, reads in part:
"How are you? Where are you? Why don't you call me?… Getting in touch with you is like trying to seduce the Pope!"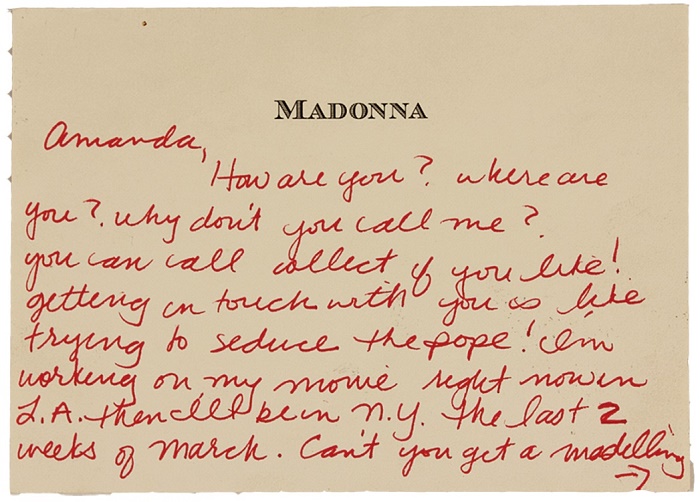 "I think you are the most beautiful woman in the world. I'm dying to kiss you again… I know you are married and pregnant and I cannot explain my attraction – nevertheless it's there. I'm attracted to very few women in this way."
Madonna ends by listing her L.A address, phone and fax numbers, and signs off "Love and kisses, M."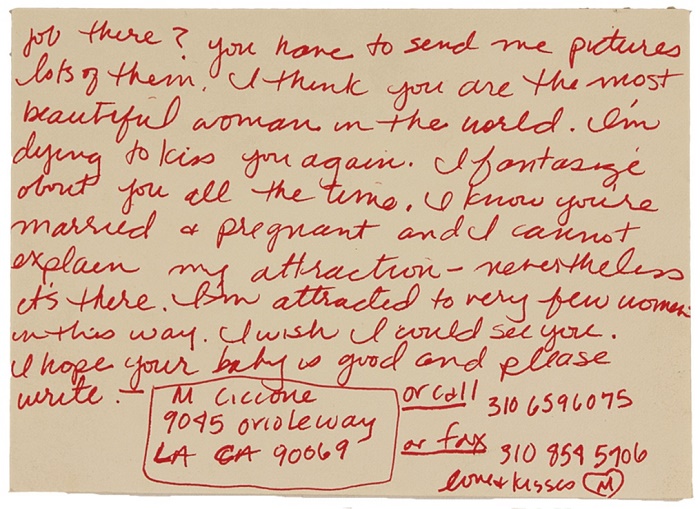 The revealing note is just one of several pieces of personal Madonna memorabilia up for grabs in the online auction, which concludes on July 16.
Another notable lot is a three-page letter written by Madonna in 1979 to film-maker Stephen Lewicki, seeking the lead role in his erotic thriller A Certain Sacrifice.
The letter includes a resume and a detailed autobiography of the 19-year-old, including the revelation that as a child she thought about becoming a nun.
She won the part, and shot the low-budget film in New York over the course of two years. Although the role was unpaid, Lewicki claimed he paid her $100 to help with her rent at the time.
However, the movie then remained unreleased until 1985, by which time Madonna had become an international star. She reportedly hated the final film and attempted to prevent its release on video, but to no avail.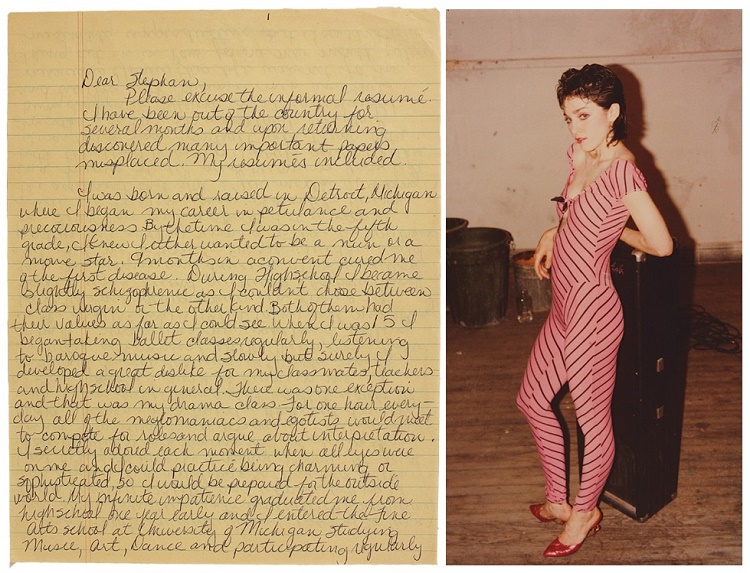 The letter is accompanied by a copy of Madonna's early resume, a black and white photo of herself and an early 1979 original Kodak color snapshot, and comes with a price tag of $30,000 – $50,000.
Also included in the auction are a set of Madonna's handwritten lyrics for an early unreleased song entitled 'Swing With Me'; an original file copy of her 1981 rejection letter from Millennium Records in New York; and her personally owned and worn Blond Ambition World Tour jacket that she wore whilst on tour in 1990.
It isn't the first time revealing letters by Madonna have been placed up for sale at Gotta Have Rock and Roll.
In 2017 the company offered a break-up letter written by Madonna to rapper Tupac Shakur, who she dated for a time in the early 1990s. Madonna later went to court to prevent the auction, but a judge ruled against her in April 2018 and the letter is set to sell later this year.