A copy of Lady Chatterley's Lover used during a famous 1960 obscenity trial has sold for more than five times its estimate at Sotheby's.
The Penguin paperback copy of the book belonged to Sir Laurence Byrne, the judge who presided over the trial, which is regarded as a landmark moment in British literary history.
It was offered at Sotheby's on October 30, during a sale of property from the collection of Stanley J Seeger and his partner Christopher Cone.
Although initially expected to fetch £10,000 – £15,000, the book eventually achieved a final price of £56,250 ($71,809), setting a new world record for a Penguin paperback book.
D.H Lawrence's novel was originally published privately in Italy in 1928, and was swiftly banned in several countries for its explicit depiction of sex and use of profane words.
U.S Senator Reed Smoot said of the book "It is most damnable! It is written by a man with a diseased mind and a soul so black that he would obscure even the darkness of hell!"
Although a heavily abridged and censored version was published in Britain in 1932, it wasn't until 1960 that the full unexpurgated edition was published by the much-loved imprint Penguin Books.
The publisher was charged under the Obscene Publications Act 1959, which led to a highly publicized court case concerning the nature of censorship.
Prior to the trial, Lady Dorothy Byrne read through the book and made notes on the explicit passages for her husband, which were enclosed with the copy sold at Sotheby's.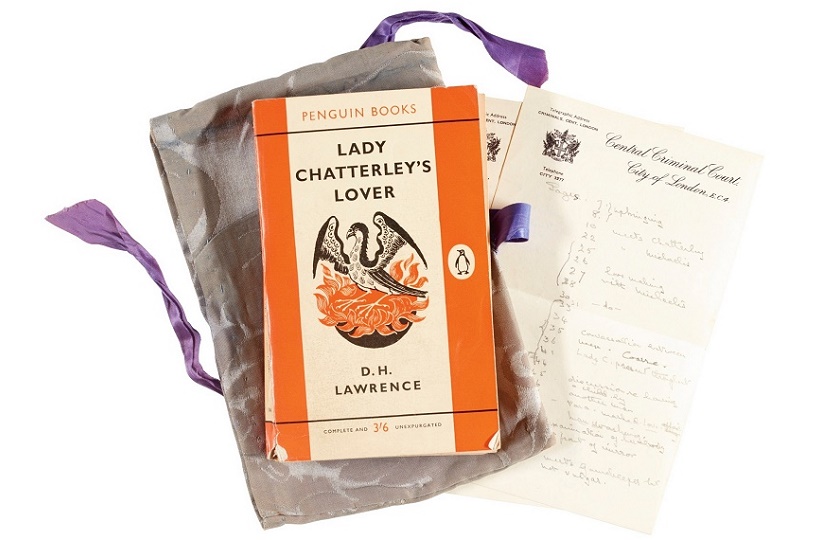 It was also offered with the damask bag she sewed for him, which allowed the judge to carry it to court discreetly during the trial without being seen with the offending cover in his hand.
Numerous critics, writers and academics were called as witnesses to determine whether the book was of sufficient literary merit to escape censorship.
The trial came at the start of the 1960s, a decade which marked a huge cultural shift both in Britain and around the world.
Attitudes towards sex and explicit material became far more liberal, and Judge Byrne's old-fashioned attitudes were highlighted by his now-infamous question, which drew laughter from the jurors:
"…[W]ould you approve of your young sons, young daughters – because girls can read as well as boys – reading this book? Is it a book that you would have lying around in your own house? Is it a book that you would even wish your wife or your servants to read?"
It seems the jurors were quite happy for their servants (if they had any) to read the book, and found Penguin Books 'Not Guilty' after just three hours of deliberation.
According to Sotheby's, "the trial soon came to be seen as a moment that marked the end of one epoch and the opening of another, that heralded the transformations of the sixties and helped bring to birth a more liberal and permissive Britain."
It also marked a significant triumph for the publisher, not least because it sold its entire 200,000 copy print-run in a single day, and an estimated 2 million copies during the following two years.
And almost 60 years on, one of those copies is now the most valuable book Penguin ever published.