A copy of John Hancock's historic letter which announced the Declaration of Independence has sold for just over $1 million during an auction at Sotheby's.
The letter was of 13 copies sent in July 1776 to the 13 original colonies, each accompanied by a freshly-printed copy of the Declaration of Independence.
The remarkable manuscript had initially been expected to sell for $600,000 – $800,000, but achieved a final price of $1,040,000 when it crossed the block in New York on Monday night (January 27).
"As a statement of principle by one of the fifty-six Signers who pledged to each other their lives, fortunes, and sacred honor, this John Hancock letter and its few surviving companions stand sole and incomparable," said Sotheby's.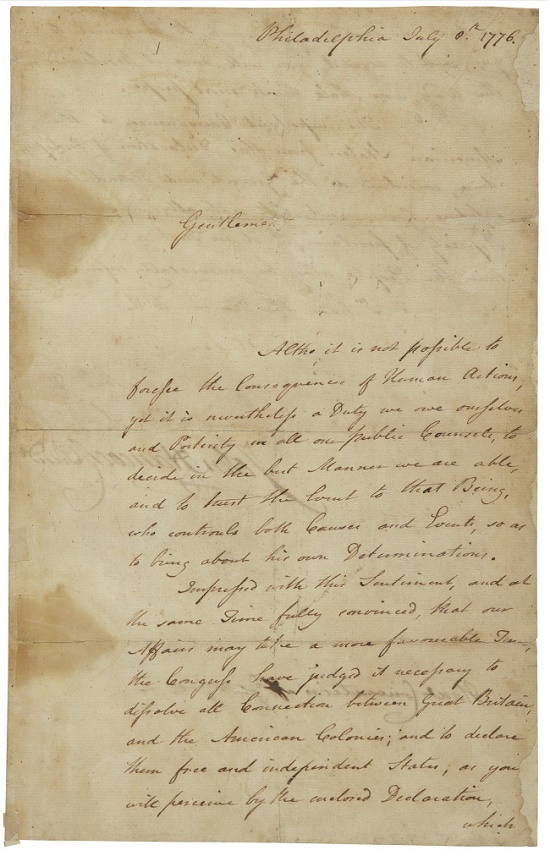 On July 4, 1776, the Continental Congress agreed to adopt the Declaration of Independence, which had been written primarily by Founding Father Thomas Jefferson as "an expression of the American mind".
The manuscript was sent to the printers that night, and on July 6 the very first copies were sent out across the nation, along with Hancock's letters which informed local governing bodies of the momentous decision:
"Congress have judged it necessary to dissolve all Connection between Great Britain, and the American Colonies; and to declare them free and independent States, as you will perceive by the enclosed Declaration…
"The important Consequences to the American States from this Declaration of Independence, considered as the Ground and Foundation of a future Government, will naturally suggest the Propriety of proclaiming it in such a Manner that People may be universally informed of it."
Of those original 13 handwritten letters, just four were known to have survived and only one example remained in private hands.
The letter sold at Sotheby's was the fifth to be discovered, and is believed to be the copy sent out to either Georgia, North Carolina, South Carolina, or Virginia.
Much of the history surrounding the letter remains a mystery, and after being sent in 1776 it disappeared from record for over a century.
It then reappeared in 1899 when it was auctioned as part of the collection of Col. Thomas Donaldson, and in 1937 it was listed amongst the collection of New York dealer Harry F. Marks.
Monday's auction at Sotheby's marked the first appearance of the letter on the open market for over 120 years.