The world's earliest copy of Harry Potter and the Philosopher's Stone smashed its estimate during an auction at Sotheby's this week – but it might not be the version you'd expect.
The Sotheby's online sale on July 9 offered a rare uncorrected proof copy of the book, which predated the June 1997 first edition, and marked the very first time J.K Rowling's classic debut novel had appeared in print.
The mint condition copy was initially estimated to sell for £5,000 – £7,000, but soared to a final price of £27,500 ($35,000), including buyer's premium.
The proof copy was one of around 200 printed by publisher Bloomsbury in a plain cover, without the finalized artwork and with J.K Rowling's name misspelt as J.A Rowling on the title page.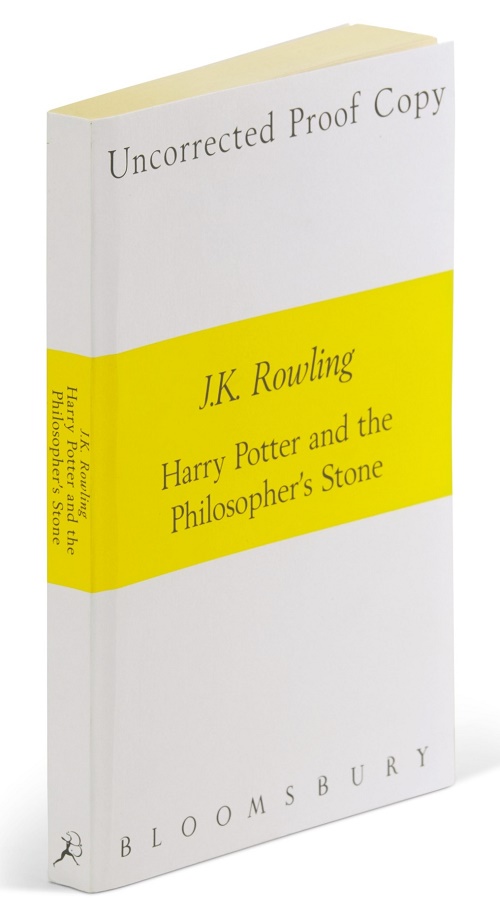 These copies were then sent out to reviewers and buyers for major book store chains, in order to gain publicity and encourage pre-sales.
The copy sold at Sotheby's also included a rare contact sheet featuring the proposed cover artwork for the finished book, the design of which was later changed before the first edition hardbacks were published.
Although most collectors tend to favour standard first editions, the passion for all things 'Potter' meant this earlier proof copy was likely to attract serious bidding from fans of the most successful book series in history.
For true completists, however, the Sotheby's auction included a Harry Potter appearance that predated even the proof copy – the first appearance of the boy wizard in any book.
In order to drum up sales, Bloomsbury published the trade-only 'Autumn Highlights 1997' which featured extracts from books set for publication between June and December of that year.
One of the featured titles was Harry Potter and the Philosopher's Stone, and the entire fourth chapter was published in an attempt to entice book store buyers.
Although the book featured just 13 pages of JK Rowling's original text, that was enough for one bidder to snap it up for £3,750 ($4,700), including buyer's premium.
In addition to these two milestones in the publishing history of Harry Potter, the Sotheby's auction also offered a first edition hardback of the book, regarded by many as the 'Holy Grail' of modern book collecting.
Just 500 copies were initially printed by Bloomsbury, with 200 of those sold through book stores and the rest sold to schools and libraries.
Today those copies in the finest condition can fetch upwards of £80,000, and even dog-eared ex-library copies have been known to sell for around £30,000.
The copy sold at Sotheby's was one of the 200 that avoided the major wear and tear of the children's book section, and sold for a final price of £81,250 ($102,000) including buyer's premium.