A 400-year-old poetry book containing a secret message written by King Charles I as he awaited execution has sold for $140,000 at Sotheby's in London.
The Latin motto "Dum spiro Spero", which translates as "While I breathe, I hope", was found inside a copy of Edmund Spenser's epic 16th century poem The Faerie Queen, along with the King's initials "CR".
Charles I inscribed the book whilst imprisoned by Parliament between January 1647 and January 1649, following defeat in the English Civil war by Oliver Cromwell and the Roundheads.
The message had been discovered by Sotheby's experts whilst they sifted through a huge collection of rare books, consigned to auction from an English country house.
The book was originally expected to fetch between £30,000 – £50,000, but eventually soared to a final price of £106,250 ($140,537).
Charles found solace in reading throughout his imprisonment, much of which he spent at Carisbrook Castle on the Isle of Wight.
During his captivity he was closely attended by Thomas Herbert, who later wrote of the King's reading habits in his memoir, published in 1702:
"… he gave Mr Herbert the charge of his Books, of which the King had a Catalogue, and from time to time had brought unto him, such as he was pleased to call for. The sacred Scripture was the Book he most delighted in, read often in […] Herbert's divine Poems; and also Godfrey of Bulloigne, writ in Italian by Torquato Tasso, and done in to English Heroick Verse by Mr Fairfax, a Poem his Majesty much commended, as he did also Ariosto by Sir John Harrington […] Spencer's Fairy Queen and the like, for alleviating his Spirits after serious Studies…"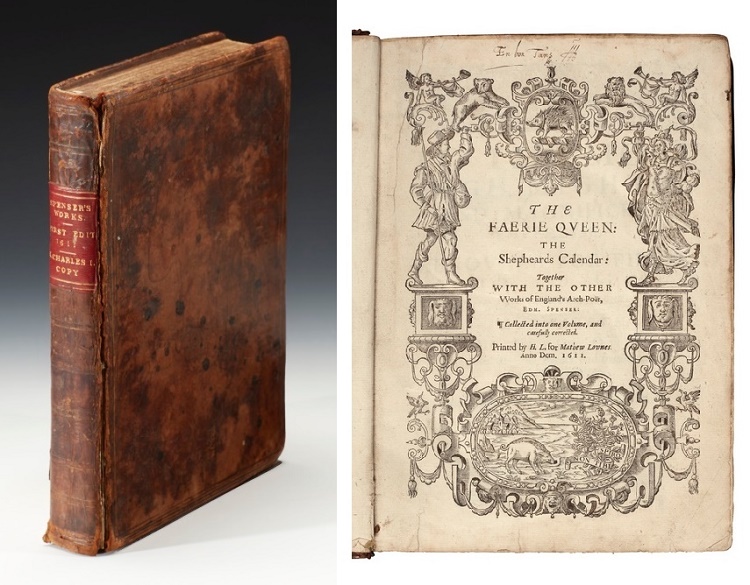 Herbert also recalled the King's habit of inscribing books with his personal motto:
"In many of his Books he delighted himself with the Motto Dum Spiro Spero; which he wrote frequently as the Emblem of his Hopes as well as Endeavours for a happy Agreement with his Parliament."
The copy of The Faerie Queen had originally been part of Herbert's personal library for more than 20 years, before he presented it to Charles – further illustrating the close bond the King formed with his captor.
Charles always believed he would be able to strike a deal with parliament to save his own life, claiming sovereign immunity against the charges of treason.
He inscribed "While I breathe, I hope" in numerous books during the period, including his copy of Shakespeare's Second Folio which now resides in the Royal Library at Windsor Castle; and a copy of Fairfax's translation of Tasso, which is part of the Linley Hall library in Shropshire.
Both books were amongst several Charles gave to Herbert, including the returned copy of The Faerie Queen, which bear the inscriptions and annotations of both men.
Sadly for Charles his hope was short-lived, and following a five-day trial in January 1649 he was found guilty and beheaded at the Palace of Whitehall in London.
The inscribed copy of The Faerie Queen was one of the leading lots in a Sotheby's sale of English Literature, History, Science and Children's Books, which also included an original Winnie the Pooh map hand-drawn by E.H Shepard, and a rare book on nursing by Florence Nightingale.