Meet Vlix – the world's rarest Star Wars toy heading for sale at Hake's Auctions in November with an estimate of up to $50,000.
However, even the most dedicated fans of the film series would be forgiven for not recognizing this figure, despite its enormous price tag.
The character of Vlix will only be familiar to fans of Droids, the short-lived Star Wars spin-off cartoon featuring the adventures of C3-P0 and R2-D2.
The cartoon was released as the popularity of Star Wars began to wane, which wasn't helped by two fairly terrible made-for-TV movies starring the Ewoks.
Despite featuring the voice of original star Anthony Daniels, the show ran for just one season in 1985 – but Kenner still had time to produce a line of toys including action figures and vehicles.
It also designed prototype figures to tie in with the second season, but they were scrapped when the show was cancelled after 15 episodes.
However, through a quirk of fate some of the toy moulds for these prototype figures made their way to Brazil with the toy company Glasslite, which held the rights to distribute Droids figures in the country.
Glasslite then produced a limited number of figures based on these unused moulds, including Vlix, and released them commercially in Brazil.
However, the struggling economic climate of the country in the late 1980s meant most of these figures were either unsold or shredded, and the plastic reused to produce other toys.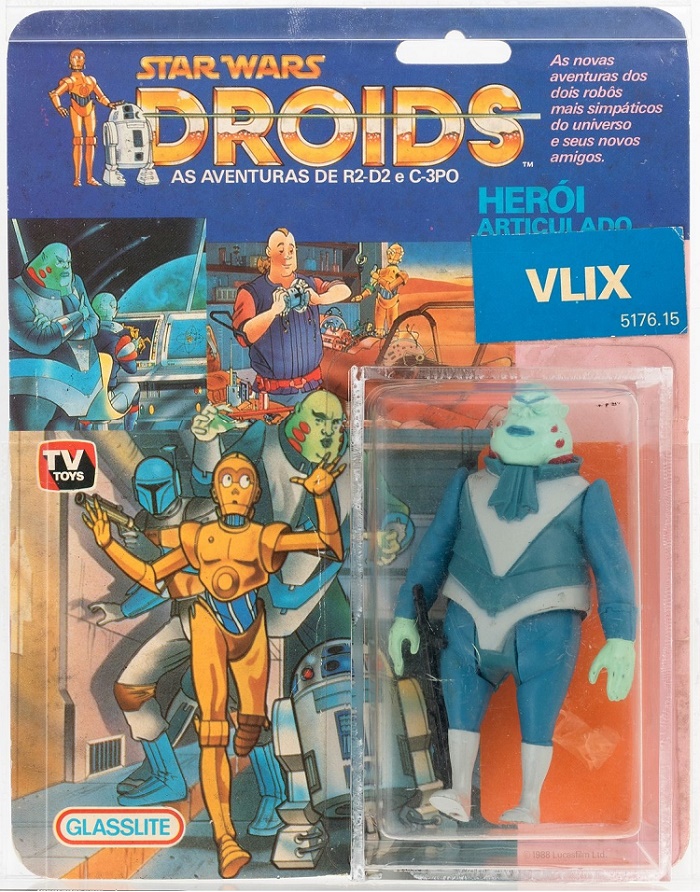 Other Star Wars prototype toys may have been produced in smaller numbers, but they were never intended for sale or released to the public.
Vlix is believed to be the rarest figure ever commercially released, and experts believe that around 50 examples of the Glasslite figure have survived, with half remaining in their original packaging.
Collectors have even given Vlix an affectionate surname – 'Oncard' – in relation to the rarity of finding one still attached to its card backing.
Even rarer are the original Kenner U.S prototypes, which were never made available to the public, and just a single carded example of this figure is known to exist.
The Glasslite Vlix figure at Hake's originates from the Russell Branton Collection, which has been described as "the very best quality vintage Star Wars collection to ever be offered for public sale".
Hake's hosted the inaugural sale of Branton's collection in October 2017, and in July 2018 the second part of the collection crossed the block, resulting in the sale of an original 1977 double-telescoping Obi-Wan Kenobi figure for $76,000 – a world record price for any vintage Star Wars toy.
Further highlights from Branton's collection in the November sale will include a 1978 Three-pack 'Villain' set featuring Darth Vader, a Stormtrooper and an Imperial Death Squad Commander (est. $10,000 – $20,000); a 'Hero' set featuring Luke Skywalker, Han Solo and Obi-Wan Kenobi (est. $10,000 – $20,000); and a Canadian issue cardboard Death Star play set (est. $10,000 – $20,000).
"As often as possible, high grade and rarity are key elements in what we offer on the auction block," said Hake's President Alex Winter.
"That is what has us so excited about the Star Wars Collection of Russell Branton. This is the best of the best, and it's for a property that 40 years on is as popular and relevant as it was upon taking the world by storm in 1977."
The Hake's Auctions November 2018 sale runs online until November 13-15.