The first recording contract signed by rock legends Grateful Dead is up for sale at Julien's Auctions in New York later this month.
The 1966 Warner Bros. contract marked the start of their journey from underground artists to one of the most iconic rock bands in history
Signed by all five original members of the band, the 14-page contract is expected to sell for $50,000 – $70,000 when it hits the block at Julien's Auctions on October 25-26.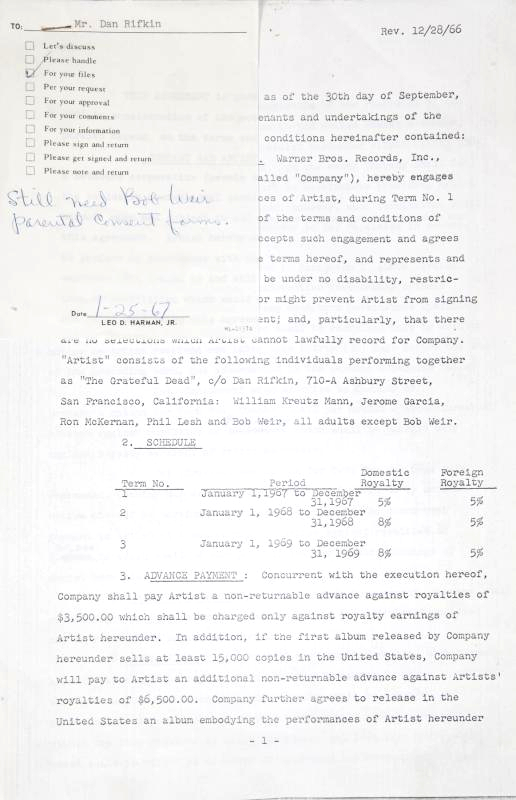 Grateful Dead found initial fame in 1966 through a series of early gigs in San Francisco, combining their extended jam sessions with incredible light shows to great effect during Ken Kesey's seminal Acid Tests.
They performed alongside bands such as Jefferson Airplane, Moby Grape and Big Brother and the Holding Company, as part of the burgeoning psychedelic San Francisco scene which would later explode into the national (and international) consciousness.
At the same time Warner Bros. Records decided to enter the rock music market, having previously focused on movie soundtracks, comedy albums and artists such as Frank Sinatra.
And as San Francisco's rock scene began to gain attention, several major record labels began scouting acts to add some instant 'street cred' to their catalogue of artists.
In his book 'Living with the Dead', former manager Rock Scully described the scene:
"Suddenly antennae begin twitching in glass & steel skyscrapers in L.A. Corporate dogs are sent to sniff around. Talent scouts in sharkskin suits, getting on planes and showing up at the ballrooms.
"All of the major record labels virtually overnight establish branch offices in San Francisco. And we begin to attract serious attention from the L.A. pack.
"We are a little wary of getting involved with a major label, but over the next few months we warm up to the idea. Then Warners starts sending people to come and hear us."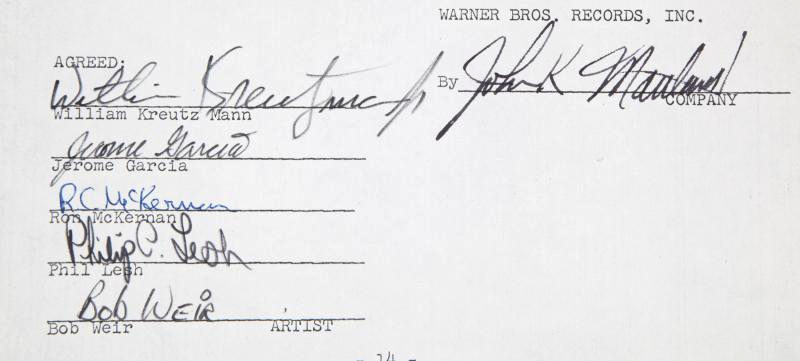 The band eventually signed their contract with Warner Bros. Records on December 28, 1966, and recorded their eponymous debut during a four-day session in Los Angeles in January 1967.
The last page of the contract is signed by the five original founding members of the band: William Kreutzmann, Jerome 'Jerry' Garcia, Ron 'Pigpen' McKernan, Phil Lesh and Bob Weir.
The contract includes handwritten a note reminding manager Dan Rifkin that the company still needed Weir's parental consent forms, as he was just 19 when he signed the contract.
It also includes the original envelope in which it was sent to Rifkin, postmarked with the legendary address of 710 Ashbury Street in San Francisco where the band resided.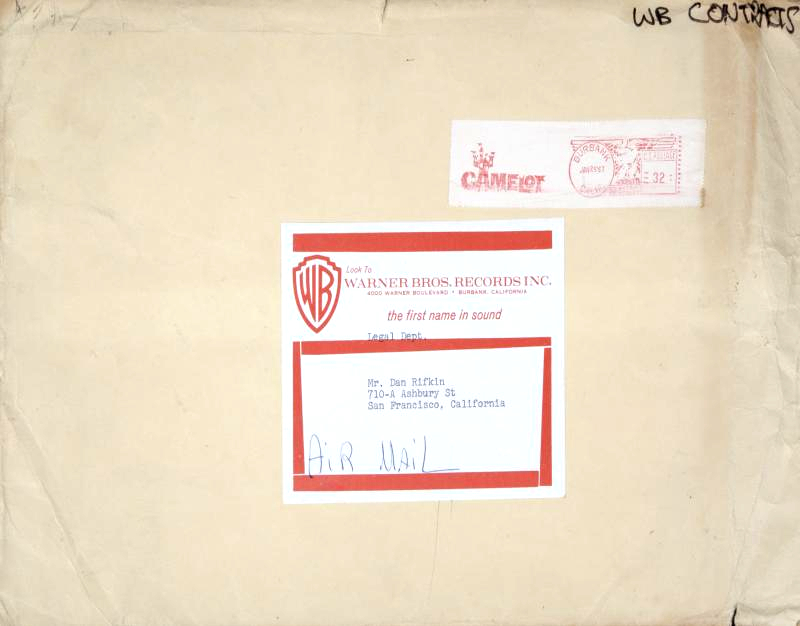 'The Grateful Dead' was released in March 1967, and although it wasn't a commercial success it was critically acclaimed, giving Warner Bros. the credibility they were looking for.
During the release party at Fugazi Hall in San Francisco, Warner Bros. records executive Joe Smith announced "I just want to say what an honor it is to be able to introduce the Grateful Dead and its music to the world."
Jerry Garcia humorously replied "I just want to say what an honor it is for the Grateful Dead to introduce Warner Brothers Records to the world."
At the time neither party could guess that, more than 50 years later, the band would have sold 35 million albums around the world, performed literally thousands of shows and influenced generations of artists that followed them.
For Grateful Dead fans and music memorabilia collectors alike, the recording contract on offer at Julien's Auctions marks the first step on a truly remarkable trip.