Kurt Cobain's cardigan from his last photo shoot has sold at auction for $75,000, during a sale of music memorabilia at Julien's in New York.
The shoot with photographer Jesse Frohman took place in July 1993, and was the last official Nirvana photo shoot before Cobain's death in April 1994.
The green acrylic and mohair cardigan more than doubled its pre-sale estimate, having originally been estimated to fetch $20,000 – $30,000.
It was one of numerous pieces from Cobain's wardrobe that his widow Courtney Love gave to friends and fans following his funeral.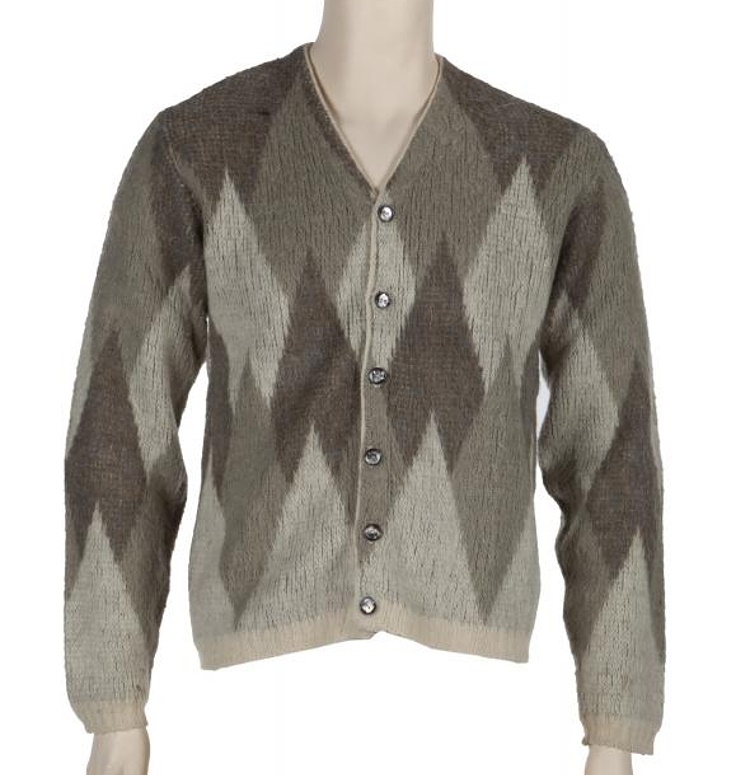 The unusual circumstances of the 1993 shoot were later recalled by Jesse Frohman, who published his now-iconic photographs in his 2014 book Kurt Cobain: The Last Session.
"It was a very unique shoot," he told Rolling Stone Magazine in 2012. "He was very quiet and he was wearing these white Jackie O glasses with his chin down to his chest, and he asked for a bucket. And I said, 'Sure, we have a bucket. What do you need a bucket for?' And he said, "Cause I think I'm gonna puke.'"
Cobain had suffered a heroin overdose just hours earlier, and was still feeling the after-effects throughout the afternoon.
Although he refused to take off his sunglasses, he later politely posed with fans and signed autographs during the shoot, and then wore the cardigan that same night as Nirvana performed at the Roseland Ballroom in New York.
"Kurt was an anti-hero and he didn't like to be pretty, and he didn't want to be glorified… and it's what endeared him to a lot of fans," said Frohman.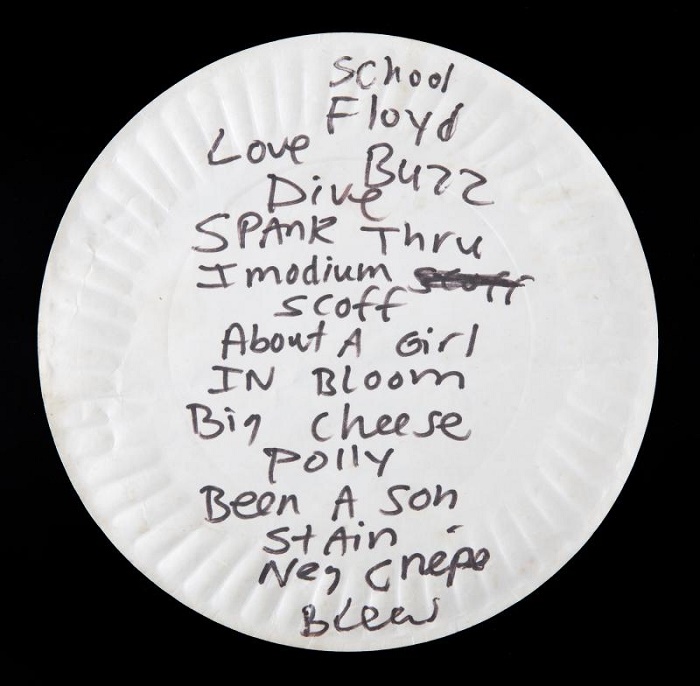 Another major highlight for Nirvana fans was an original set list from a 1990 concert, hastily written by Cobain on a paper plate he had used to eat pizza from before the show.
The set list, featuring songs such as 'Polly', 'In Bloom' and 'Love Buzz', was used by the band on stage during a concert at the 9:30 nightclub in Washington, D.C., on April 23, 1990.
The plate was later obtained by Johnny Riggs of the band THUD, Nirvana's support act for the show, and sold at auction for $22,400, soaring above its initial estimate of $1,000 – $2,000.