A previously undiscovered letter from King George VI to his speech therapist Lionel Logue will be offered for sale at UK auctioneers Wooley and Wallis next month.
The handwritten letter is accompanied by a small silver-gilt cigarette case bearing the Royal cipher, which he gave to Logue as a token of his appreciation in 1937.
George VI suffered from a stammer for much of his youth, and in 1926 he engaged the services of Australian therapist Logue, who worked with him for many years.
The pair's unlikely relationship was later revealed in the acclaimed, Oscar-winning 2010 film The King's Speech.
"Before 'The King's Speech', most people were unaware of the difficulties that George VI encountered with his stammer, but the enduring and endearing friendship between the King and Lionel Logue that emerged from that is especially evident in this new letter," said Woolley and Wallis expert Rupert Slingsby.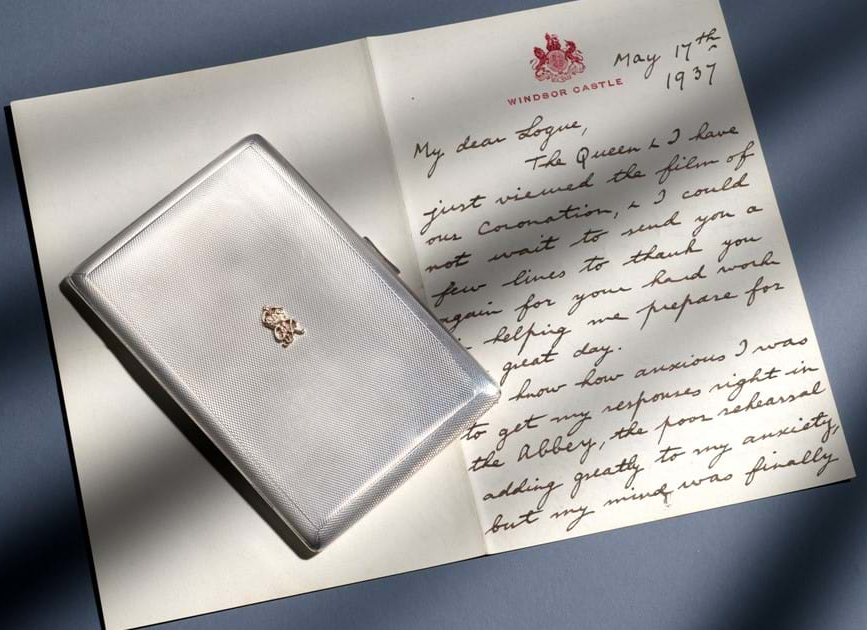 King Edward VIII ascended the throne in 1936, but abdicated just a few months later in order to marry the divorced American socialite Wallis Simpson, leaving his younger brother to unexpectedly become King.
Suddenly faced with leading the nation during WWII, and using the medium of radio to address the nation in a series of speeches, George VI worked closely with Logue to overcome his difficulties in public speaking.
The letter was written by George VI shortly after his coronation at Westminster Abbey in May 1937, and reads in part:
"The Queen and I have just viewed the film of our Coronation, & I could not wait to send you a few lines to thank you again for your hard work in helping me prepare for the great day…
"You know how anxious I was to get my responses right in the Abbey, the poor rehearsal adding greatly to me anxiety, but my mind was finally set at ease tonight.
"The success was due to your expert supervision and unfailing patience with me over recent months, & I truly don't know how I could have done it without you."
Logue was later awarded the Royal Victorian Order for his services, and remained friends with the King until his death in 1952.
When Logue himself passed away in 1953 the letter and case were given to his younger brother Herbert, and that same year he gave the items to Charles McGowan, a jeweller in Sydney, in lieu of payment for a pearl necklace with a sapphire and diamond clasp.
It remained in McGowan's family for more than 65 years, before being consigned to auction at Woolley and Wallis by one of his descendants.
"We believe this letter is the only example written to Logue by George VI which has not been retained by the Logue family," said Slingsby.
"Whilst our vendor realised the historical significance of the items, I don't think he appreciated quite how valuable they could be to British collectors."
Together, the letter and cigarette case are expected to sell for upwards of £4,000 when they cross the block on Wednesday April 29.