A collection of John Lennon's handwritten poems from his book A Spaniard In The Works will be offered for sale at Bonhams in London next month.
The auction in London on June 26 will feature three manuscripts and six annotated typescripts, all of which were published to critical acclaim.
Published in 1965, A Spaniard In The Works was John Lennon's second book of surreal nonsense poetry, following his 1964 book In His Own Write.
Both books featured Lennon's surreal poems and short stories, which combined puns, creative misspellings and bizarre imagery with his often dark sense of humour.
The poems originate from the collection of Tom Maschler, the celebrated publisher who first convinced Lennon to step into the literary world.
Leading the collection is Lennon's original three-page manuscript for the poem 'The Wumberlog (or The Magic Dog)', which is estimated to sell for £15,000 – £25,000 ($19,000 – $32,000).
The poem tells the story of boy who encounters a talking dog, and is transported to a magic island inhabited by a bird called the Wumberlog, talking vegetables, and a group of gravediggers.
It ends on a darkly comedic note, as the boy is buried alive alongside his uncle:
"With just their heads above the ground
They bade a fond goodbye
With all the people shouting out
'Here's mud into yer eye!'"
The sale also includes two further handwritten poems from the book: Bernice's Sheep and The Faulty Bagnose, each estimated at $10,000 – $15,000.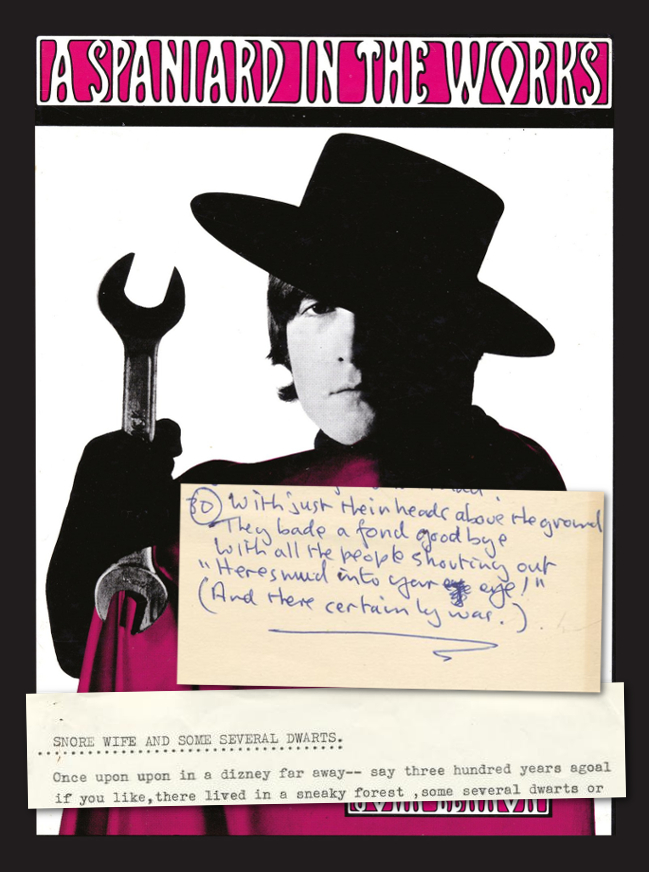 Along with the manuscripts, the collection features several original typescripts, complete with Lennon's own annotations.
These include the anti-religious parody 'I Believe, Boot…' (est. $2,500 – $5,100); the Disney parody 'Snore White and Some Several Dwarts' ($1,900 – $3,200); 'Silly Norman' ($2,500 – $5,100); 'Araminta Ditch' ($2,500 – $5,100); 'Cassandle' ($1,900 – $3,200); and 'Reader's Lettuce' ($1,300 – $1,900).
Lennon's first book, 'In His Own Write', had contained poems and stories written over the course of several years.
However, all the material for his second book was written in just a few months, during a period in which Lennon was focused on writing songs and filming the Beatles comedy movie 'Help!'
In June 1965 Lennon appeared on an episode of the BBC's Tonight program to promote the book, and read an extract from The Wumberlong.
He also spoke about his writing process, and the pressures he had faced when completing the book.
"I started all this writing long before I was a Pop artist, or even a Beatle, or before I had a guitar. The guitars came second…now the guitars come first– 'cuz this is still a hobby, which it always has been.
"The publisher rang up and said, 'Have you written anything yet?' and I said, 'No, I've been writing songs,' because I can't do both at once. You know, I've got to concentrate on the book or the songs. So I haven't written anything since then."
Lennon also produced all the illustrations for the book, including two for The Wumberlong.
In 2014 these original drawings sold at Sotheby's, as part of dedicated sale featuring Tom Maschler's entire collection, which included Lennon's artwork and manuscripts for both of his books.
His illustration depicting the poem's magical dog sold for $31,250, and the drawing of the sinister gravediggers realized an impressive $75,000.
The auction achieved an overall total of $2.89 million, and now the remaining pieces from Maschler's collection will be offered to Lennon's devoted fans at Bonhams.