A one-of-a-kind miniature Harry Potter book, handwritten by J.K Rowling herself, could sell for more than £100,000 when it goes up for auction this month.
The tiny manuscript, which measures less than three inches wide, was originally created by Rowling for a charity sale back in 2004.
It features a list of items required by new students attending Hogwarts, taken from Rowling's first book Harry Potter and the Philosopher's Stone.
The book made headlines when it auctioned for £10,000, at the time making it one of the world's most valuable Harry Potter books in existence.
And sixteen years on, it's going under the hammer once again with online auction site Just Collecting – this time valued at up to £150,000 ($195,000).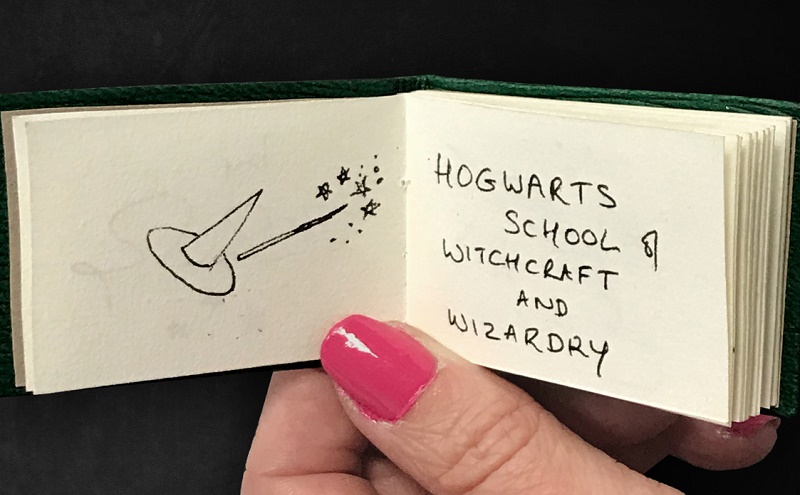 "This miniature Harry Potter manuscript is one of the most delightful pieces we've ever handled," said Dan Wade from Just Collecting.
"It's completely unique, handwritten and illustrated by Rowling with the same care and attention she used to create the Wizarding World of her novels.
"I think every Harry Potter fan in the world would love to own this book, so we're expecting a lot of interest – and maybe even a couple of bids via Owl Post!"
The 31-page manuscript includes a list of books and magical equipment needed by all students entering Hogwarts, such as wands, cauldrons, cloaks and a pair of protective dragon-hide gloves.
It also states that first-year students are allowed to bring their own owls, cats or toads, but that broomsticks are strictly forbidden.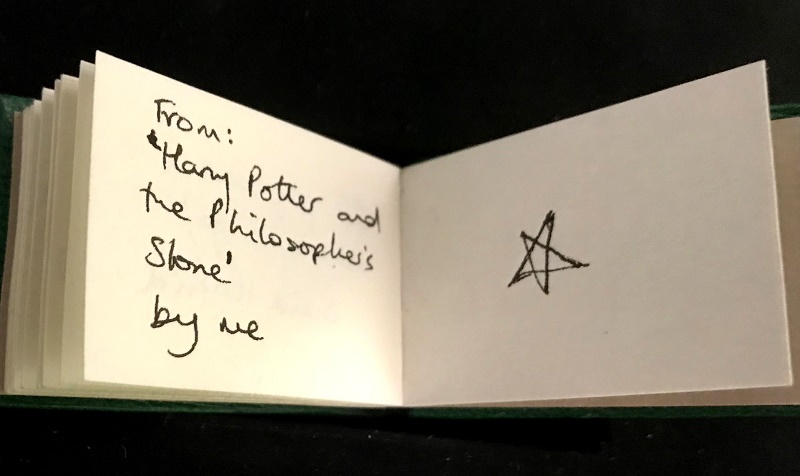 When Rowling created the book back in 2004 the market for her early works was still in its infancy, and first-edition copies of Harry Potter and the Philosopher's Stone were changing hands for less than £5,000.
Now they regularly sell for upwards of £50,000, and in December 2018 a copy signed by Rowling sold at Christie's for a world-record £127,500 ($162,500).
"We've watched the market for rare Harry Potter books soar over the past decade or so, as childhood fans of the series have grown up to become serious collectors," said Wade.
"First-edition copies of Harry Potter and the Philosopher's Stone have risen tenfold in value, and we're starting to see the finest examples disappear into long-term private collections.
"Wherever this unique magical manuscript ends up, we're sure it will be treasured for years, or maybe even decades to come."
The manuscript isn't Rowling's only handwritten addition to the Harry Potter universe.
In she created seven copies of The Tales of Beedle the Bard, a fictional work mentioned in the Harry Potter books.
Each copy was handwritten and illustrated by Rowling, then elaborately bound in a calfskin cover bearing sterling silver decorations and semi-precious stones.
Six copies were presented to close friends and those who had played a significant role in her literary success, and a seventh was sold at a charity auction for a world record £1.95 million ($3.98 million).
The Just Collecting Prestige Collectibles Auctions runs online until Thursday March 26.