A signed Harry Potter book with a remarkable backstory has sold for £118,812 ($149,000) during an auction of rare books and manuscripts at Bonhams in London.
The first-edition copy of Harry Potter and the Philosopher's Stone was one of just 500 copies published in 1997, and had been signed and inscribed by author J.K Rowling
The book offered at Bonhams was initially expected to fetch £70,000 – £90,000 ($83,000 – $110,000), but soared above its estimate thanks to the significant role it played in the Harry Potter story.
The copy belonged to Bryony Evens, a former office manager for literary agent Christopher Little who was the first to spot Rowling's talent.
J.K Rowling spent six years writing her first Harry Potter novel, and in 1995 she sent the first three chapters to Little's agency in Edinburgh, hoping to find representation.
However, as Little's agency did not handle children's books the manuscript was ended up on the rejection pile, until it was saved by Bryony Evens, who took it home and read it herself.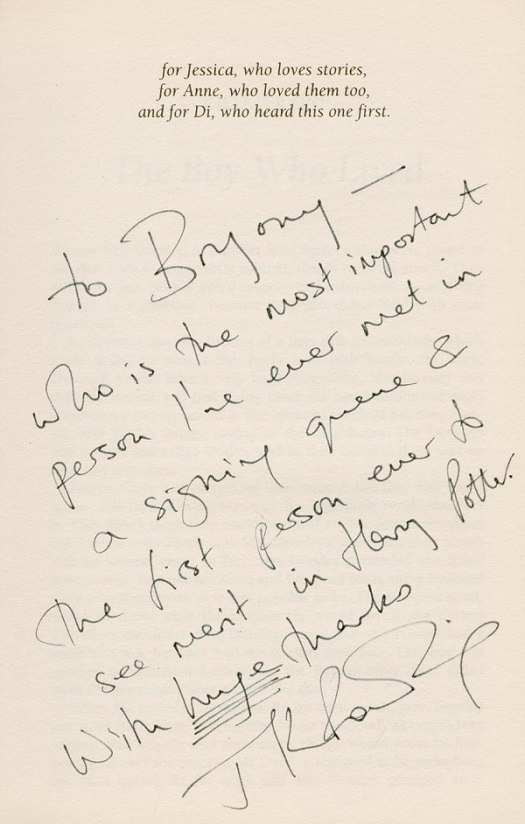 Evens was instantly hooked by the story, and asked her boss to request the rest of the book. Little then agreed to represent Rowling, and following numerous rejections finally managed to secure her a publishing deal with Bloomsbury in 1997.
It was the birth of the most successful series in literary history, with more than 500 million books sold around the world – and it all began because of Bryony Evens' curiosity.
Evens received a first-edition copy of the Harry Potter and the Philosopher's Stone, and in 1998 she took it along to a signing event at the Cheltenham Book Festival
The two women had never actually met, and when Evens introduced herself Rowling leapt up to hug her in front of the rest of the queue.
She signed the book to "the most important person I've ever met in a signing queue, and the first person ever to see merit in Harry Potter".
"This is a truly unique copy of a highly desirable rare first edition of the book that introduced millions of adoring fans to J.K. Rowling's wizarding world," said Bonhams Fine Books and Manuscript Specialist, Luke Batterham.
"Bryony's story is world famous – she even appeared on the Oprah Winfrey show – and her copy really is a little piece of Harry Potter history. You can sense Rowling's gratitude, in this inscription, to the person who saved Harry Potter from the rejection pile."
The result means Evens' copy is now the second-most expensive Harry Potter first-edition book ever sold at auction.
The world record price was set in December 2018, when a signed copy sold at Christie's in New York for £127,500 ($162,500).