A guitar once owned by Grateful Dead frontman Jerry Garcia has sold for more than half a million dollars at a Bonhams auction in Los Angeles.
Garcia had nicknamed the 1957 Fender Stratocaster 'Alligator', and it remained part of his guitar archive for almost 50 years.
The historic guitar had been estimated to fetch $250,000 – $400,000, but soared to a final price of $524,075 (including buyer's premium).
Although Jerry Garcia owned countless guitars throughout his life, he only gave nicknames to his favourites, which he played extensively on-stage and in the studio.
In 2017, the custom-built guitar he nicknamed 'Wolf' and played for 20 years sold for a remarkable $1.9 million, with the owner donating the proceeds to the Southern Poverty Law Center.
'Alligator' was the first guitar Garcia ever named, as he received it from legendary musician Graham Nash as a thank-you gift for playing on his 1970 debut album Songs For Beginners.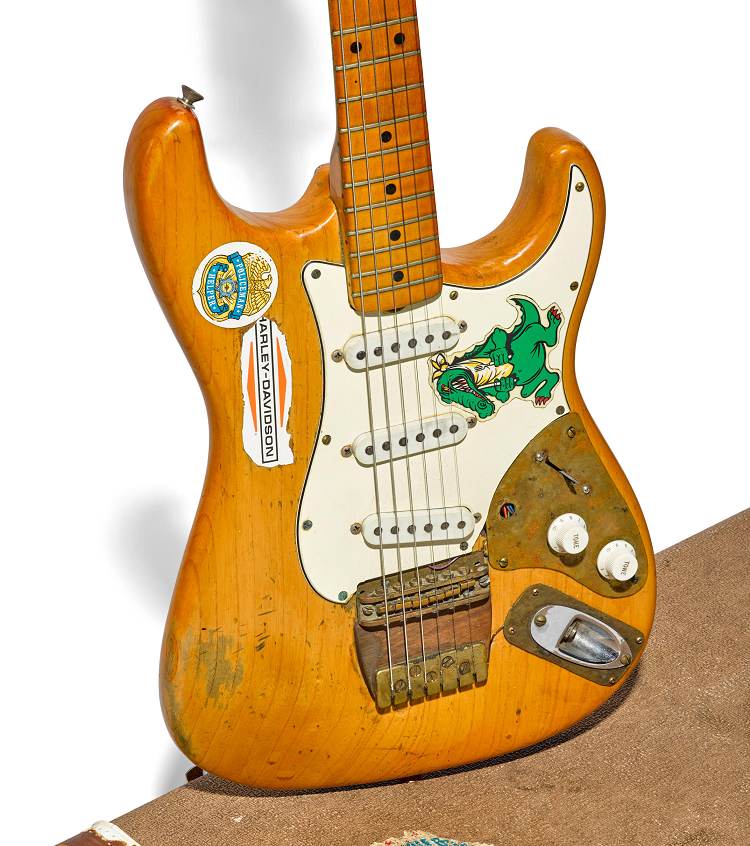 Nash had originally purchased the vintage Fender for $250 at a Texas pawn shop, and Garcia then added the dancing alligator sticker which game the instrument its nickname.
Like most of his instruments, Garcia later had the guitar heavily modified by technicians Frank Fuller and Rick Turner of Alembic Guitars, in order to achieve his expansive signature live sound.
He used it regularly onstage between 1970 and 1973, including throughout Grateful Dead's 1972 European tour, before its final performance at Roosevelt Stadium, New Jersey, on August 1, 1973.
Although he never played it live again, Garcia kept Alligator until his death in 1995, and it had remained in his family's collection until being consigned to auction earlier this year.
The guitar was part of a special Bonhams sale dedicated to Garcia's personal items, artwork and memorabilia.
Another leading lot was a Martin D-28 acoustic guitar played on the famous 1970 Festival Express Tour, which smashed its estimate of $30,000 – $50,000 to sell for $175,000.
Further highlights from the auction included one of Garcia's vintage guitar amps, which sold for $35,000; a watercolour painting of an alligator dating from 1992, which sold for $52,575; and a Garcia hand-drawn portrait of John Wayne, which sold for $30,000.
The sale also included several of Garcia's famous plaid shirts, and vintage horror comic books which he collected throughout his life.