One of the world's largest collections of Beatles memorabilia is heading for sale in Dallas later this month.
Heritage Auctions is preparing to offer the monumental collection of Connie & Dennis Dailey, a Nebraska couple with a lifelong passion for the Fab Four.
Having spent decades assembling their collection, featuring thousands of both vintage and modern items, the couple are now set to downsize with a series of sales beginning on July 21.
"We have spent our lives building this collection, and we are extremely proud of it," Dailey said in an interview with Heritage Auctions.
"We have had a lot of people – collectors, friends, family – who are in shock when they see the collection. But there's that old adage: 'You're not going to be able to take it with you.' That's how it is with any collectible. Now is the right time."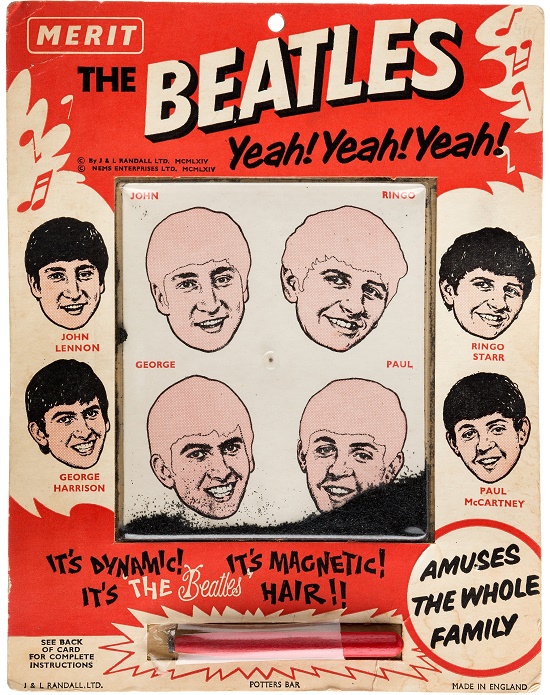 As a child Dennis Dailey was inspired when he first heard the Beatles' 1964 hit 'I Want to Hold Your Hand', and he was one of an estimated 74 million Americans who watched on as they performed on The Ed Sullivan Show for the first time.
Dailey's collection grew to fill a room in his home, and then together with his wife Connie, also a huge Beatles fan, they built an extension to house their treasures, which includes a recreation of the Liverpool Cavern Club where the band began their career.
No band in history has ever inspired the array of memorabilia and collectibles – official and unofficial – as the Beatles in their heyday.
The faces of John, Paul, George and Ringo were plastered over everything from trading cards, toys and instruments to wigs, biscuits and soap – and the Dailey Collection offers a comprehensive look at these pop culture relics made to cash in on Beatlemania.
"What's amazing about the collection is how thorough it is, how complete it is," said Garry Shrum, consignment director for Heritage Auctions' entertainment and music department.
"Someone else might have a particular Beatles lunchbox, but if it was made in six different colors, this collection has all six. The effort he put into making this complete is unbelievable."
Leading the first sale is a Beatles Yellow Submarine jukebox, produced in 2000 by the Rock-Ola company in conjunction with Apple Corp. The limited-edition jukebox is numbered 1/100, and is expected to achieve in excess of $15,000.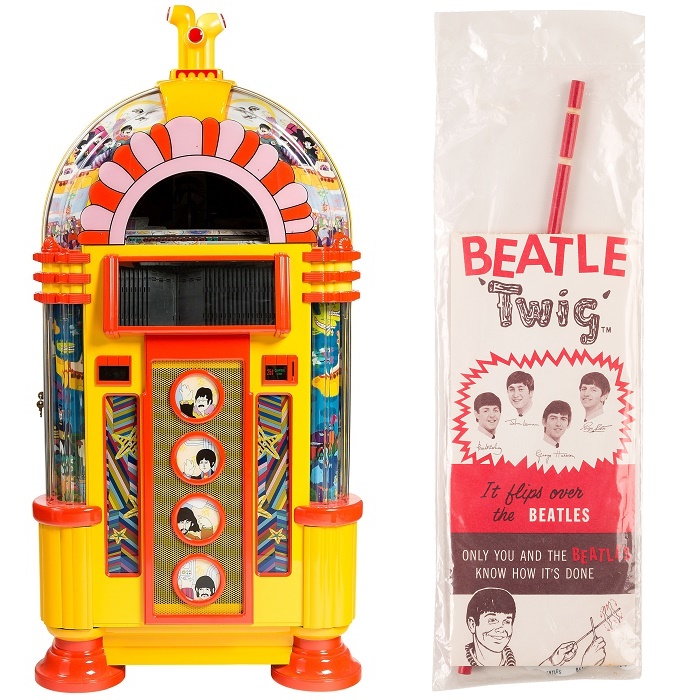 Bidders will also find Beatles-themed miniature plastic guitars, unopened boxes of bubblegum, figurines, Halloween masks, kazoos, table lamps, make-up compacts and slippers.
Among the strangest items up for grabs are a spinning Beatles 'twig' game, featuring the slogan "Only you and The Beatles know how it's done"; a Beatles British Airways First Class serving dish, produced in the late 1970s; and a giant plastic comb perfect for "Beetle Cuts and other Long Hair Types".
Aside from merchandise, the auction will offer vintage Beatles memorabilia from their career such as unused tickets, concert posters and programmes.
These pieces beautifully illustrate the band's rise to stardom: from an October 1962 concert programme when they supported Little Richard at the Empire Theatre in Liverpool, to their appearance for the Queen at the 1963 Royal Command Performance, and an unused ticket for their headline stadium show at White Sox Park in Chicago in August 1965.

The Beatles may have released their first single more than half a century ago, but interest in the band remains as strong as ever, as new generations of fans discover their back catalogue.
Recent auction prices are also a testament to the strength of the Beatles memorabilia market.
When Ringo Starr placed his personal collection up for sale at Julien's in December 2015 the auction achieved almost $10m, including new world records for his 1963 drum kit which fetched $2.1m, and his copy of The White Album, pressing '0000001', which sold for $790,000.
Other notable results from this year alone have included an amateur photographer's collection of shots, taken during the band's first U.S tour in 1964, which sold for $360,000; and the first electric guitar owned by George Harrison, which made $430,000.