One of the world's rarest Beatles concert posters from their final tour is up for sale at Heritage Auctions in Dallas this week.
The poster is one of only a handful of surviving examples promoting the band's 1966 concert at Shea Stadium in New York, which took place just six days before they retired from touring forever.
"This is an incredible poster, beyond rare," said Heritage Auctions Entertainment & Music Consignment Director Pete Howard.
"The concert itself was enormous for them – by playing at Shea Stadium, they played for a crowd that was about the same size as the crowds at all 279 shows they played at Liverpool's Cavern Club – combined."
The concert may have been enormous, but it wasn't as big as their previous show at Shea Stadium, which marked the first time a band had played at a major sports stadium and set a new record for the biggest concert in history
The first time The Beatles played there in 1965, promoter Sid Bernstein didn't need to print any posters. The hype surrounding the world's biggest band meant the tickets sold themselves, and when the Fab Four ran onto the field on August 15 they faced 56,000 screaming fans.
But the following year it was a different story.
Prior to the 1966 U.S tour, John Lennon made his now-infamous statement about the nature of fame and Christianity which led to a torrent of outrage from the religious right.
Albums were burned at the stake, death threats were received, and perhaps most significantly, ticket sales were down.
Suddenly, Sid Bernstein needed to print some posters.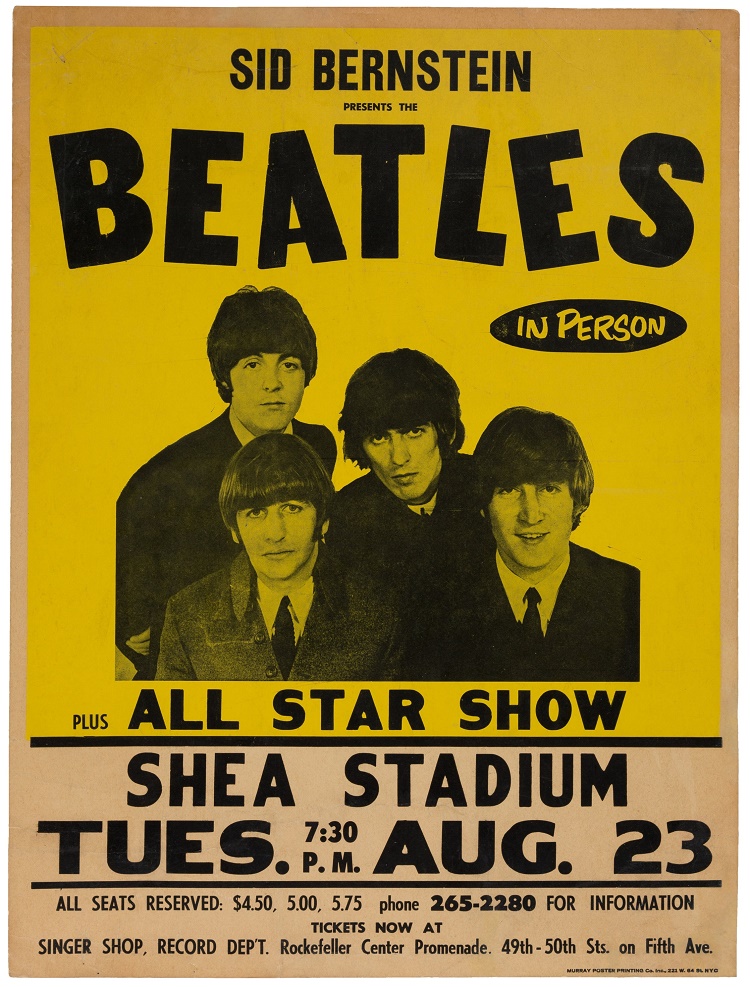 Nobody knows exactly how many were printed for the concert, but experts have estimated it was probably less than 500, which were then pasted and stapled up across the five boroughs.
But like all concert posters of the era, as soon as the show was over almost every copy was pulled down, pasted over or destroyed.
"We just have to remember that in the 1960's, nobody saved anything," said Howard. "The world was having too much fun to bother stopping and documenting it all. Why would they want to save this piece of cardboard?"
Thankfully for modern collectors, there were a handful of fans who did save these ephemeral pieces of cardboard.
The present poster was taken from a telephone poll in Queens under the cover of darkness by a teenage Beatles fan, who then kept it safely stashed away for more than half a century.
In the end The Beatles played to 45,000 fans at Shea Stadium, 11,000 less than the year before, and although the screams were equally as deafening it seems to magic was staring to fade.
Six days later the band finished their U.S tour with a concert at Candlestick Park in San Francisco. At the time nobody knew it would be The Beatles' last gig, apart from perhaps the band themselves.
"There was a big talk at Candlestick Park that this had got to end," Ringo Starr later said in the band's Anthology documentary.
"At that San Francisco gig it seemed that this could possibly be the last time, but I never felt 100% certain till we got back to London. John wanted to give up more than the others. He said that he'd had enough."
Although the band never officially announced they were retiring from live performances, disappointed fans soon realized that they weren't leaving the studio to get back on the road any time soon – if ever again.
And in the years that followed, as the significance of the 1966 Shea Stadium poster became apparent, promoter Sid Bernstein reprinted it in a series of limited-edition runs (that turned out to be not so limited).
Today, amongst a sea of fakes, bootlegs and official reproductions, it's believed that just four or five genuine original copies of the poster are known to exist.
The poster is considered so rare that most of the world's leading private collectors and dealers have never even seen one on person, let alone owned one.
According to Heritage, the last time a genuine copy crossed the auction block was back in 2004, when it sold for $132,736.
Now fifteen years on, and with the market for rare Beatles memorabilia having soared to new heights, this legendary rarity is expected to achieve an even stronger six-figure sum when it hits the block on November 16-17.