Two rare pieces of rock music history are heading for the auction block at Heritage next month, each attached with a significant story.
The Entertainment & Music Memorabilia sale in Dallas on July 20 – 21 will include a pair of items which mark the beginning and end of two of music's most influential careers.
The first lot is a pair of used ticket stubs said to originate from one of the famous – and tragic – concerts in rock and roll history.
On February 2, 1959, Buddy Holly arrived in Clearlake, Iowa aboard a freezing tour bus, along with fellow performers Ritchie Valens and Big Bopper.
It was the 11th show of the Winter Dance Party tour, although it had been booked at the last minute, as a way to squeeze out a little more cash during a 'free' day.
Although the two tickets don't feature a specific date or mention a particular artist, they come with a letter of authentication from Bob Hale, the radio broadcaster who also worked at the Surf Ballroom.
Hale served as the M.C for the show that night, introducing the stars along with their travelling support act Dion and The Belmonts. Holly ended the concert with the fateful words "Good night! We've got a plane to catch but we'll be back in spring!"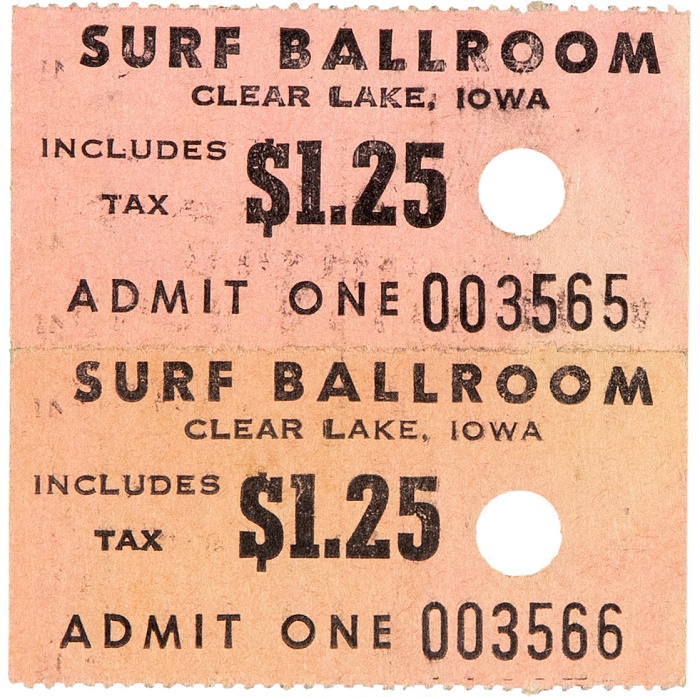 By this time Holly was sick and tired of the tour bus, and had decided to hire a private plane to fly to the next show in Minnesota.
Although his backing band were supposed to join him, some persuasive arguments and a coin toss saw Valens and the Big Bopper snag the extra seats instead.
But not long after take-off, amidst poor visibility and a snow storm, their plane came down in a cornfield. All three men, along with their pilot Roger Peterson, were killed instantly.
The accident caused shockwaves amongst music fans around the world, and was later immortalized by Don McLean in his classic song American Pie as "the day the music died".
For many fans the music may have died on that cold night in Iowa in 1959 – but the seeds had already been planted for its rebirth in New York three years later.
Just three days before the tragic crash, the Winter Dance Party Tour had passed through Duluth, Minnesota where Holly played at show at the Duluth Armory.
Sat near the front that night was Robert Zimmerman, a young musician inspired by Holly, and with his own dreams of rock and roll stardom.
Two years later he had changed his name to Bob Dylan, moved to New York, and was about to alter the course of music history.
Dylan spent his first two years in New York playing small club gigs in underground venues, before winning a record deal with Columbia in 1962. His first album sold poorly, but it was just a taste of what was yet to come.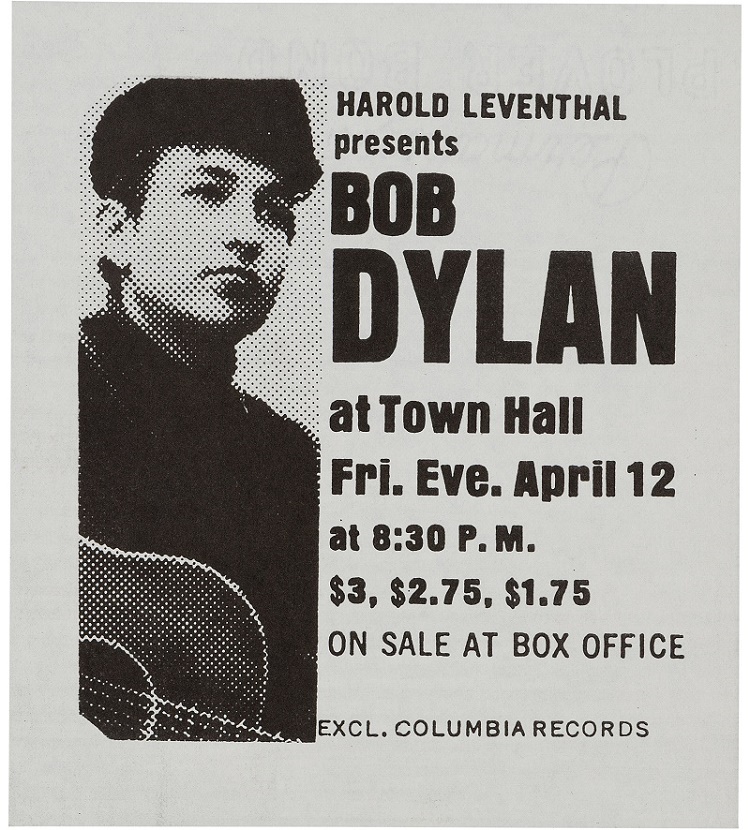 On April 12, 1963 Bob Dylan performed at the Town Hall in New York – a show which Dylan historians all agree was the first major concert of his music career.
Not only was it the largest solo show Dylan had ever played; it also marked the first time in his career he performed nothing but his own original songs, and marked him out from many of his peers as a truly unique voice.
The show was far from a sell-out, as he remained a relatively obscure figure in the New York music scene, and his breakthrough Freewheelin' Bob Dylan album was still a month from being released.
The second significant lot on offer at Heritage is an incredibly rare handbill promoting that landmark show
The small flyer is a 'slinger', produced to be given out on street corners, and is the only example known to exist. The vast majority of sidewalk flyers were (and still are) handed to disinterested people and swiftly discarded, making its survival even more remarkable.
It originates from the archive of the man who designed it, Jules Halfant, the Art Director at the New York folk music label Vanguard Records.
Following Halfant's passing in 2001, the unused flyer was discovered amongst his papers along with larger versions designed for display in record stores.
"There are very few Bob Dylan advertising posters and handbills from his first couple of years because he mostly played clubs, not concerts, and those venues generally didn't create such materials," said a Heritage spokesperson.
"But getting something with Dylan's picture on it, especially in that rookie corduroy cap? Other than the Carnegie Chapter Hall four-page leaflet from '61, of which there are many, forget about it."
The two lots heading for sale next month may just be sheets of paper, but they offer the essence of what truly excites collectors: the chance to own a piece of history, particularly something that was never meant to survive for over half a century.