A rare Harry Potter book kept inside a locked briefcase for 20 years has sold for more than $70,000 at auction in the U.K.
The first edition copy of Harry Potter and the Philosopher's Stone sold on October 10 at Hanson's Auctioneers in Derbyshire for £57,040 ($71,500), smashing its pre-sale estimate of £25,000 – £30,000.
"A 1997 first edition hardback of Harry Potter and the Philosopher's Stone is the holy grail for collectors as so few were printed," said Jim Spencer, books expert at Hansons.
"The owners took such great care of their precious cargo they brought it to me in a briefcase, which they unlocked with a secret code. It felt like we were dealing in smuggled diamonds.
"I couldn't believe the condition of it – almost like the day it was made. I can't imagine a better copy can be found."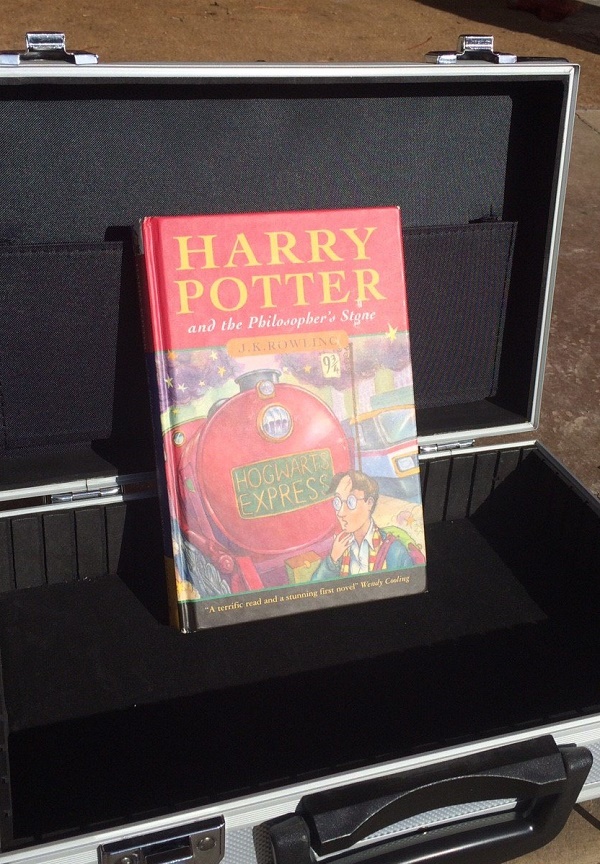 Just 500 copies of J.K Rowling's 1997 novel were published, as she was an unknown author making her literary debut, and there was little to suggest the Harry Potter series would become the biggest-selling book series of all-time.
"The book was given to us as gift by an aunt when our children were small," said the consignor, who wished to remain anonymous. "She bought it at an independent book shop when it was first published.
"We used to read it to our children at bedtime in the late 1990s and they were riveted … The plan was to keep it as a family heirloom. My wife put it in a briefcase to stop the pages turning yellow.
"When we read about the first edition being sold at Hansons, we thought what's the use of our books lying around in a briefcase when a collector might treasure them."
Remarkably, it was only three months ago that another first edition copy of Harry Potter and the Philosopher's Stone was discovered by Mr Spencer during a routine valuation visit.
That copy was an ex-library book which had been purchased years ago in a tabletop sale for just £1, by a collector who wanted something to read on holiday.
Although in well-thumbed condition, and still bearing its original library label, it made headlines when it sold at Hanson's in July for £34,200 ($41,350).
"Due to amazing news coverage across the UK and as far afield as Japan and Korea, we were flooding with emails and enquiries from people who thought they might have a first edition," said Spencer.
"At one point I was receiving 50 emails a day. To find another one so soon after the July sale has knocked my socks off."