One of Elvis Presley's most famous jumpsuits could set a new auction record when it goes up for sale in the U.S next month.
Elvis wore the suit, known as the 'Eyelet Suit', during a performance at Madison Square Garden in 1972.
The performance marked Elvis' first live return to New York since his early career in the 1950s.
He became the first artist to sell-out four consecutive shows at the venue, from June 9th to 11th, and one of the shows was later released as a live album.
The suit will hit the block at Kruse GWS Auctions on September 4, where it's expected to fetch more than $350,000.
A matching cape, also worn on-stage by Elvis, will be offered with an estimate of $35,000+.
Both pieces were handmade by Elvis' renowned tailor Bill Belew, who created dozens of his iconic stage outfits.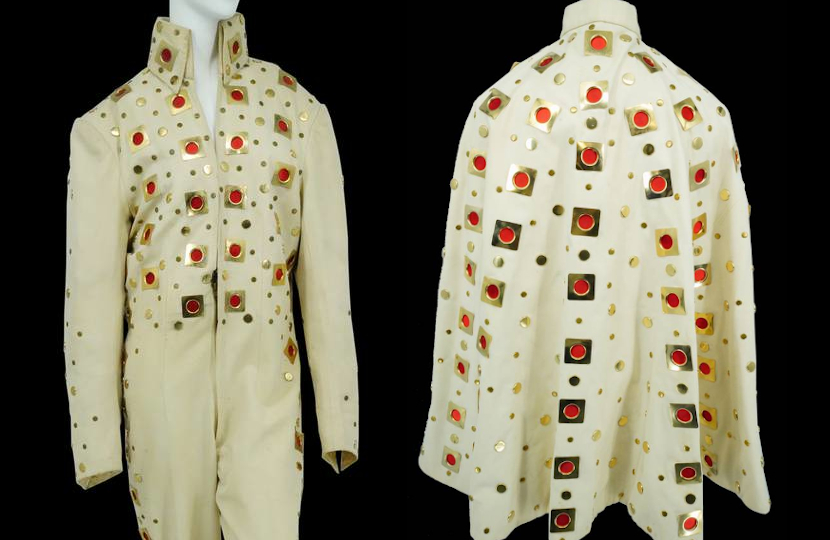 The suit features the large 'Napoleon-style' collar and bell-bottom trousers that became synonymous with Elvis' on-stage look during his later career.
The vast majority of Elvis' jumpsuits are on display at his Graceland home in Memphis, and few remain in private hands today.
The 'Eyelet' suit was originally owned by Jimmy Velvet, founder of the The Elvis Presley Museum which once housed the world's largest collection of Elvis memorabilia.
It was previously sold at auction in 1995, and will now be offered publicly for the first time in over 25 years.
The current auction record for one of Elvis' jumpsuits was set in 2016, when his 1973-74 'Aqua Blue Vine' suit sold at Graceland for $325,000.
With a pre-bid of $350,000, the 'Eyelet' suit is already guaranteed to surpass that record.
However, it isn't the most valuable item ever worn by Elvis.
In 2018 a belt worn on-stage by Elvis in Hawaii in 1972 sold at Julien's Auctions for $354,000.
And also in 2018, a Tiffany & Co Omega watch owned and worn by Elvis sold at Phillips in Geneva for $1.8 million – which remains a record for any item of Elvis memorabilia.