A copy of Marvel Comics #1, which launched the entire Marvel brand back in August 1939, has sold for a new world record price at Heritage Auctions in Dallas.
The comic book realized an amazing price of $1.26 million, making it the most expensive Marvel comic ever sold.
The record had previously been held by a copy of Amazing Fantasy #15, which first introduced Spider-Man to readers in 1962.
A high-grade copy of that book sold back in 2011 for $1.1 million, and was until now the only Marvel comic to ever pass the $1 million mark at auction.
Marvel Comics was originally a title published by Timely Comics, and its debut issue in 1939 featured superheroes such as the Human Torch and Namor the Sub-Mariner.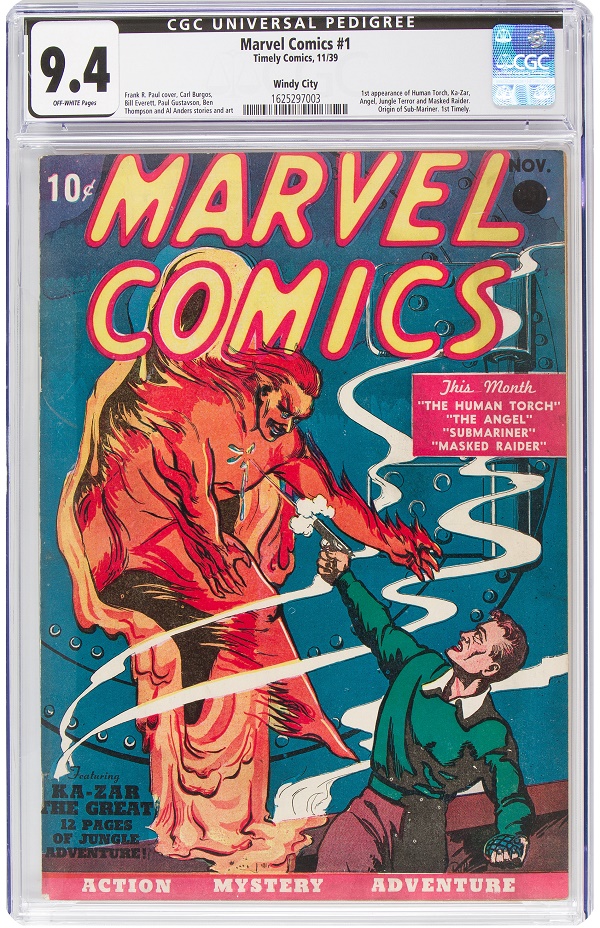 It wasn't until 1961 that Timely Comics changed its name to Marvel, as it launched a new generation of characters including Spider-Man, the Fantastic Four, the X-Men and the Incredible Hulk.
Today Marvel is one of the world's biggest entertainment brands, having spawned hundreds of characters and the multi-billion-dollar Marvel Cinematic Universe.
"This is a historic copy of a historic comic book," said Ed Jaster, Senior Vice President at Heritage Auctions.
"Without question, this is the granddaddy of all Marvel Comics, without which we would not have the characters and stories we enjoy in today's comics and feature films."
The book was the finest-known copy in existence, graded CGC NM 9.4, and had originated from a renowned collection known as the Windy City pedigree.
The collection had been assembled by a Pennsylvania mailman, who collected the first issue of every new comic book and magazine from his local newsstand for 30 years.
It was discovered in the late 1970s by a comic book dealer in Chicago, and today comics with the Windy City pedigree remain highly sought-after by collectors due to the exceptional condition they were kept in.
Not only did the comic set a new Marvel auction record, but it also set a Heritage company record as the most valuable comic book sold in the company's history.
And it joins a list of just three other comic book titles in the hobby to ever fetch a seven-figure sum, surpassing the top prices of both Amazing Fantasy #15 and Detective Comics #27, which featured the debut of Batman.
Only Action Comics #1, the DC book that introduced the world to Superman and gave birth to the superhero genre in 1938, has ever sold for more money.
Four copies of that landmark book have achieved higher prices than Marvel #1 – most notably back in August 2014, when a CGC 9.0-graded copy sold on eBay for $3.2 million, setting a world record for any comic book which remains to this day.