Items signed by the late Apple Inc. founder Steve Jobs achieved record prices at the Boston auction house RR Auction last week.
The sale, which concluded on August 19, saw five lots fetch six-figure sums and firmly established Jobs as one of the world's most valuable autographs.
Steve Jobs famously signed few autographs during his life, and today those scarce signatures attract bids from major collectors around the world.
The leading lot was an Apple II instruction manual signed and inscribed by Jobs back in 1980.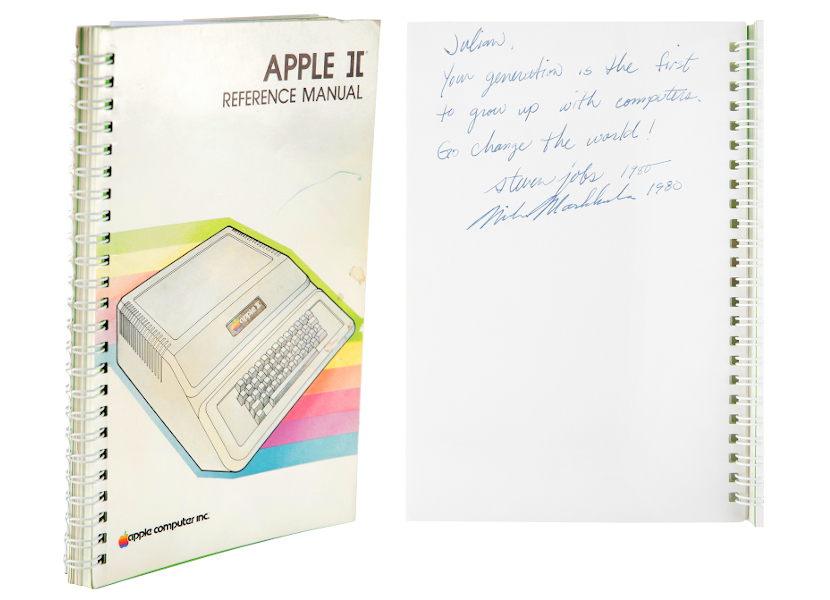 The manual was initially estimated at $25,000+, but sold for a remarkable $787,484, more than doubling the previous world record price for a Steve Jobs signed item.
Jobs signed the manual for Julian Brewer, whose father Mike Brewer had exclusive distribution rights for Apple in the U.K.
His inscription read:"Julian, Your generation is the first to grow up with computers. Go change the world! steven jobs, 1980″
Julian told the story in his letter of provenance which accompanied the manual.
"I was sitting in my bedroom writing games on my Apple II when Dad called me down to meet some guests. To my amazement it was Steve Jobs and Mike Markkula. I had the manual with me and only later understood how rare it was for Jobs to sign anything, let alone to write an inscription like this."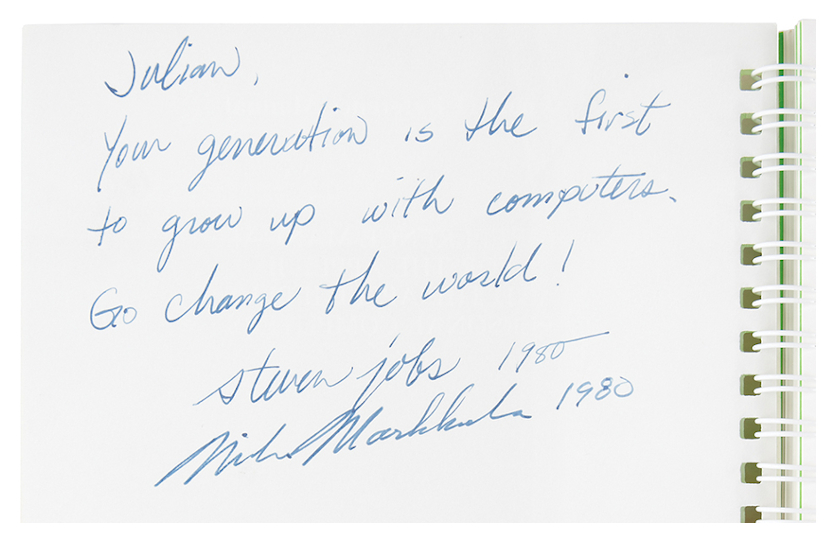 It was later revealed that the manual's new owner was Jim Irsay, billionaire owner of the Indianapolis Colts and one of the world's foremost collectors of memorabilia.
"When we think of the greatest, most innovative minds of the past two centuries, Steve Jobs must certainly be included among them," Irsay said following the sale.
[He was] "a truly transformative figure who changed the way in which human beings think, do business, and interact on a daily basis."
Another star lot was a typed letter signed by Jobs in 1983, which sold for $479,939 – almost 48 times its original estimate of $10,000+.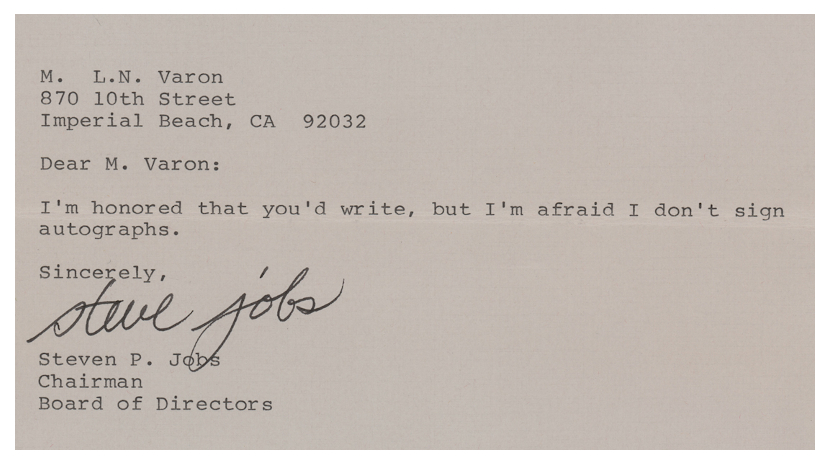 The letter itself was a humorous response to an autograph request, and read: "I'm honored that you'd write, but I'm afraid I don't sign autographs. Sincerely, Steve Jobs."
There were also six-figure results for a highly rare NeXSTEP software package signed by Jobs in 1993, which sold for $210,235; a copy of MacWorld magazine #1 signed by Jobs and his fellow Apple founder Steve Wozniak, which sold for $201,021; and a Macintosh 128k logic board display by Jobs and Apple Mac creator Jef Raskin, which sold for $132,049.