EH Shepard's original map of Hundred Acre Wood, home to Winnie the Pooh and friends, has sold for £430,000 ($569,762).
That's a record for a drawing by Shepard, soaring past the £314,500 ($418,662) paid for the iconic illustration of Pooh and Piglet playing Poohsticks in 2014.
The spectacular piece led an auction of English Literature, History, Science, Childrens Books and Illustrations at Sotheby's earlier today.
Dating to 1926, it's based on Ashdown Forest in Sussex. This stretch of woodland surrounds Cotchford Farm, acquired by author AA Milne as a country bolthole earlier that same year.
Milne's new surroundings proved a powerful source of inspiration. Taking his son Christopher's cohort of stuffed toys as his cast of characters, he began writing stories of their adventures in the nearby forest.
The topography of Ashdown Forest is almost identical to Hundred Acre Wood, with many of the features laid out in the map still visible today. It was produced by Shepard in collaboration with Milne (it's inscribed "Drawn by me and Mr Shepard helpd") and was reproduced in the first book.
The result it achieved today is particularly impressive when you contrast it with the £1,700 ($2,252) it last sold for back in 1970. That's around £25,000 ($33,084) when adjusted for inflation.
An exquisite Shepard drawing of Christopher Robin and Winnie-the-Pooh titled "…By-and-by they came to an enchanted place on the very top of the forest…" made £200,000 ($265,006).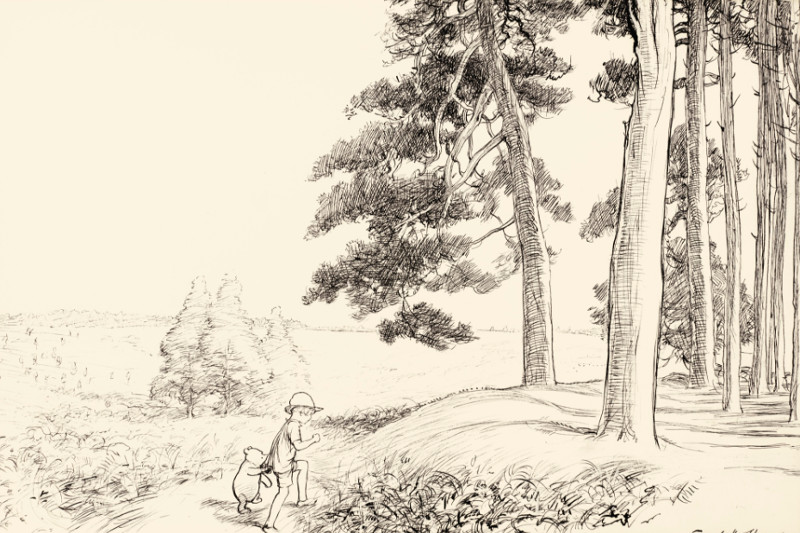 This is the second to last illustration from The House at Pooh Corner and shows the heartrending moment Christopher Robin leaves his childhood friends behind.
At 9.9 x 14.3 inches it's among the largest of Shepard's illustrations for this second volume of stories. The result is more than double the £90,000 ($119,105) valuation.
Meanwhile, Shepard's  "For a long time they looked at the river beneath them…" made £175,000 ($232,057) while a further pair of drawings from the House on Pooh Corner achieved £112,500 ($149,179). These results serve to hammer home the enormous demand for Shepard's work.