Ed Sheeran's childhood mementos are heading for auction in the U.K, after his parents had a clear-out of his old bedroom.
The sale will offer more than 300 personal items belonging to the multi-platinum-selling star, ranging from his old T-shirts and trainers to his custom-made guitar.
The dedicated charity auction will be hosted by Bishop & Miller Auctions in Suffolk on November 10.
Ed's parents have kindly donated the items to raise money for the local St Elizabeth Hospice, close to the town of Framlington where Sheeran grew up.
All the money raised from the special auction will help fund the hospice's new Zest initiative, which supports the care of young adults living with progressive and terminal illnesses.
Sheeran serves as an ambassador to the hospice, and has previously donated clothing to their charity store in his home, including the outfit he wore at the 2015 Grammy Awards.
"I'm really pleased to be able to help St Elizabeth Hospice with their Zest initiative," said Sheeran. "The care of young adults living with terminal illnesses is vital and I'm so pleased that the auction will raise both awareness and support for this important cause."
Fans registering for the auction will have the chance to bid on items ranging from a few pounds to a few thousand pounds.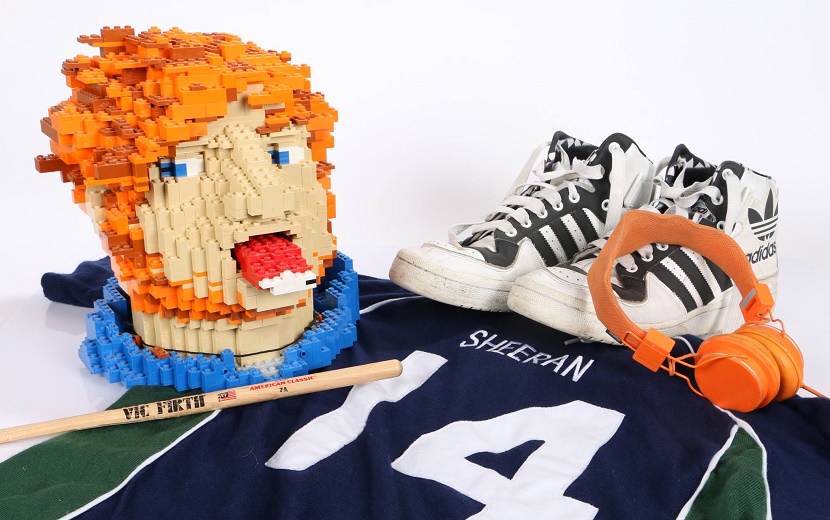 Notable highlights already announced will include Ed's personally owned and played Martin Guitar, estimated at £2,000-£3,000 ($2,600 – $3,925); a pair of his used trainers valued at £80 – £120 ($105 – $155); his school rugby jersey, estimated at more than £120; and his used orange headphones, also estimated  £80-£120.
Amongst the more unusual pieces from Ed's former bedroom is a life-sized model of his head made entirely out of Lego, which will set you back £800 – £1,200 ($1050 – $1,570).
"The vibrant Zest brand will not only support the vital work of the hospice but also help us explain to a new audience about what the hospice does," said Rachel Backshall, director of income generation and marketing at the hospice.
"Yes we do help people at the end of life but the majority of our work is about ensuring that people are able to maximise the life they have left available to them- this can often be over a number of years. As we say we 'don't let death kill life' and this is so important to young adults."
The sale will also feature a special raffle, in which fans can buy a ticket for £1 for a chance to own a one of Ed's personally worn T-Shirts.
"We've been really excited to partner up with Zest to hold this exclusive auction," said Oliver Miller, Managing Director of Bishop & Miller Auctions.
"It's special as this sale is truly open to everyone with a variety of items being sold at different prices. So it will be possible for the biggest super fan to buy something for a relatively modest price – that said we are expecting lots of money to be raised for some of the most highly sought-after pieces of memorabilia."
Since releasing his debut album '+' in 2011, Sheeran has risen to become one of the world's biggest-selling artists, with sales of more than 26 million albums and 100 million singles worldwide.
The value of his memorabilia has risen in equal measure. Back in 2015, his 'Green T' Fender Stratocaster guitar used during his 'x' world tour sold at Bonhams for £10,000 ($13,000); and earlier this year the outfit he wore in his 2014 'Thinking Out Loud' music video soared past its estimate to fetch $15,197.
Full details of the auction will be available on the Bishop & Miller website from October 18.