A Bowie knife once owned by the American folk hero Davy Crockett could sell for over $50,000 when it goes up for auction in Ohio this September.
The decorative knife is engraved with American patriotic motifs, and is part of the historic firearms and militaria collection of Peter Wainwright, which will cross the block at Cowan's Auctions on September 12.
Crockett (1786 – 1836) was a frontiersman and soldier, whose skills as a hunter and sharpshooter made him a legend in his own lifetime.
He was also a talented politician, who served Tennessee districts in the U.S. House of Representatives, before being defeated for re-election in 1835 and heading for Texas.
Crockett arrived in the midst of the Texas Revolution, and was famously killed by Mexican forces at the Battle of the Alamo in March 1836 alongside James Bowie, another U.S folk hero who gave his name to the knife in question.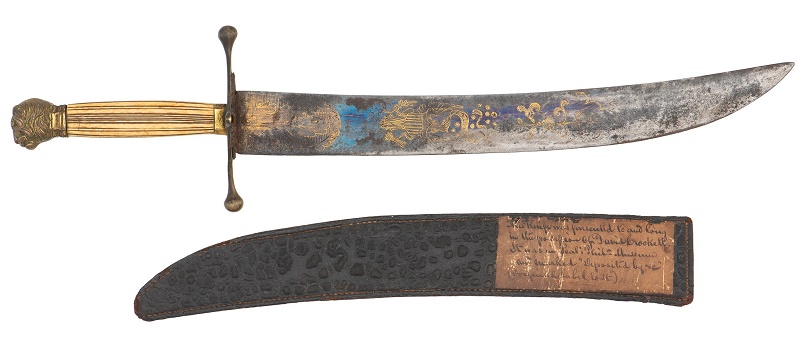 Crockett's exploits as a frontiersman were retold and embellished following his death, in a series of stage plays, books, articles and almanacs which turned him into a full-blown folk hero.
His adventures rose to popularity once again in the 1950s, when Walt Disney produced a successful TV series starring Fess Parker wearing the now-iconic coonskin cap.
It's believed that the highly decorative knife was presented to Crockett in 1834, during his congressional campaign tour of the Eastern United States as he sought re-election.
The blade features a blued and gilt finish, etched with an eagle and star motifs, a fluted ivory grip and a cast and gilt lion pommel, probably in reference to the 1831 play about Crockett entitled 'The Lion of the West'.
The scabbard is made from a combination of leather and alligator hide, and bears a period handwritten museum label which reveals its provenance:
"This knife was presented to and long in the possession of David Crockett.  It was in Peal's Phil(adephia) Museum and marked "Deposited by &c" (Original label lost)."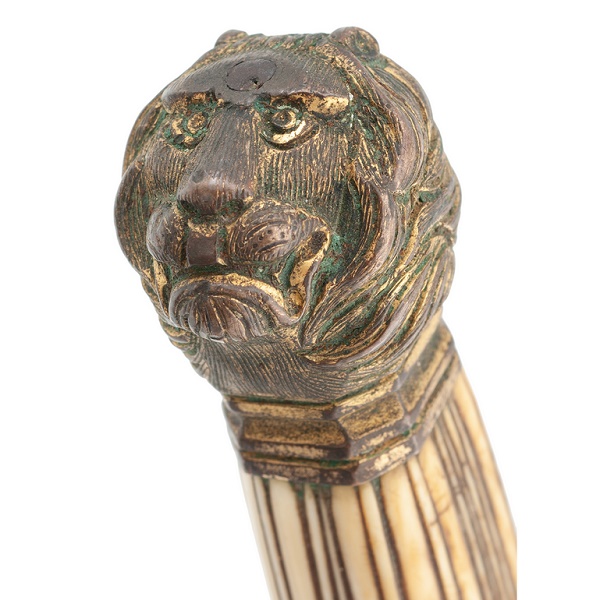 Peale's Philadelphia Museum was founded in 1786 by renowned American artist Charles Wilson Peale (1741-1827), to house a collection of curiosities which included fossils, skeletons taxidermies and paintings.
Crockett met Peale's son Rembrandt Peale during the 1834 tour, and is thought to have presented the knife as a gift to the museum.
When the museum closed down in 1841 the vast majority of the collection was sold off – although records indicate the knife was in fact kept by a member of the Peale family.
In the 1880s the knife was then acquired by Colonel Archibald Loudon Snowden (1835-1910), who served as Director of the Philadelphia Mint and assisted in organizing of the 1887 Centennial celebration of the U.S. Constitution.
Snowden died in 1912, and the knife passed to his daughter Caroline Smith Snowden (1865-1960) who had married Stuyvesant Wainwright (1863–1930).
The remarkable piece of U.S history has since remained in the Wainwright family for over 140 years, latterly serving as a centrepiece in one of the nation's most esteemed militaria collections.