A rare piece of airmail that survived the Hindenburg disaster in 1937 will be offered for sale at Cowan's Auctions this week.
The charred postal cover was recovered by U.S postal officials from the wreckage of the crash, which killed 36 people on May 6, 1937 in Lakehurst, New Jersey.
The crash remains one of the most famous disasters in aviation history, and brought a sudden end to the Zeppelin Era, as public faith in airship travel was completely destroyed overnight.
The letter was one of several on board the airship sent from Rotterdam in the Netherlands to "Mr. G. Thoolen, c/o Mr. Donald E. Dickason, Wooster, Ohio, US Amerika."
These letters all featured stamps celebrating the 1937 World Scout Jambore, and were postmarked at Rotterdam on May 1, 1937, then sent to Frankfurt and placed on the Hindenburg.
It's believed that at least 17 of the letters survived the fiery crash, and the example offered at Cowan's appears to be previously unknown to collectors.
The remarkable piece of philatelic history is now expected to sell for up to $7,000 when it goes under the hammer on November 19.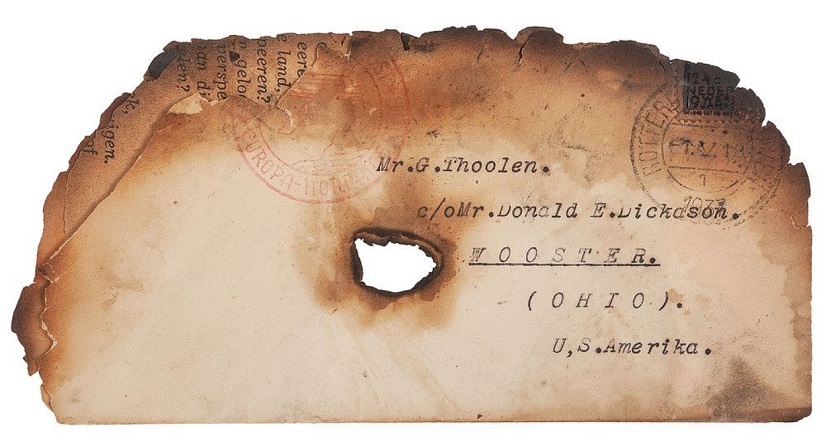 Built in 1936, the Hindenburg was the world's largest airship with a length of 804ft (or three football fields), and was filled with seven million cubic feet of highly flammable hydrogen.
It had operated safely for a year, transporting wealthy passengers back and forth across the Atlantic, until its fateful final flight.
As it came in to moor at the Lakehurst Naval Air Station, an explosion ignited the hydrogen gas and within 30 seconds the entire airship was enveloped by flames as it crashed to the ground, killing 13 passengers, 22 crew members and one ground crew member.
The tragedy was captured by photographers and reporters, who were there to cover its triumphant arrival.
Instead they watched in horror as the disaster unfolded before them, and the emotional commentary of radio reporter Herb Morrison was famously broadcast into homes across America:
"It's burst into flames…oh, my, this is terrible…It is burning, burst into flames and is falling on the mooring mast and all the folks we…this is one of the worst catastrophes in the world!…oh, the humanity and all the passengers!"
The Hindenburg was carrying 17,609 pieces of airmail when it crashed, and all but 358 pieces were destroyed in the flames.
Of those, 147 letters were addressed to people in the U.S, with the rest destined for delivery in Europe on the return journey.
These fragile covers, most of them burnt around the edges, were then sealed in special protective cellophane envelopes and sent on to their final destinations with a request to secure a registered receipt.
Today these letters are highly prized by stamp collectors specializing in 'crash covers' – pieces of mail which survived air crashes, train wrecks and shipwrecks whilst in transit.