A knife owned by Billy the Kid could sell for over $1 million when it goes up for auction in Arizona later this month at Brian Lebel's annual Old West Auction.
The legendary outlaw was holding the butcher knife when he was famously shot and killed by lawman Pat Garrett in 1881.
The knife is heading for sale as part of the renowned collection of Robert G. McCubbin, regarded as perhaps the most important collection of Old West photographs, artifacts and ephemera in private hands.
The entire collection, which includes over 1,500 pieces, is expected to realize more than $6 million during Brian Lebel's 29th annual Old West Auction in Mesa, Arizona on January 25-26.
Back in 2011, the same auction house made headlines around the world when it sold the only-known photograph of Billy the Kid for $2.3 million, setting a record price as the world's most valuable photograph.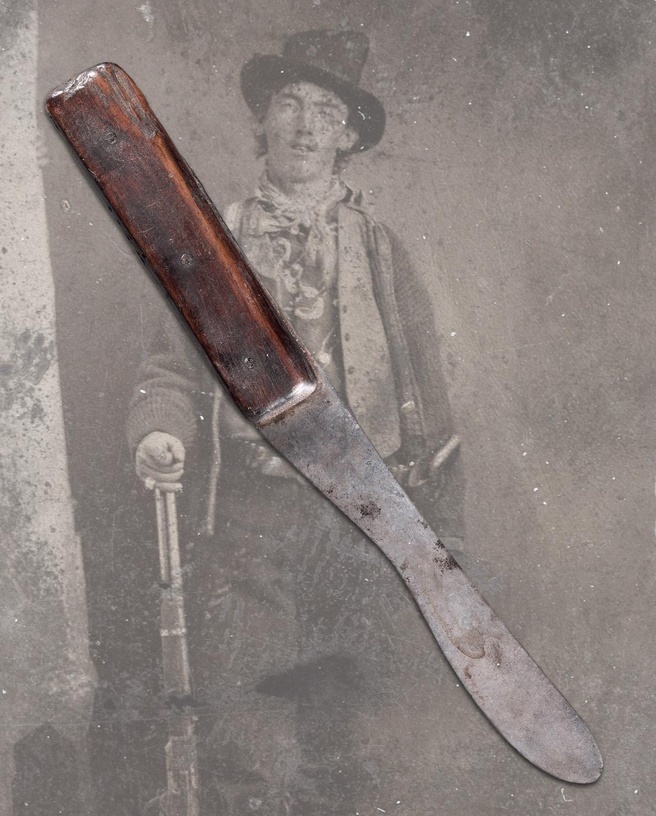 "The Billy the Kid tintype was the 'Holy Grail' of the Western collecting industry; everyone said so, and I've always agreed," said auctioneer Brian Lebel. "But the Billy the Kid knife is a pretty fine runner-up."
The historic knife is offered with remarkable provenance, having remained in a single family ownership for over 100 years and later passed to two of the world's leading experts on Old West memorabilia.
Billy, real name William Bonney, was just 21 when he died, but during his short life he became one of the Old West's most famous figures: a folk hero to some, and a cold-blooded killer to others.
In 1878 Bonney and his gang, the Lincoln County Regulators, killed three men including Sheriff William J. Brady during a bloody three-year feud known as the 'Lincoln County War'.
In 1880 he was apprehended by Sheriff Pat Garrett during a siege at Stinking Springs, and sentenced to death for his crimes. According to legend, Judge Warren Bristol told Bonney he was going to hang until he was "dead, dead, dead", to which Bonney replied "you can go to hell, hell, hell".
But in April 1881 Bonney escaped from custody, killing two Lincoln County deputies in the process, and went on the run once again, with Garret in hot pursuit.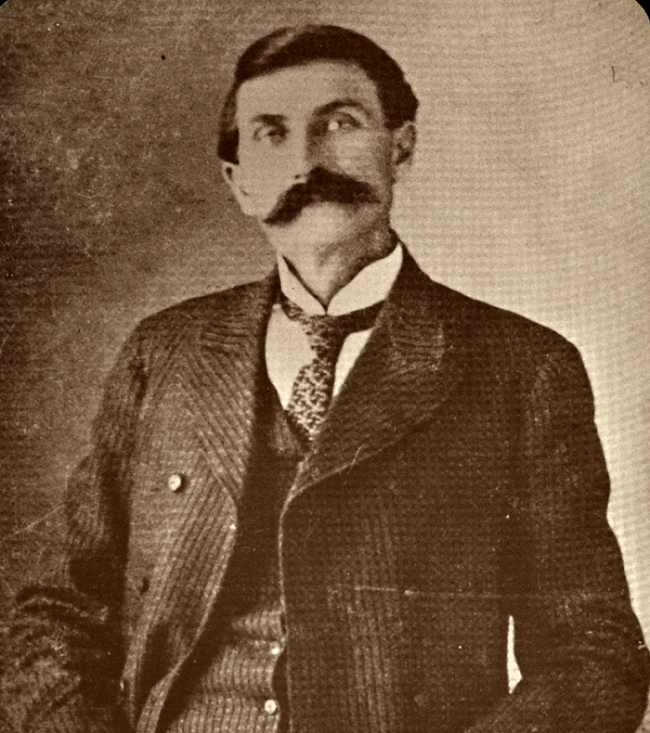 Three months later, on the evening of July 14, Garrett went to question Bonney's friend Pete Maxwell at his ranch in Fort Summner.
Bonney was holed up nearby, and around midnight decided to pay a visit to the Maxwell ranch to cut himself a piece of meat from a steer carcass hanging on the porch.
He took a butcher's knife and his Colt pistol, with no idea that he was about to meet his nemesis – and his maker.
As Garret and Maxwell sat talking in a darkened room, Bonney entered quietly and was surprised to discover it occupied. Garrett later recalled the moment in his 1882 book 'An Authentic Life of Billy the Kid the Noted Desperado of the Southwest':
"At that moment a man sprang quickly into the door, looking back, and called twice in Spanish, "Who comes there?" No one replied and he came on in. He was bareheaded. From his step I could perceive he was either barefooted or in his stocking feet, and held a revolver in his right hand and a butcher knife in his left."
Garrett instantly recognised Bonney's voice, and fired twice in the darkness, striking Bonney above the heart and killing him instantly.
Garrett took the Colt pistol from the dead man's hand, but the knife was retrieved from the scene by Paulita Maxwell, the sister of Pete Maxwell, who was rumoured to be carrying Bonney's child at the time he was killed.
The knife then passed down through Paulita's descendants for over a century, before it was tracked down and acquired by the noted Old West historian and collector Frederick Nolan.
McCubbin purchased the knife from Nolan in 1999, and for years it took pride of place on display at the New Mexico History Museum.
Offered with handwritten testimony from members of the Maxwell family, along with the expert opinions of both Nolan and McCubbin, the knife is one of the most significant Old West artifacts to hit the auction block in recent years.
And with a pre-sale estimate of $800,000 – $1.2 million, it also looks set to become one of the most valuable.