A silver cigarette case which saved the life of a young British soldier during WWI will be offered for sale at Hanson's Auctions this month.
The cigarette case belonged to Second-Lieutenant William Alexander Lytle, and is said to have deflected a bullet headed straight for his heart.
The dented case had passed down through his family, and will now be sold along with his medals during an auction of Militaria in Derbyshire on November 22.
Together, the poignant collection is expected to sell up to £2,000.
"Many soldiers kept hard objects in the breast pockets of their army uniforms in a bid to protect themselves from enemy fire," said Adrian Stevenson, militaria expert at Hansons.
"Cigarette cases, shaving mirrors and pocket Bibles were popular.
"Consequently, these objects have gained historical significance. They provide us with an insight into how young men who lived a century ago dealt with the grave dangers faced in the trenches in the war to end all wars."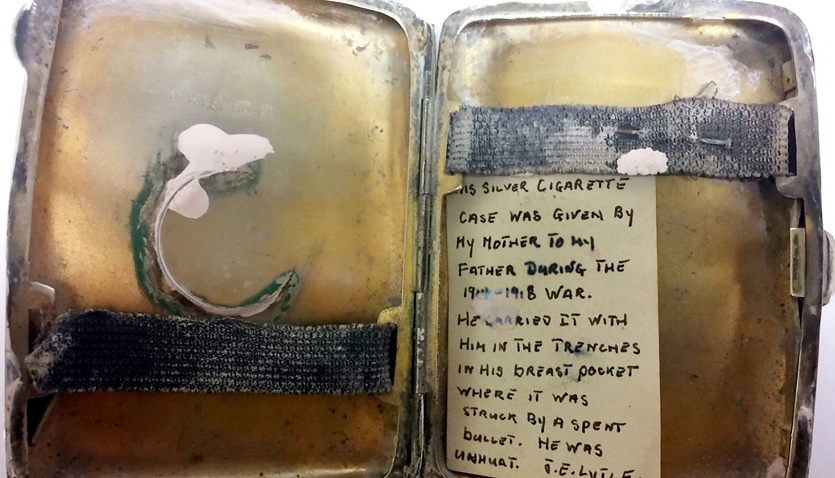 The case was given to William by his wife, Bertha Elizabeth Lytle, and contained a note from his son which reads:
"This silver cigarette case was given by my mother to my father during the 1914-18 war. He carried it with him in the trenches in his breast pocket where it was struck by a spent bullet. He was unharmed – JE Lytle."
The cigarette case isn't the first life-saving lucky charm to cross the block at Hanson's this year.
In March the auctioneer offered a "miracle" penny which saved the life of WWI soldier Private John Trickett by deflecting a bullet in his breast pocket.
Initially estimated at just £30 – £50, it eventually sold for an impressive £4,500.
The dented cigarette case will be offered along with William Lytle's medals, which include the Military Cross, the Victory Medal, World War Two Defence Medal, War Medal 1939-45 and Edward VII Volunteer Long Service Medal.
Lytle was just 21 when he earned the Military Cross for bravery, during an attack near Boar's Head Trench in France, where he displayed "a total disregard for danger and lead his grenadiers with great coolness".
"When you consider William's age when he carried out these actions, it brings home the immense bravery of a generation of young men who took up arms for our country," said Mr Stevenson.
Not only did Lytle survive WWI, but he also went on to serve with distinction in WWII, and despite numerous brushes with death during combat he lived until the age of 80, passing away in October, 1974.
"William fought in two world wars – he gave his all for us all," said Mr Stevenson. "It's wonderful to think that a silver cigarette case, a gift given with love from his wife, may well have saved his life."