A remarkable 18.96-carat diamond known as the 'Pink Legacy' is expected to fetch up to $50 million when it hits the auction block at Christie's in November.
The gem will be amongst the star attractions at the Magnificent Jewels auction, which takes place at the Four Seasons Hotel des Bergues in Geneva on November 13.
The exceptionally large and highly rare pink diamond is classed as 'Fancy Vivid', the highest diamond colour grading possible, due to its deep hue and chemical purity.
Only one in 100,000 diamonds possess a colour deep enough to qualify as 'Fancy Vivid', and of those, less than 10% weigh more than one-fifth of a carat.
In Christie's entire 250-year history, just four pink diamonds weighing more than 10 carats have ever been offered at auction.
"The saturation, the intensity of this stone is as good as it gets in a coloured diamond," said Rahul Kadakia, International Head of Jewellery at Christie's.
"To find a diamond of this size with this colour is pretty much unreal. You may see this colour in a pink diamond of less than one carat. But this is almost 19 carats and it's as pink as can be. It's unbelievable."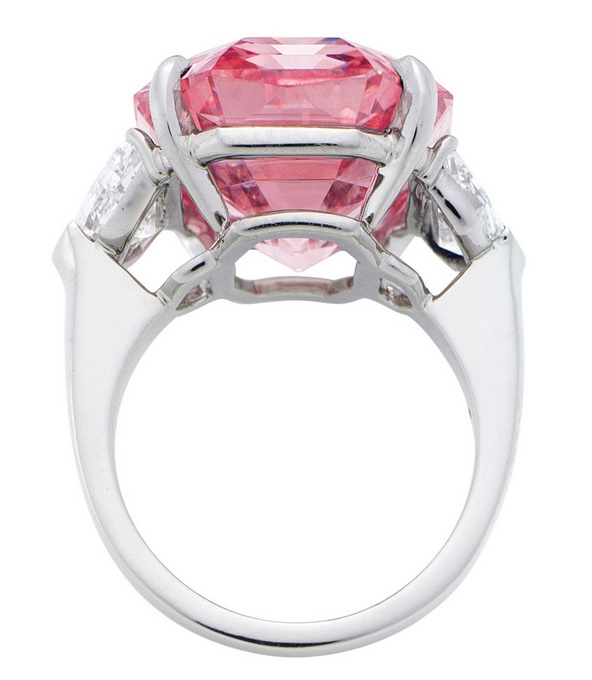 The incredible pink gem is said to originate from the collection of the Oppenheimer Family, whose name is intrinsically linked to the diamond industry.
Ernest Oppenheimer (1880 – 1957) was a German entrepreneur who took control of the famed South African De Beers diamond mining company in 1929.
Under his family stewardship the company rose to control more than 90% of the international business, keeping a strict control over diamond supplies to ensure their value remained high.
The family finally sold their stake in De Beers in 2012, but during almost a century at the helm they assembled what's reported to be one of the world's finest private collections of diamonds.
In November 2016 the 'Oppenheimer Blue', a 14.62-carat Fancy Vivid blue diamond from the family's collection, sold at Christie's in Geneva for $57.5 million, making it the world's most expensive gemstone ever sold at auction.
That record was then surpassed in April 2017, when Sotheby's sold an enormous 59.60-carat Internally Flawless Fancy Vivid pink diamond named 'The Pink Star' for $71.2 million.
The secretive nature of the collection meant that, until recently, the existence of the 'Pink Legacy' was completely unknown to experts.
"The discovery of this previously unrecorded and remarkable diamond will cause immense excitement with collectors and connoisseurs of diamonds around the world," said Kadakia.