A Chinese bronze statue discovered on an episode of Antiques Roadshow has sold at a Sotheby's auction in New York for a remarkable $2.1 million.
The 10th century statue had originally been purchased at a garage sale for just $100, and was taken to a valuation day in St Louis, Missouri in 2018.
The statue had originally belonged to collector Trezevant Branam Winfrey of Kirkwood, Missouri, who passed away back in 1999.
The owner recalled how she acquired the statue during her appearance on the PBS show:
"There was a local person who was really a colourful character in Kirkwood, so I wanted to get to his garage sale…I almost didn't have time to acquire it as I was having 15 people for lunch.
"I rushed out, and the dealers had been there for two days before so I thought that everything good would be gone, but when I saw this I thought it was so beautiful, I just grabbed it."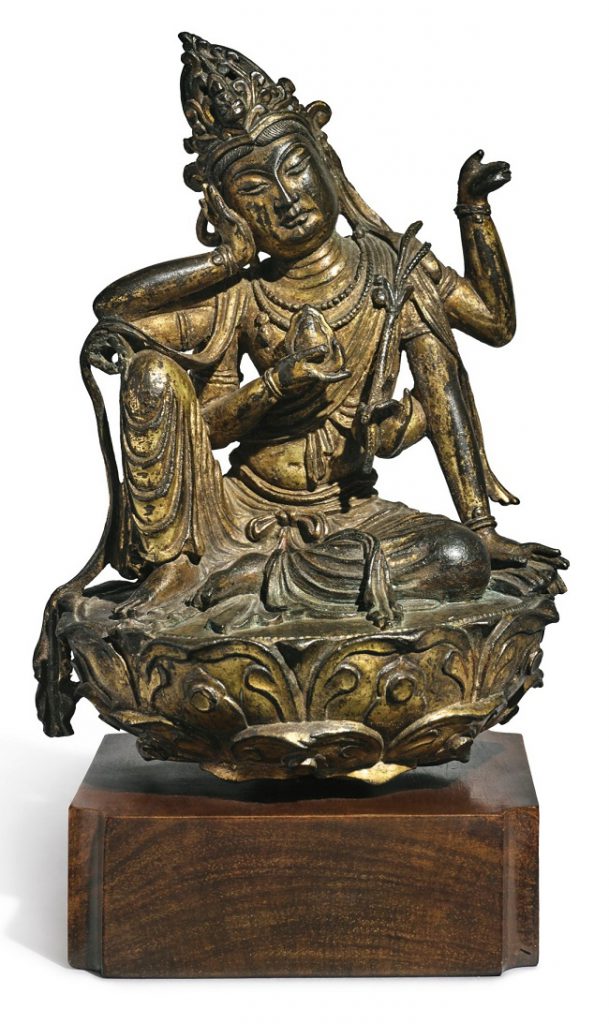 Roadshow expert Robert Waterhouse told her the statue was a gilt bronze depiction of the Chinese Buddhist deity Cintamanicakra Avalokiteshvara, dating to the late Tang Dynasty / Five Dynasties.
Despite missing its original base, along with an arm and a hand, the quality and historic importance of the piece shone through.
"Those who understand Buddhist works of art from that period would look at this object and say it's beyond a very wealthy patron's quality of bronze," said Waterhouse. "So it's likely that the quality would indicate that it's an imperial piece."
The owner was then shocked to discover that her $100 garage sale find was in fact worth up to $100,000, which Waterhouse stated was a "conservative" retail price.
And now, a year later, it seems that Waterhouse's initial valuation was more than just a little "conservative".
The statue was offered as part of Sotheby's Important Chinese Art sale in New York on March 20, with a pre-sale estimate of $60,000 – $80,000.
But when it hit the block it sparked a fierce bidding war between collectors around the world, which ended seven minutes later with an incredible final price of $2,060,000 (including buyer's premium).
The statue is the latest in a string of valuable Chinese treasures discovered in humble surroundings on both sides of the Atlantic.
During the past decade the market for ancient Chinese artworks has soared, as super-wealthy collectors battle each other to repatriate pieces taken from China over a century ago.
Just last month, a 200-year-old Qing Dynasty vase which had spent 20 years in a British attic came up for sale estimated at $23,000 – $45,000 – and sold for $767,000.