The final baseball bat ever used by Adrian 'Cap' Anson will hit the auction block next month at Goldin Auctions in New Jersey.
Anson was one of baseball's first superstars of the 19th century, and remains one of the greatest hitters the game has ever seen.
Between 1871 and 1897 he played a record 27 consecutive seasons, and is believed to be the first player in history to achieve more than 3,000 career hits.
As the only game-used Cap Anson bat in existence, it's a genuine piece of sporting history which should fetch a strong six-figure sum when it goes under the hammer on August 2.
As Anson played his entire career during the 19th century, the lack of memorabilia in existence is understandable. His autograph remains one of the most elusive in all of baseball, and just a single signed baseball is believed to exist.
This well-worn Hillerich & Bradsby model bat is therefore unique to the hobby. It was used by Anson during his final season with the Chicago Colt (now the Chicago Cubs) in 1897, following a nine-year stint as the team's player-manager.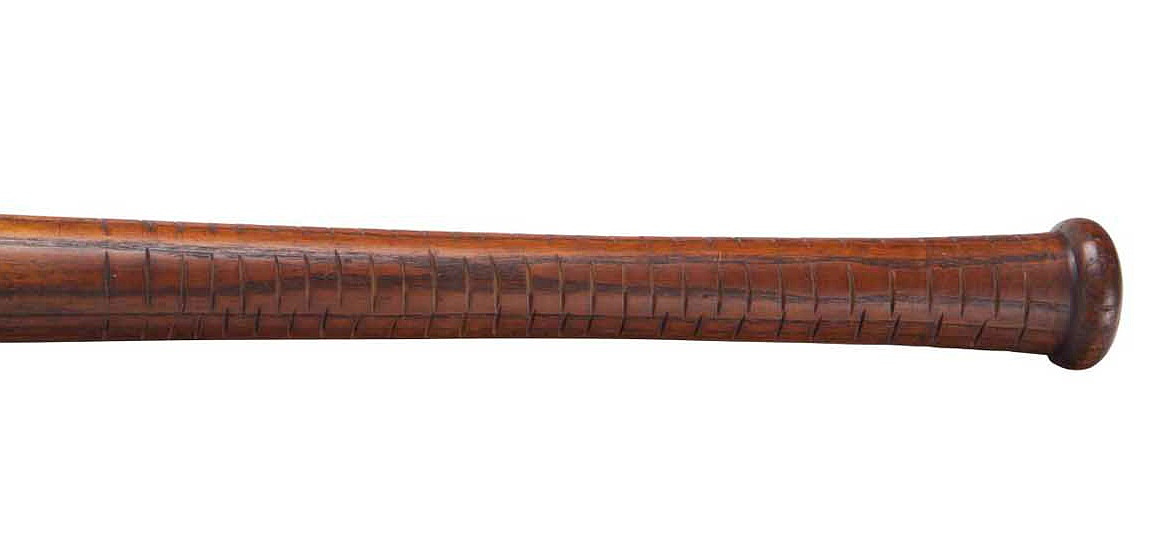 It bears 145 notches in the handle, hand-carved by Anson himself to give him a better grip, and also features period repairs to the barrel, with three ancient screws inserted to sturdy it up.
The bat is also one of very few 19th century gamers offered with a well-documented history, having passed down through generations of the Anson family for more than 100 years.
It was then acquired by a private collector in 2006, and four years later it appeared on the public market for the first time, making headlines as the star lot of a Heritage auction in August 2010.
The bat trebled its pre-sale estimate to sell for $286,800, setting a new world record for the most valuable 19th century baseball bat ever sold – and six years later it set another one.
It hit the auction block again in 2016 at Christie's, as part of the renowned baseball memorabilia collection of the National Pastime Museum.
Offered with an estimate of $300,000 – $400,000, the bat soared to a final price of $427,500 – marking a price increase of almost 50% in the space of six years.
Whether it continues to grow in value and exceeds that price at Goldin Auctions remains to be seen. But with wealthy collectors constantly seeking out treasures from baseball history, we wouldn't be surprised if this Cap Anson bat breaks the $500,000 mark in Chicago next month.